Riverbank grabbed by traders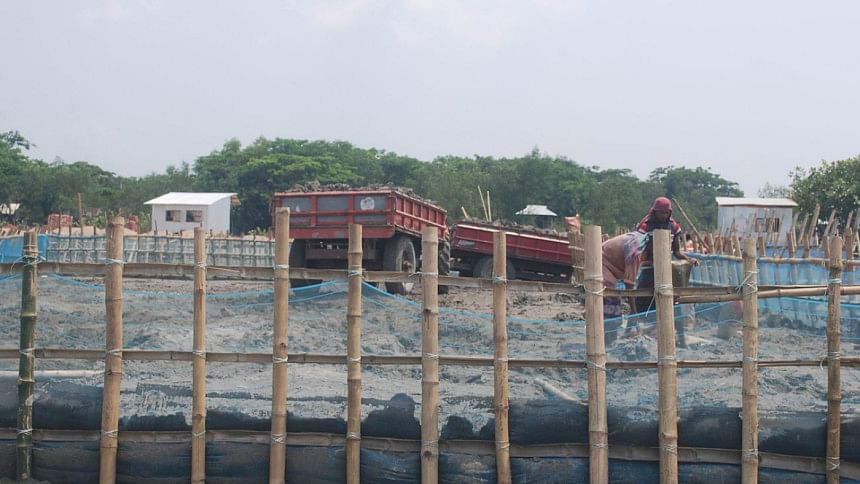 A section of brick and sand traders has started grabbing land on the bank of Ramnabad river in Galachipa upazila headquarters. About three acres of land on the riverbank have already been grabbed.
At least 17 brick and sand traders built several illegal structures on the land, said locals.
During the tenure of former lawmaker Golam Maula Roni in 2009, a group of local influential people grabbed 4.5 acres of land on the riverbank.
Later, local administration freed the land in Kheya ghat area from the grabbers following the High Court order, said Upazila Nirbahi Officer (UNO) Shah Md Rafiqul Islam.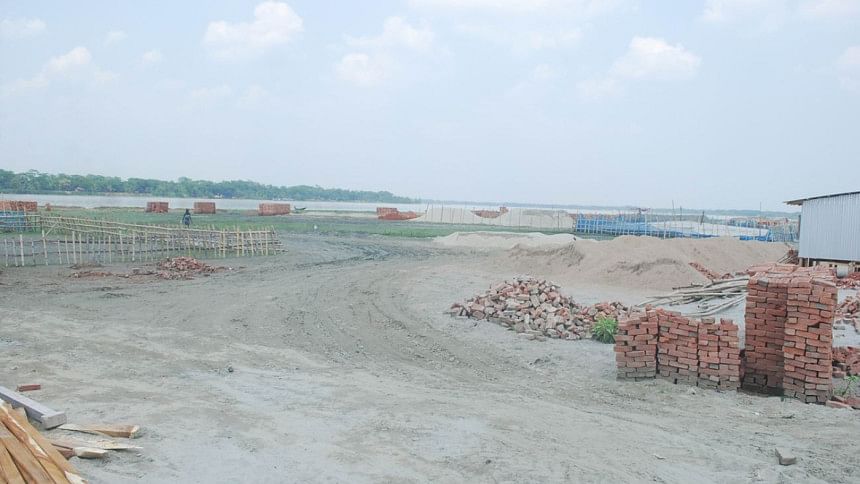 After nine years, a section of brick and sand traders again started grabbing the land. At least 17 traders have already filled up three acres of land on the riverbank with sand and hung a signboard stating 'It-Balu Mahol' (brick-sand house) there.
They built separate makeshift shops on the land where bricks and sand have been kept.
Trader Kamal Hossain said upazila administration evicted them from kheya ghat area.
Later, the administration gave them permission verbally to continue their trading there, said Kamal, adding that "As per instruction of the administration they are doing their business by filling the river land with sand.
Another trader, Md Khalil, said they built the shops on the land with the help of local administration.
GM Mahbub Alam, sub-assistant land officer, said nobody is allowed to grab riverbank and it is illegal.
He recently visited the spot and found that seven traders built the shops by grabbing the land.
Contacted, Md Suread Salahin, assistant commissioner (land) in Galachipa, declined to make any comment on the issue and suggested this correspondent to talk with the UNO in this regard.
UNO Shah Md Rafiqul Islam said the traders went to local lawmaker and requested to keep their goods on the land for only six months.
"But we didn't give any permission to them," he said.
They are taking steps to free the land from the traders, said Rafiqul.