Rangamati sees rise in malta production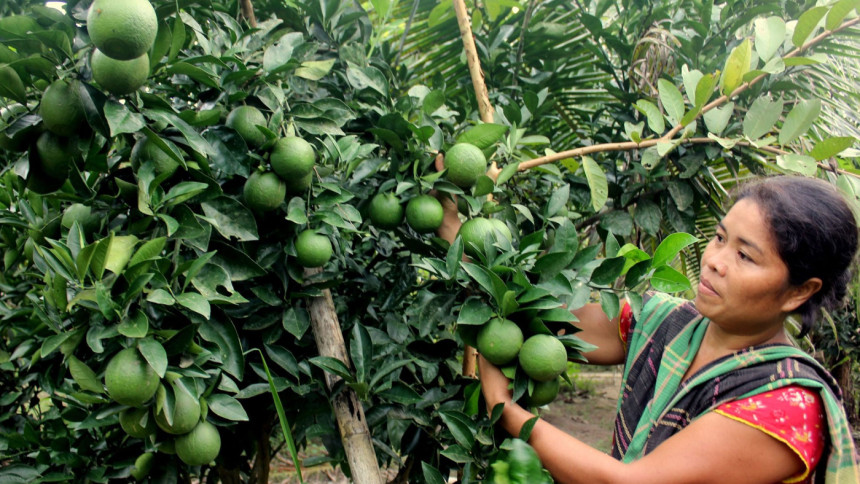 Malta is gradually winning hearts of farmers in Rangamati as a growing number of them are seeing continuing profits from the fruit, which was introduced to them only several years ago.
Very similar to orange, malta is a fruit species in the family of citrus fruits. Similar to other fruits in the family, malta is a very good source of vitamin C.
This year, an abundance of malta grew on the slopes and hills of Rangamati. The growers this time are happy not only for its larger size and sweeter taste, but for the attractive price they are getting for the fruit from wholesale buyers.
Wholesalers are also happy as demands for the fruit is high at local retail shops and markets where one kilogram of the fruit is selling for at least Tk 80. The best quality of the produce is even selling for as high as Tk 100 there.  
In 2014, Hemo Kumar Chakma planted 150 malta saplings at his village in Bodhipur, under Sapchhari union of Rangamati Sadar upazila.
A couple of years later, he was able to harvest the fruit from about 100 of the trees and earn Tk 30 thousand from sales. His earnings from sales continued to grow every year and his last year's sales reached to Tk 70 thousand.
Hemo Kumar also said favourable weather conditions helped better production this year and he hopes to make around Tk 1 lakh from its harvest this year.
While visiting his orchard recently, the tree branches were seen arching down due to weight of the fruits, each about 250 to 300 grams. 
In Naniarchar upazila, Ananta Chakma spent Tk 25,000 to plant 200 malta saplings in his home village of Chowdhury Chhara.
He has been harvesting malta from the trees for the last three years. Till date, he has made about Tk 3 lakh from selling the produce, Ananta said.   
Fruit trader Muhammad Rubel, who gets malta from Rangamati and ships it out to large cities such as Chattogram and Dhaka, said most of his clients require fresh and seasonal organic fruits grown in the hills, because "fruits grown in the hills are the best".
Paban Kumar Chakma, deputy director of Department of Agricultural Extension (DAE) in Rangamati, said they first introduced Bari-1 variety of malta to farmers in Chattogram hill tracts in 2014.
Ever since Bari-2 variety of malta proved successful in hilly areas later, the DAE has been distributing the fruit saplings to farmers in the region every year.
The weather this year in the region is suitable for malta production and they hope that their targeted production of 2,000 tonnes of malta, on 210 hectares of land in the district, will be reached this year, he also said.