A patriot's devotion to his country and farming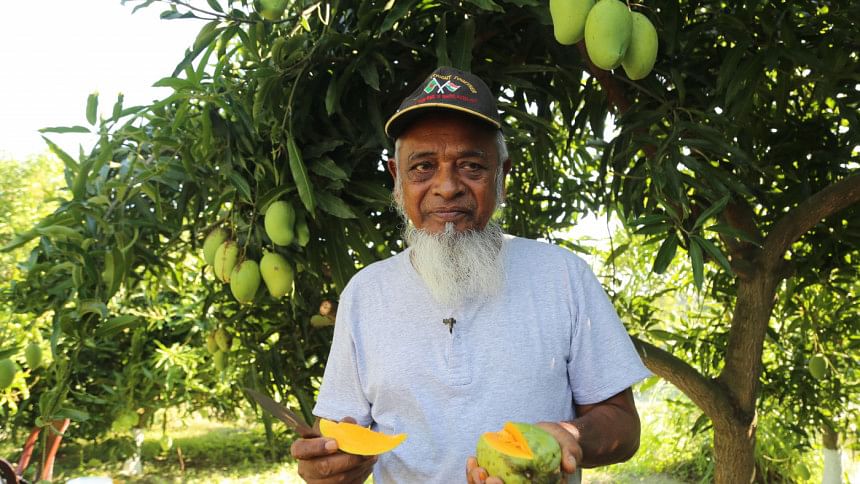 Happy New Year to all my readers. Today, I would like to tell you the story of a great man who is not only a dreamer but more than that. He is growing Baromashi (year-long) mango and doing it pretty successfully for long. A few days back, I went to Sonagazi upazila in Feni. Retired Major Sulaiman is the entrepreneur I am talking about. He has been doing his mango orchard for the past 12 years. He is cultivating BARI-11 variety of Baromashi mango and has 70 trees in his orchard. He says it is quite possible to earn approximately Tk 26 lakh (USD 30,682) a year from his Baromashi mango orchard. It is my privilege to share the story of a freedom fighter's agricultural endeavour as the country is going to celebrate its 50th anniversary of independence this year.  
Major (Retd) Sulaiman's journey began with fish and papaya farming in 640 decimals of land back in 1993. His father was a farmer. He took part in the Liberation War and later joined the army. After retirement, he thought about going back to his ancestral profession. He says it's his honour to serve his country as an agricultural entrepreneur after serving as a freedom fighter. In time's course, Mr Sulaiman turned into a veteran farmer. He acquired in-depth knowledge in farming, bio-diversity and latest agricultural technologies. He applied this knowledge at his farm and shared the knowledge among others as well. He has a fish farm on a 33 acres of land and does other crops on the remaining land. Mr Sulaiman constructively thinks about farming and spends a lot of time doing it. During the COVID-19 pandemic, his family has been staying with him at his farm. 
"We are very happy. We all are staying together. My daughter, my granddaughter, everyone is here," Sulaiman said.
There are many fruit trees along the bank of the ponds and about 80 varieties of mangoes are produced here. Last season, he yielded 22 tonnes of mangoes. Coconut trees have been planted beside the mango trees. It's like a nature park.
"What is the estimated size of your farm and what do you produce?" I asked Sulaiman.
"Seventy acres. There are 22 ponds covering a total of 33 acres land. I am cultivating different crops alongside the ponds. I was amazed to see the BARI-11 variety Baromashi mango orchard. There were so many of those. Everything is done so neat and so methodically and that is why Sulaiman is getting so many mangoes. His orchard is undoubtedly very organized.
"I yielded 7,000 kilograms of mangoes from these 70 Baromashi mango trees and roughly earning approximately Tk 40,000 (USD 471.72) from a single tree," Sulaiman proudly said.
He collected the Lubna variety from one of his friends from Malaysia and his mission of mango farming started. He gave this variety to Bangladesh Agricultural Research Institute who later developed the same breed as BARI-11.   
"I get mangoes round the year and the flowers come to the trees quite frequently," Sulaiman gladly added.
I tasted the mango and it was so sweet and juicy. The entrepreneur was also talking about its commercial aspect. Selling these sweet mangoes at a low price all the year round is giving him both joy and money. While talking, I noticed a mango just brought down from a tree weighing 551 grams.
Dear readers, can you imagine a year-long mango would weigh that much? Two mangoes weigh almost one kilogram. The wholesale rate from the orchard is Tk 400 (USD 4.72) per kg. So you can imagine he's getting more than Tk 800 (USD 9.44) from only two mangoes. Mr Sulaiman, however, doesn't sell mangoes to the wholesalers. He only sells to general consumers, who learned or heard about his farm and orchard. He believes the traders sell their items at higher rate to the consumers and he feels that it is totally injustice.
Major (Retd) Sulaiman informed me with utter delight that it's very much possible to earn Tk 26 lakh (USD 30,682) from his orchard in a year. He says he can get 100kg of mangoes from each tree. If he sells per kg at an average price of Tk 400 (USD 4.72), each tree can give him Tk 40,000 (USD 472) and from 70 trees, he can earn Tk 28 lakh (USD 33,042). If Tk 2 lakh (USD 2360) is deducted as production cost, getting a profit of Tk 26 lakh is very much possible, he added. 
Mr Sulaiman also praises the BARI-11 variety and requests the attention of the Department of Agriculture Extension (DAE) as many fraud nursery owners are selling other mango plants in the name of BARI-11. He claims that if the entrepreneurs follow proper planning in producing BARI-11 mangoes, then it's very much possible to earn foreign currency after fulfilling local demands. 
"Farming is the lifeline of our country and our economy. It is the same for other countries as everyone needs to consume food. We spend a lot of currency to import mangoes. There's no need for it. We can do it on our lands. We must encourage local entrepreneurs who would take up the mission to produce mangoes to meet the local demands and export and the government has to be supportive in this regard," Sulaiman said.
Dear readers, Bangladesh is going to celebrate its 50th anniversary of independence on March 26 this year. Farming success is a key that determines the economic development of a country. I am sure many others will be inspired to become entrepreneurs like Sulaiman and will start their orchards. Dedication is a must in farming and what a great example this man is. He has proper knowledge on seeds and technologies. I do not doubt that Bangladesh as a country will grow even more with the great deeds of such passionate and patriotic souls. Respect and salute to the martyrs who sacrificed their precious lives to free our country during our Liberation War in 1971 and hats off to the freedom fighters like Major (Retd) Sulaiman who fought not only to liberate us but continues to contribute to the farming sector to make us stronger, better and proud.