Motorbikes torched, vandalised in front of Natore BNP office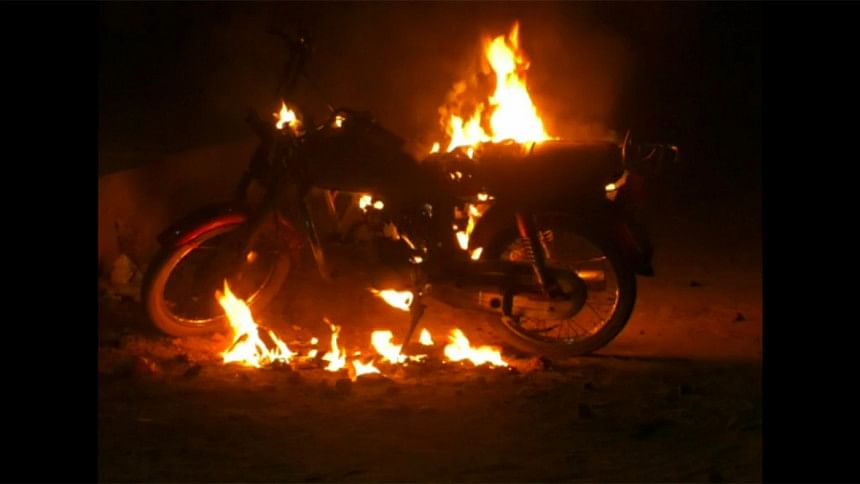 Unidentified criminals set fire to a motorbike and vandalised two others in front of the Natore BNP office this evening.
They also reportedly tried to attack BNP leader and former minister Ruhul Kuddus Talukhdar Dulu's residence and the district BNP office, our Natore correspondent reports quoting BNP leaders.
Eight to 10 assailants on motorbikes tried to attack the BNP office 6:00pm and set fire to the motorcycle parked in front of the office, said Shahidul Islam Bachchu, president of Natore BNP.
They also vandalised two other vehicles at that time, he said.
"Ruling party men carried out the attack in a bid to create panic ahead of the parliamentary elections," he alleged.
A Chhatra Dal activist was also manhandled by the attackers, Bachchu said.
Syed Mortaza Ali Bablu, joint secretary of Natore unit Awami League, refuted the claim saying that BNP itself orchestrated the attack to destabilise the electoral atmosphere.
Contacted, Ruhul Kuddus Talukhdar Dulu said, "The victory of BNP cannot be thwarted by carrying out terrorist acts. I urge the administration to take prompt actions."
Confirming the development, Officer-In-Charge of Natore Sadar Police Station Kazi Jalal Uddin said they went to the spot immediately after the incident was reported and saw a motorcycle on fire.
"No one has lodged a complaint yet, however, legal action will be taken against those involved," said the OC.