Meraz on a mission
The student planted 2,100 saplings in Bogura's 12 upazilas while his university remained closed due to the outbreak of Covid-19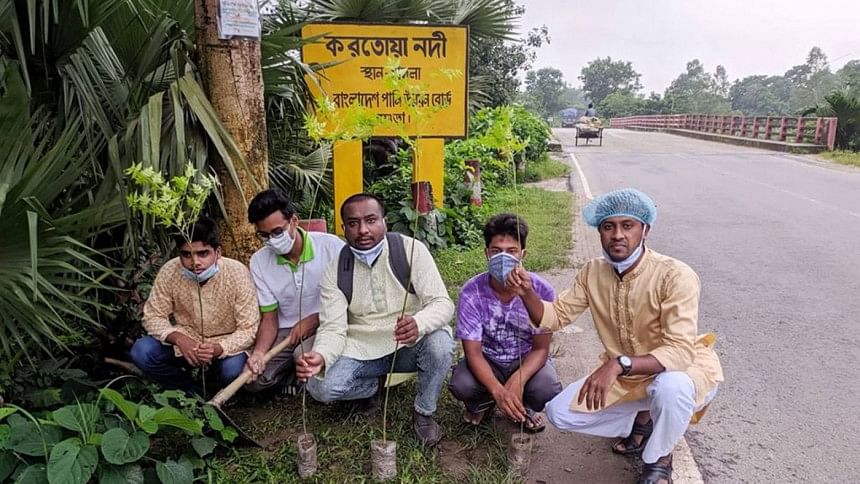 There are some who complain about anything. And there are some who make the best use of any situation.
Abul Bashar Meraz definitely falls in the latter category.
When the outbreak of Covid-19 forced resident students to return to their homes after their educational institutions closed down, Meraz also left Bangladesh Agricultural University (BAU), where he is a master's student, for his home in Nashipur village of Bogura's Gabtoli upazila.
During almost six months of his stay-at-home, he did not just confine himself to his own comfort zone, but chose to do something worthwhile for the community. He made quite an impact among inhabitants of 12 upazilas in the district during this time by planting 2,100 tree saplings.
Between June till mid-August, Meraz, with the help of several of his neighbourhood friends, also students at different universities, planted saplings of various timber, fruit and medicinal trees at as many as 21 locations in the upazilas. 
Villager Sohel Rana, from Kollapara in Kahalu upazila, said, "A few months back, a university student came here one day and he planted tree saplings alongside a road and different other open places in the village. The rural road has now turned green -- as if my village has once again regained its life amid the pandemic."
Appreciating the initiative, Abdullah al Fattah, from Gabtoli upazila, said as a means to protect nearby areas from erosion, Meraz and his friends also planted trees on the banks of the Jamuna, Karatoa, Ichhamothi and Bangalee rivers in Bogura.
Other places they planted saplings include Sabgram road in Bogura Sadar, Bijoynagar in Sherpur, Lekurhaat in Gabtoli, Rahimabad in Shahjahanpur, Bererbari in Dhunat, Pathanpara in Sonatola, Talore rail station in Dupchanchia and a government primary school in Nandigram.
Explaining the motivation behind his mission of planting trees at so many places, Meraz said when a paved road near his house started to crumble during the monsoon rain of June, he realised that the road would not get as damaged if it had trees on its sides.
Besides, "tree is our true friend as it's the primary provider of oxygen [in the atmosphere] and supply of which is crucial for Covid-19 patients. So, everyone, especially students and the young generation, should come forward and plant trees across the country for a green Bangladesh," he added. 
Imbued with the motivation, Meraz and his friends then started planting saplings along the road in his village and took on the mission to protect other vulnerable areas, especially roads and river banks, in the district by doing the same.
Meraz first put down the Tk 5,000 that he had saved up from his pocket money. Others soon started to contribute, with cash or saplings, for the cause after seeing his post on his Facebook account.
The team of Meraz and friends do not just finish their duties by planting the saplings only. They assign local volunteers who look after the young trees.