Meghna wreaks havoc in Hatiya
Vast croplands, houses, schools, cyclone shelters, sluice gates and embankments gone into the river, more areas face threat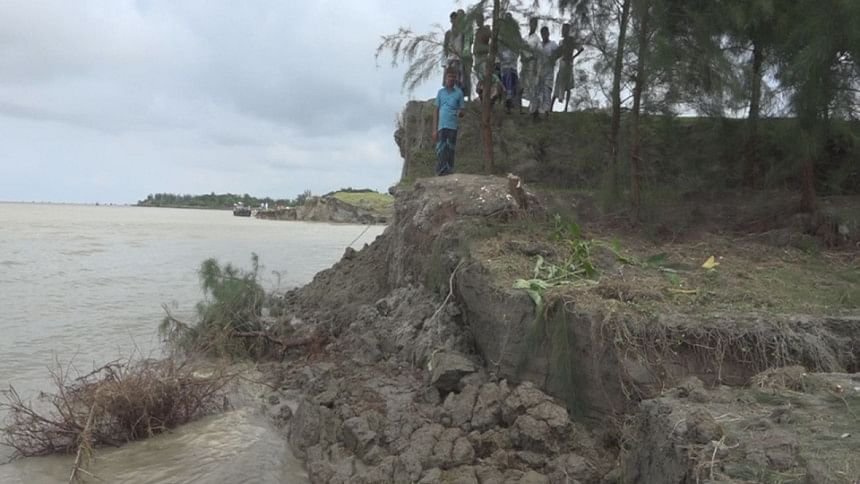 Vast areas of Boyarchar, Nolerchar and Karingchar in Hatiya upazila under the district are being devoured by the Meghna river.
Hundreds of acres of cropland, many dwelling houses, educational institutions, mosques, roads, bazars, cyclone shelters, sluice gates and 14 kilometres of embankments in the island upazila have gone into the riverbed during the last couple of years, said sources at Water Development Board's (WDB) Noakhali office.
Two sluice gates, several cyclone shelters, vast croplands and a number of dwelling houses in Boyarchar, Nolerchar and Karingchar areas are facing erosion, they said.
Boats are the main mode of transport for the residents of Hatiya upazila.
After losing croplands and dwelling house to the Meghna, several hundred families left the area. Many of them have taken shelter in the cyclone shelters, which are also under erosion threat.
"Our house at Hatiya Nolchhira Ghat was devoured by the Meghna two years ago. Later my son, who is a day labourer, erected a house on a government khas land at Nolerchar on the bank of the Meghna. Now this is also under threat of erosion," said Noor Banu, an elderly widow at Nolerchar.
Afzal Majhi earlier lived with his children in Sluice Gate area of Karingchar. After losing his house to the Meghna, he is now living at a cyclone shelter in the area in a miserable condition.
"The cyclone shelter centre-cum-primary school at Teker Bazar went into the Meghna early this month. We are worried about the education of our children as there is no school nearby," said Abdur Rahman of Noler Char.
Locals have urged the government to take urgent measures to prevent erosion for saving the lives and properties of those who are still living in the char areas.
Executive Engineer of WDB, Noakhali, Mohammad Nasir Uddin said he has sent a proposal to the ministry concerned, seeking allocation of Tk 228-crore for a sustainable measure to prevent erosion at Boyarchar, Nolerchar and Karingchar in Hatiya.
"Besides, a Tk 50-crore priority project proposal has been submitted to the Ministry of Water Resources for saving a sluice gate and different structures. If allocation is made, preventive measures against erosion including building of embankments will be taken," he said.