Expat workers' welfare board to hold monthly public hearings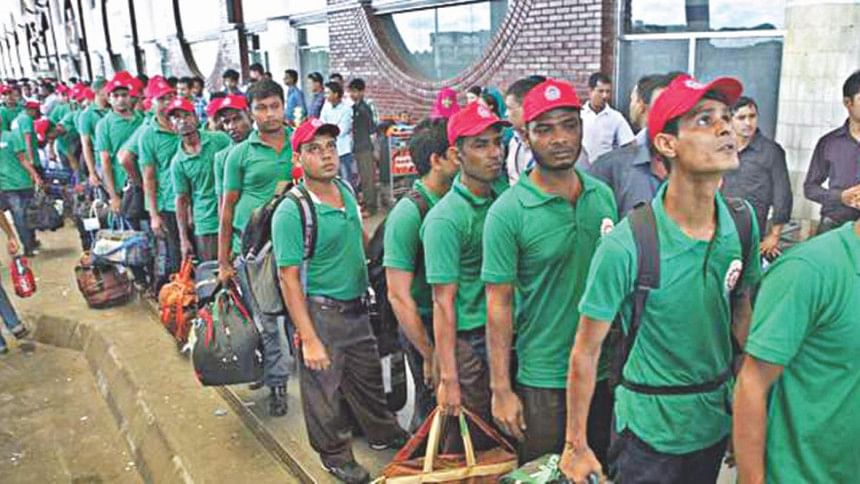 Wage Earners' Welfare Board, the government body that looks into expatriate workers' interests, has decided to conduct public hearing of migrant workers on the first Wednesday of every month.
The hearing will be held at the office of the director general of the board, located at the Prabashi Kalyan Bhaban at the capital's Old Elephant Road.
The move comes amid widespread reports of fraudulent activities by manpower brokers who charge high recruitment fees, while many of the migrants are deprived of fair wages. In many cases, they don't get jobs, and are forced to return home.
Around 51 percent migrants experienced fraudulence and harassment during the process of migration and in the destination countries, according to a study by the Refugee and Migratory Movements Research Unit (RMMRU).
Many women migrant workers who returned home from Saudi Arabia in recent times have also complained of being victims of physical, sexual and mental abuse.
"This office is always working to settle any complaints of the migrants, considering the economic contribution they make by sending remittance," says an office order issued by the Board on January 27.
"As part of this, mass hearings will be held from 10am to 12 noon on the first Wednesday of every month at the office of the director general," it says.
According to the Board, there are some 1.20 crore Bangladeshis working across the globe. They send home around $15 billion in hard-earned money, a lifeline of Bangladesh's economy.
The Wage Earners' Welfare Board said it has been working for welfare of the migrants, including assisting the aspirant and returnee migrants, including bringing back bodies of dead migrants, payment of its cost, repatriation of sick migrants, and providing them with financial and medical treatment.
Shariful Hasan, head of migration programme at Brac, lauded the initiative, but suggested that the government initiate reintegration and rehabilitation programme soon, as thousands of migrants return home every year after facing various forms of economic, physical and mental problems.
A major factor in labour migration is lack of governance, mostly the high recruitment cost that gives rise to many other problems, he added. "The root of the problem has to be cut first. Eventually, we can see other problems coming down," Hasan said.