Left behind: Children in remote CHT villages 'never heard of online classes'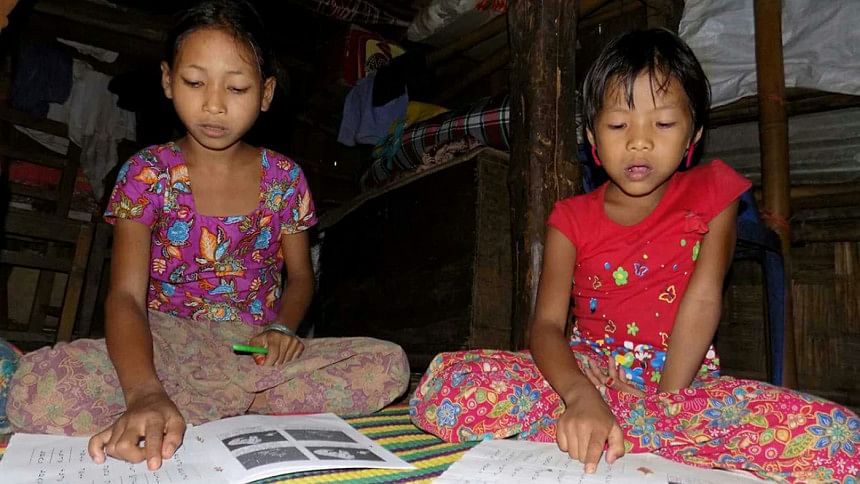 Ninth grader Gloriya Tripura has never heard of online classes.
Hailing from the remote Jagotom Tripura Para in Ruma upazila of Bandarban, Gloriya never had TV or internet at home.
Gloriya had scored GPA 4.64 in the JSC examination last year, and aspires to be a police officer in future.
After the government declared closure of all educational institutions on March 17 to curb the Covid-19 outbreak, Gloriya, a student of Ruma Upajatiyo Residential High School, returned home and has been helping her parents with farm work and domestic chores.
Amid the closure, the government started broadcasting classes for students of classes 6 to 10 through Sangsad TV from March 29, for primary students from April 7, and for technical and madrasa students from April 19.
The government also took the initiative of uploading the contents on YouTube to help continue the curriculum amid the closure.
However, many students in the country's remote areas are deprived of TV and internet facilities, and hence they are unable to access the classes.
With the closure of educational institutions due to Covid-19 outbreak extended till August 6, educational activities in Chattogram Hill Tracts are seriously hampered.
"I have never heard of online classes or Sangsad TV. Now that my school is closed, I work from dawn to dusk for jhum farming with my parents," said Gloriya, a student of science group.
She now feels worried about her studies as there is no other scope to learn in the remote hills in the present situation. 
"We find it difficult to manage enough food for the six members of our family; TV, smartphone are luxury items for us," Gloriya's father Raj Bahadur Tripura told The Daily Star.
"Like Gloriya, all 300 students of the school in the upazila are deprived of access to remote learning initiatives of the government as they don't have access to TV, smartphone or internet facilities," said Motimoy Chakma, headmaster of the school.
"Almost all guardians of the students live hand-to-mouth and it is really difficult for them to afford internet services and smartphones," the headmaster said, adding "I'm really worried for their future as this residential school was the only opportunity for their education."
The situation is almost same in other remote areas of CHT.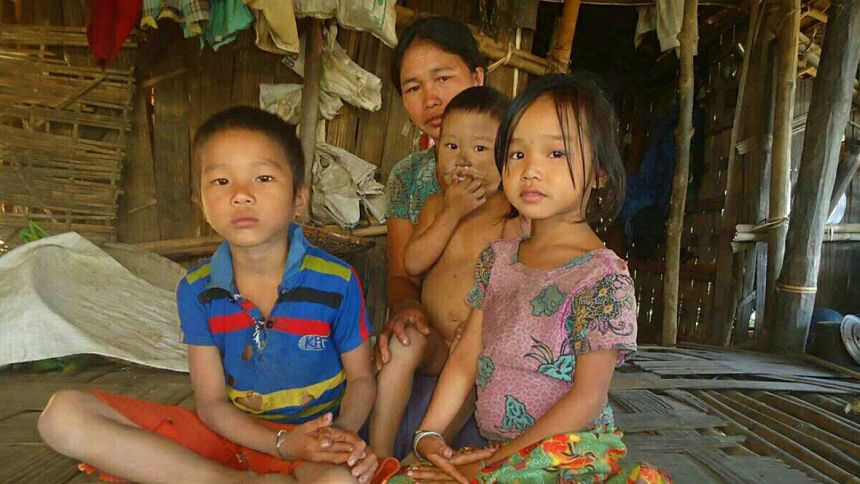 "There are around 64 secondary and higher secondary schools in Bandarban with around 35,000 students," said Bidhan Shankar Khisa, assistant inspector of district education office.
"Of the students, only around 25 percent have access to online classes in Bandarban," he said.
"There are around 1,27,000 students in 594 primary schools in Khagrachhari. Of them only about 37 percent are participating in online classes," Fathema Meher Yasmin, primary education officer of Khagrachhari, said quoting a report they sent to the ministry.
"Almost all of the 90,000 students studying in 707 primary schools in Rangamati do not participate in online classes for various reasons including poverty and remoteness with no internet facility available," said Porinoy Chakma, assistant primary education officer in the district.
"We sent a report to the ministry that 40 percent of around 65,000 students from 440 schools in Bandarban are participating in online classes", said Siddiqur Rahman, assistant district primary education officer of Bandarban.
Bodhisatta Dewan, former principal of Khagrachhari Government College and president of Sacheton Nagorik Committee (SANAC) Khagrachhari unit, said, "Most of the children or guardians are unaware of online classes in CHT region."
"If the authority sends online class percentage reports from CHT to the ministry without generating any awareness among the children and their guardians, it will seriously hamper their education amid the pandemic situation," he added.