Incomplete water supply facility now a 'tourist spot'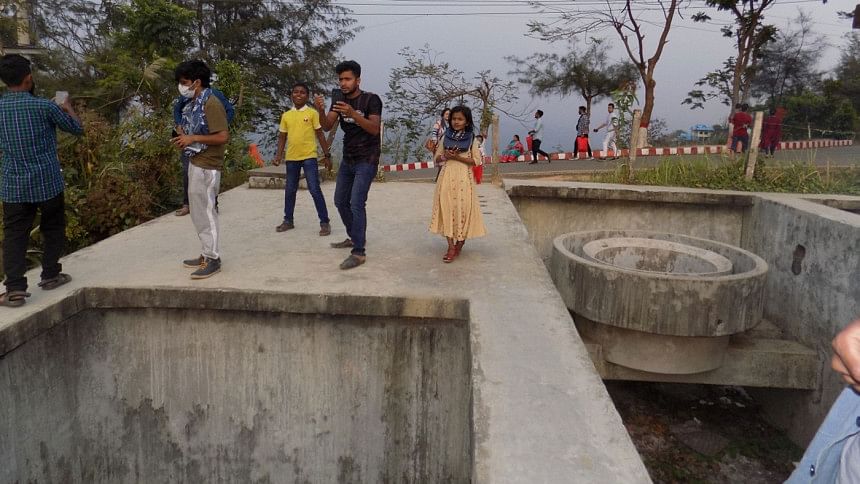 The Department of Public Health Engineering (DPHE) spent around Tk 2.25 crore to construct a facility for supplying fresh water to Neelachal, a tourist hotspot in Bandarban, and areas surrounding it.
But ironically, the structure itself -- left unprotected and incomplete over the last several years -- has become an attraction for tourists.
While visiting the site, a good number of younger visitors were seen loitering around the facility and taking photos of themselves beside large open pits.
According to a plaque placed at the site, the foundation stone of the water supply project for Neelachal tourist spot, under the district administration, was laid by the then state minister for Chattogram hill tracts affairs ministry on October 31, 2014. 
Asked why necessary measures were not taken to safeguard the establishment as well as to ensure the safety of the public, a DPHE staffer, Korshed Alam, said, "We had put up barbed wire fence for the safety of tourists, but the barbed wire got damaged within a few days."
As to why the facility is left in an abandoned state, a few DPHE officials seeking anonymity said the officials who were involved in the project misused the funding. But in papers, they showed that all the money was used up before its construction was complete.  
Manjil Hossain, an engineer who worked under the project, denied the accusation and said, "The entire fund of Tk 2.25 crore was spent only to implement the project."  
Bandarban DPHE Executive Engineer Sarmishtha Acharjee said an additional Tk 1.47 crore would be needed to finish the project and they had sought the funding by writing several times to the higher authorities concerned.
Contacted, DPHE Chief Engineer Saifur Rahman said in response to DPHE's request for additional funds, the finance ministry asked them to conduct a field visit to the site and file a report, stating whether or not the fund for the project was used for the purpose. 
Executive Engineer Sarmishtha said that so far no progress was made on the matter although several teams visited the site already.
Jahir Uddin Dewan, superintendent engineer of DPHE's Chattogram circle, said, "We will investigate whether there was any misuse of the project's fund."
"The water crisis is really acute at Neelachal tourist spot. If the DPHE water supply project could be implemented properly, the crisis in the area would definitely be solved," said Zakir Hossain, Nezarat Deputy Collector (NDC) of Bandarban.
Regarding the breach of public safety at the project site, the NDC assured of immediate steps.
Photo: Sanjoy Kumar Barua  Without any boundary fence around, the large open pits of the incomplete water supply facility, for Neelachal tourist spot in Bandarban, can turn fatal for any of the curious passersby any moment. The photo was taken recently.