Illegal sand and stone lifting poses threat to Jadukata river
Environmentalists ask for immediate action to protect the important flow in Sunamganj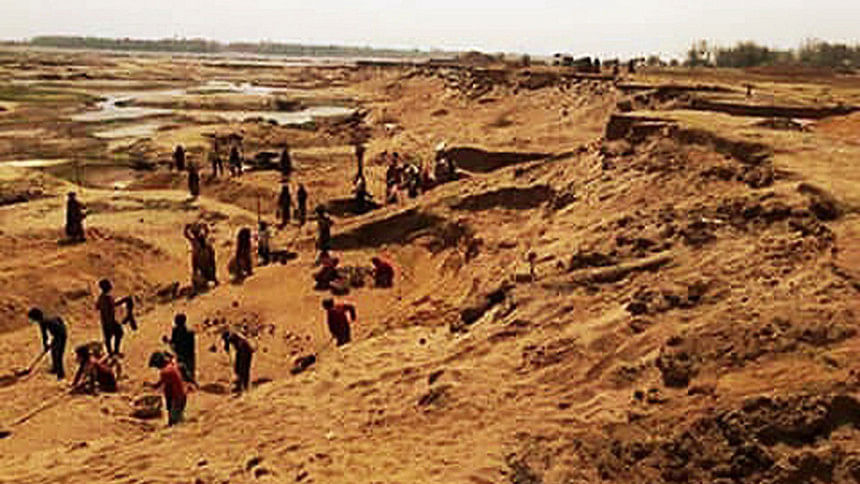 Jadukata, a transboundary river originating from Khasi Hills of India and flowing through Sunamganj's Tahirpur and Bishwamvarpur upazilas, is famed for its scenic beauty.
But for decades, illegal and unplanned extraction of sand and sand mixed stone posing serious threat to the river's existence, say experts and environmentalists.
The river has already lost its navigability, its bank areas at places are ravaged and dwellings at many villages are under threat of erosion, they said.
On June 3, 2010, a High Court bench termed sand extraction in the river 'illegal', following a writ petition filed by Bangladesh Environmental Lawyers Association (BELA) in 2009, said advocate Shah Shaheda Akhter, regional coordinator of BELA in Sylhet.
"But the illegal sand extraction did not stop. On several occasions, we wrote to the authorities concerned in this regard," she said.
On July 7 last year, Sunamganj district administration published advertisement to lease three newly declared balumohal (sand quarry) --­ two in Jadukata and another in its tributary Maharam.
But advocate Jahir Uddin Limon, chairman of Legal Support and People's Foundation, filed a writ and the High Court on July 23 issued a stay order on the lease notice.
"Due to the High Court order, the quarries were not leased. And so, sand extraction is illegal there," said Mohammad Rashed Iqbal Chowdhury, additional deputy commissioner (Revenue) of Sunamganj.
Meanwhile, Sunamganj Zila Parishad leased out 37 acres land to extract sand but it is at a distance from the river bank, said Zila Parishad Chairman Nurul Huda Mukut.
But a few people are extracting sand from the riverbank area, claiming that they are doing it legally under the lease, said Kashmir Reza, president of Paribesh O Haor Unnayan Sangstha.
"Indiscriminate sand extraction in the river and sand mixed stone extraction in the adjacent areas continue for years. Through the act, a group of influential people backed by ruling party men are ravaging the river, river banks and nearby villages," he said.
Bijen Banarjee, who served as upazila nirbahi officer of Tahirpur till his transfer last week, said, "Some people, mostly locals, try to extract sand and sand mixed stone illegally. We conducted frequent drives, arrested many of the perpetrators and tried our best to stop the illegal activities centring the river."
Abdul Karim Kim, general secretary of Bangladesh Paribesh Andolon (Bapa) in Sylhet, said, "Destructive activities centring the Jadukata river must be stopped at once. The administrative authorities and local public representatives cannot evade their responsibility to protect the river."
Earlier on September 24 last year, lawmaker for reserved seat-21 Advocate Shamima Akter Khanam sent a demi-official letter to Planning Minister MA Mannan, also lawmaker from Sunamganj-3, requesting action against illegal extraction of sand and sand mixed stone, which had continued ravaging bank areas of three Sunamganj rivers including Jadukata.
Mouazzam Hossain Ratan, lawmaker from Sunamganj-1, said, "When the quarries are leased out for exorbitant prices, it's easily understood why the leaseholder or others concerned are involved in massive illegal extraction."
"Of course the importance of sand and the livelihood of local labourers should be taken into consideration. But everything must be done in a planned way and a single organization should be given the responsibility for the river as involvement of several cones creates confusion," he said.
Dr Muzibur Rahman Howlader, chairman of National River Conservation Commission, said the sand of the river needs to be dredged for navigability, but that must be done in planned and controlled way after hydrographic survey.
"But the river is being ravaged in all possible ways. We repeatedly asked the responsible authorities to take action to save the river, but nothing notable happened. We will sit with all stakeholders for a proper plan after the Covid-19 situation eases," he said.