Historic temple crumbling, who cares?
The temple is not included in the government's list of heritage sites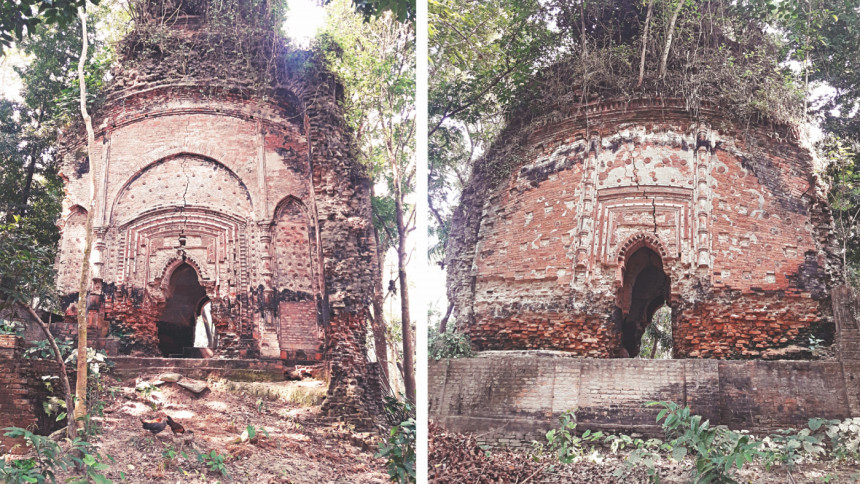 An ancient Shib Mandir at Toilokup village in Kaliganj upazila of Jhenidah is heading towards complete ruination for want of renovation.
The temple was built by a zamindar of Naldanga in 1656, said sources at the Department of Archaeology's Khulna office.
During a recent visit, this correspondent found that the temple with artistic terracotta, situated near the Begobati river, is in a dilapidated condition.
Its wall is 35 inches thick and height 80 feet.
Large cracks have developed on the wall and chunks of plaster often fall off.
Shrubs and plants have grown on the wall and roof.
Stray animals often enter there as there is no boundary wall.
Jagannath Sarkar, secretary of the temple committee, said Hindu community people of nearby villages come to worship here.
On the last day of Bangla month Chaitra a big fair is held, which attracts thousands of people from all walks of life.
"In 2009 Jhenidah Zila Parishad gave us Tk 50 thousand which is too scanty to repair this temple. I went to Kaliganj upazila nirbahi officer (UNO) for help but to no effect. At least Tk 10 lakh is required for its renovation," he said.  
A villager named Krishna Roy said, "We worship at the temple all the year round. The traditional temple requires urgent repair to preserve it for our future generation." 
Kaliganj UNO Subarna Rani Saha said she will take necessary steps in this regard if allocation is available.
This temple is not included in the government's list of heritage sites, said Afroza Khan Mita, regional director of archaeology department in Khulna.
"I will send a team to look into the matter," she said.