Grabber's eye on century-old home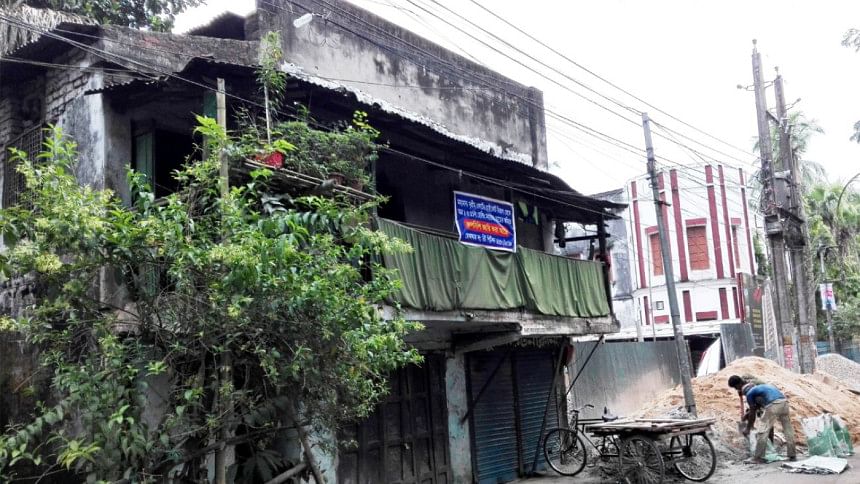 A century-old home on Maharaja Road in Mymensingh town trembles as the foundation for a 15-storey building is being laid on the ground under the same boundary.
Within their boundary, a Hindu family lives on in fear. Nine decimals of their ancestral property of 12.32 decimals have already been grabbed by a local influential person. 
The house was built by Rai Bahadur Jogodish Cahndra Guha, who served as chairman of Mymensingh municipality in 1921-26, and passed it on to his son late Shishir Kumar Guha.
In 1962, Shishir willed the property to his wife late Khana Rani Guha, three sons -- Sukhomoy Guha, Subinoy Guha and Biplob Kumar Guha -- and only daughter Mira Rani Guha in 1962.             
He later passed away in 1965 and his sons took his will to the court to get a probate the next year.
The family's eldest son Sukhomoy moved to India in 1975. He returned in 1998 to give power of attorney over his portion of the land to his brothers. "He left the country immediately after," said Biplob.
"Without informing us, Sukhomoy visited Bangladesh in April last year with an Indian passport under the name of 'Bablu Guha'. Sukhomoy then gave power of attorney of the whole 12.32 decimals of land to a local real estate developer," added Biplob.
Meanwhile, a pile driver is working full fledged for two months now on a high rise -- China Tower 2 – under orders from Shah Md Abdullah Al Mamun, 42, a real estate developer from Kalibari Kaborkhana Road.
"When the pile driver is operational, our two-storied old building at a corner on the land shakes," Biplob said.
"Since receiving the contract, Mamun and his men have been threatening us to vacate the house so that they can take over the total land, he added.
The grabber and his men ransacked their house on April 6 and looted valuables, land documents and Tk 60,000 in cash, alleged Biplob. "We took the matter to the court in May and got an order to stop work."
The court order was submitted to the additional district magistrate in Mymensingh on June 12 and the court ordered police to take step to maintain law and order between the two parties, he added.
Sub-inspector Anwar Hossain of Kotwali Police Station served the notice on June 20 asking the parties concerned to stop all activities on the disputed land, but the construction work is on, said the victims.
Refuting the allegation of any attack on the Hindu family, Mamun said he took power of attorney as all documents supported Sukhomoy's ownership over the land.
The project will have 42 apartments, while eight have already been sold; two were sold for Tk 42 lakh and the rest five for Tk 31 lakh, he added.
An 80-year-old Snehashish Chowdhury, a relative of the family who knows them for 55 years now, said the house was once a centre for many cultural activists, artists and political leaders of the Mymensingh region.