Govt's attention crucial before budget allocation for farmers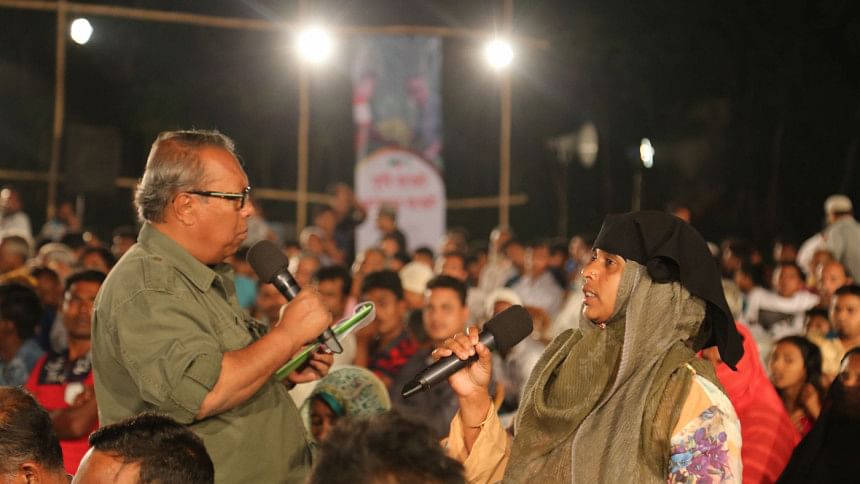 Bangladesh has observed the golden jubilee of its independence. The country has achieved a lot at this time and our development progress with the dream of independence has reached a great height today. The development of various sectors of the country is appreciated all over the world. We are advancing in all the socio-economic indicators and agriculture is the most advanced in terms of development. In the post-independence period, agriculture and its sub-sectors come to the forefront when it comes to holistic development.
At this difficult time of coronavirus pandemic, when the whole world is struggling to sustain economic power as well as continue food production and delivery chain system, Bangladesh has been able to endure the steady progress of food security by overcoming many hurdles. In this circumstance, the immediate and timely steps of the government at different times have played a vital role.
The country's national budget is going to be announced for the second consecutive time under the coronavirus outbreak. Corona is upsetting people in every manner. This situation is quite wide-ranging with multi-faceted effects on developed, developing, underdeveloped economies. Everyone's strategy to handle the situation is of course new and different. Despite the age of globalization, the economic, social power, population, the capacity of the people, government policies are not the same. In all these cases, we are well on our way to survive the terrible times of corona. In this circumstance, the government's strategy and steps to tackle coronavirus, as well as the preparation of the national budget for the current fiscal year and the overall economic policy plan are quite realistic. For all these reasons, Bangladesh is still well on its way to economic security, including food security above everything else. However, it is difficult to say how long this favourable condition will be in our favour. Nevertheless, it is undeniable that along with the health sector, the farming sector now demands the highest importance to contribute to the odd times across the nation. The following recommendations are presented from the findings from Krishi Budget Krishoker Budget (Farmers' Voices in Budget), an open-field dialogue session between farmers and policymakers, organized by Hridoye Mati O Manush (Soil & People in Heart) across Bangladesh.
Recommendations before the National Budget:
Subsidies in the farming sector must continue and in some cases, it is better to increase the subsidy. Farmers continue to cultivate paddy due to the continuation of subsidy in fertilizer. It should be kept in mind that even after the fertilizer subsidy, paddy cultivation is not profitable for the farmers. It is a kind of national responsibility to uplift the farmer when we are allocating subsidies. They continue to fulfil this responsibility to put food in the face of an ever-increasing population. Many farmers are doing much better by farming alternative crops. They see high-value fruit crop investment-oriented initiatives. In this case, the profit is guaranteed, say the farmers. Yet, if this process continues, the paddy land will be reduced soon. This could put risks at the core of our food security. To keep the farmers engaged in paddy cultivation, subsidies have to be introduced and more incentives have to be added so that farmers can bring in profits in paddy alongside high-value crops. 
Much more attention needs to be paid to the sub-sectors of agriculture. At a time when we are thinking about food security, it is time to look at nutrition security. It has to be said that sectors like fisheries, cattle rearing and poultry have been making an immense contribution to our national economy and nutrition standards. Grass-root farmers are the main force behind this contribution. Nowhere in the world is protein as cheap as we see in our country. The success of our fish production is appreciated all over the world today. Milk and egg production have the same success. But these sectors did not get any positive break they expected. By overcoming many hardships, the farmers have been making an outstanding contribution in meeting our demand for protein.
Farmers have long appealed for electricity bills to be considered under the farming category instead of commercial billing. The Honourable Minister of Finance and the Minister of Agriculture are aware of this and this issue has been highlighted to them for a better understanding. This issue should be given special consideration, I suppose.
Sub-sectors of farming do not have much credit facility. Not every sector is considered risky, however unfortunately loans are not provided. But if loan assistance is given, much more success and economic progress can come in the farming sub-sectors. Farmers are in general demanding subsidy in all sub-sectors of agriculture besides general crops.
It is time to introduce insurance for farming and its sub-sectors. In the context of climate change, all sub-sectors of agriculture are also being affected in various ways like crop loss. In this perspective, the insurance system can spur enthusiasm and confidence among farmers. In many cases, farmers are reluctant to pay insurance premiums. My suggestion is to arrange insurance premium through government subsidy, if necessary. The scope and allocation of rehabilitation should be increased during natural calamities and emergencies. There are some disasters we know about, some new ones happen every year. Policy planning and allocation issues need to keep in mind. This time, in 27 districts of the country, including the haor region, Boro was crushed under the heat. One hundred thousand tonnes of crops were destroyed. About 70,000 farmers have been affected. Similarly, blast attacks have also hurt Boro rice yields. To deal with such calamities, it is indispensable to have government preparation regarding specific allocation at the right sector during the budget formulation.
Allocations for agricultural research should be increased. There is no scope for agricultural research to be limited to crop variety innovation. Now is the time to take a fresh look at holistic agricultural research. In this case, special importance needs to be given to the allocation of research. Special assistance should be provided to keep the educated youth in agriculture. In this case, a special agricultural initiative package can be formulated for educated youths. Now is the era of the start-up. In all countries of the world, employment and economic momentum are being accelerated through Start-up. However, there is no significant success in the start-ups in the conventional sectors in our country. With the preparation of a commercial venture, investment and market assurance are two things that are vital and must be guaranteed. For these two reasons, start-ups cannot move forward and still can't achieve the desired success. In this situation, the picture of agriculture is different. I see countless educated agricultural entrepreneurs in today's Bangladesh. They are all achieving amazing success. To keep up with this success, it is necessary to create a package for them and provide investment and ensured market services. If there is an open economic package, educated young entrepreneurs will be inclined towards fulfilling all the conditions to earn good profits and contribute to the economy of Bangladesh at a larger scale.
Agriculture needs to be mechanized in all forms possible. Without overall mechanization, it is not possible to run a smooth farming operation without any wastage. Modern technology and equipment have come in all fields starting from sowing, planting, application of fertilizers and pesticides, crop care, diagnosis of diseases and pests; thus it helps to take quick action to resolve the problems. These are being used not only in the developed world but also in South Asia. We must walk the path of comprehensive mechanization and one of the steps to accomplish that is to start with smart farming. Financial support and incentives should be provided for the addition of smart technology in the agricultural sub-sectors as well. In agriculture, the Internet of Things (IoT), artificial intelligence (AI), robotic technology must be integrated. There needs to be a special allocation for these ultra-modern technologies which is helping global farming to grow at a rapid speed.
The amount of agricultural credit should be increased. At the same time, it is important to identify the borrower who is claiming the loan and make it easy for him to get the loan. In addition to loans, policies need to be formulated to ensure the right management cooperation for the use of loan money disbursement. At present, agricultural loans are disbursed at a cost of about Tk 26,000 crore (USD 3069 Million). The annual farming contribution is many times higher in respect of financial contribution. Although the growth rate in the agriculture sector is calculated at 14 percent, the contribution of this sector stands at 21 billion US dollars. With that in mind, it remains reasonable to increase the amount of agricultural credit, because, the farmer is playing a pivotal role behind all the agricultural and economic achievements. Another issue needs to be addressed. Arrangements can be made to disburse agricultural loans directly to the farmer through bank account, agent banking, debit card without the involvement of any private company or NGO. In the present digital age, it is possible to disburse loans fairly under proper accountability by using government digital infrastructure. 
Finally, let's talk about rooftop farming or urban farming. Earth's surface temperature is rising rapidlyd and our region is much humid and hot. This time the temperature is higher than the previous season. The water level in the southwest has dropped. The Ganga Kapatakkho irrigation project has been shut down due to lack of water in the Padma. Without greenery human survival has fallen into a higher vulnerability. At this time, all the cities, towns and suburbs of the country, including Dhaka are burning in intense heat. The city environment is much warmer than the village. Factories, black smoke from cars, and the increasing population are making this situation more difficult. In this state, rooftop or urban agriculture can develop as our oxygen factory. People across the country are becoming interested in rooftop farming initiatives. But they do not get any assistance in their wonderful initiatives. The government's Department of Agricultural Extension (DAE) has a programme on rooftop agriculture, which is very limited. That project is not able to play such a role in the expansion of urban agriculture on a large scale. An integrated and large-scale project on rooftop farming can be undertaken with a view to achieve success in this modern sector of farming. By producing pure fruit crops on the roof, some of the city dwellers would be able to meet their nutritional needs. It is possible to market the products produced at roof farming as organic agricultural products, which could open a new door for commercial agriculture. I am eagerly putting this under the kind attention of the government and the policy authorities to look deeper into the above issues before preparing the upcoming national budget.
May the farmers live long, may our farming sector flourishes even better than before. May the farming sector reign with all the contributions from the farmers, scientists and policymakers and may this year's national budget gives more attention to the relentless farmers of Bangladesh. Many greetings of Eid-ul-Fitr to all the farmers and my dear readers. Take good care of yourselves and stay safe amid this deadly coronavirus outbreak across the nation.