Free media, civil society can play role in absence of opposition party: Rehman Sobhan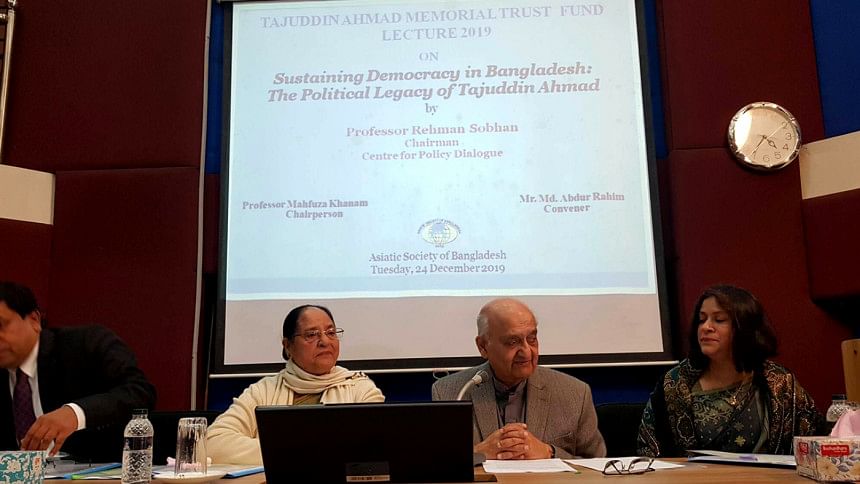 Centre for Policy Dialogue Chairman Prof Rehman Sobhan today said free media and strong civil society can partially compensate for a weak political opposition.
"We need to restore freedom of media, not just by permitting a proliferation of outlets but providing them with freedom to express themselves in all issues without intimidation, legal harassment or incarceration," he said.
Prof Rehman Sobhan was delivering a lecture on "Sustaining democracy in Bangladesh: The political legacy of Tajuddin Ahmad". Asiatic Society of Bangladesh organised the lecture at its office in Dhaka.
Underscoring the need of raising voice on public issues, he called upon civil society members and organisation to talk on public issues to express themselves without fear, harassment or abuse.
He also advocated for the strengthen of civil society organisations.
Terming Tajuddin an unsung hero of Bangladesh, Prof Rehman said Tajuddin used to do politics for the greater interest of people.
Jatiya Oikyafront leader Dr Kamal Hossain said Tajuddin life was full of inspiration.
"It is our failure that we could not portrait Tajuddin Ahmad in due manner," Astatic Society of Bangladesh President Mahfuza Khanam said while presiding over the lecture.
Eminent historian Professor Sirajul Islam, Tajuddin's close aid Barrister Amir-Ul Islam, Rights Activist Hameeda Hossain, political scientist Rounaq Jahan, CPD executive director Professor Mustafizur Rahman, Tajuddin's daughters Sharmin Ahmad and Simeen Hussain Rimi and Asiatic Society of Bangladesh Convener Abdur Rahim were attended the lecture session among others.