Farmers unite to bring canal back to life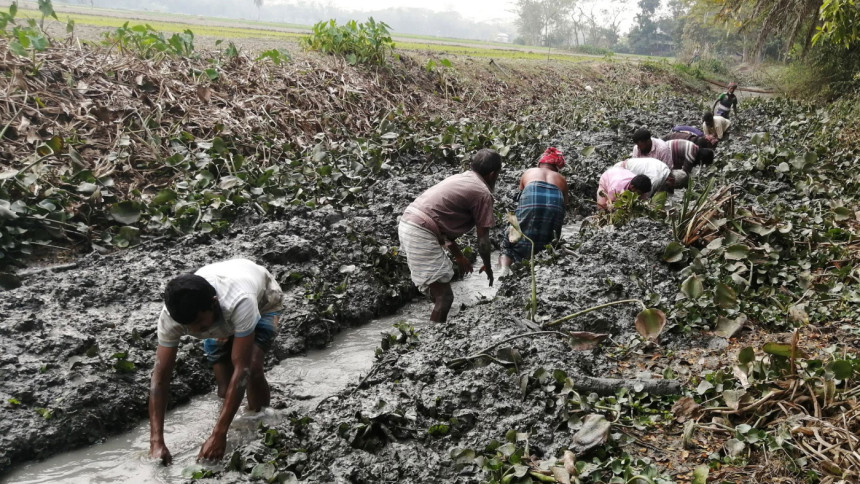 After nearly two decades of waiting around for the authorities to take steps, farmers in Baufal upazila finally decided to restore a two-kilometre long dormant canal on their own.
The restoration of the Jauta-Naumala-Boga canal, running through Baufal and Naumala unions, will benefit local farmers grow crops on about 500 acres of land all year long.  
During a visit to the area on February 18, several hundred volunteers were seen at work. About 750 metres of the canal -- running along Aleya Rahman Ladies' Club Government Primary School -- was found re-excavated already.
Farmer Faruk Sikder from Batkajal village said hundreds of farmers in Jauta, Batkajal and Naomala areas depend on the canal's water to irrigate crops, mainly Aman and IRRI rice, on around 500 acres of land in the area. 
But they had not been able to grow most crops during most parts of the year and the rice production had also been suffering due to poor flow of water in the silted up canal. Now the re-excavation of the canal by volunteers will help rejuvenate agriculture in the area, he hoped.
Another farmer, Abdur Rouf Khalifa, from Jauta village, said water is a must for agriculture, including rice. But rice seedlings are turning yellow already due to scanty supply of water in the canal.
"We started to dig the canal as the yield of IRRI will be affected this time if we can't irrigate the crop with sufficient water immediately," he added.
The canal slowly went dry after its source, Maishadi canal, was closed off with a sluice gate and silt kept on accumulating in it over a period of about two decades when the accumulated silt was not removed, said Shah Alam Chowkidar, of the same village.
Chairman Shahzada Hawlader of Naomala Union Parishad said livelihoods of agricultural communities in Jauta, Batkajal and Naomala depend on water from the canal.
The farmers have been suffering immensely after water stopped flowing in the canal. If the sluice gate upstream is opened up, the farmers in the area can be relieved of their miseries, he also said.
Baufal Upazila Nirbahi Officer Zakir Hossain said, "I have heard of the situation from the affected farmers. Necessary steps will be taken to re-excavate the dormant canals in the area so the farmers get uninterrupted supply of irrigation water for growing crops all year round."
He also assured of taking steps to keep sluice gates open at the source of the canals.