Dwellings, agri lands disappearing as Teesta turns furious
The victims at Char Gokunda in Sadar upazila blame earlier sand lifting for the menace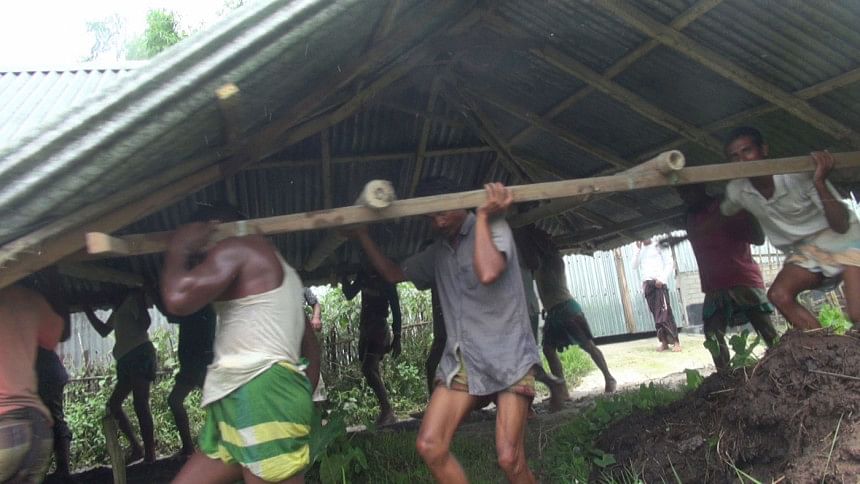 The Teesta has continued devouring homesteads, arable lands and orchards at Char Gokunda, a river basin village in Lalmonirhat Sadar upazila during the last one week.
Over half a hundred dwellings and 300 bighas of land of the village have gone into the riverbed, said Anis Ali of the village.
After losing the dwelling house and arable lands to the Teesta, 58-year-old Ambia Khatun with her family has taken shelter on the premises of another household in the area.
"We had everything two days ago. Now we are landless," she said, wiping tears.
Nayeb Ali, 55, a farmer of the village, said many people in the village are shifting their houses as the Teesta continued erosion.
The people are also cutting down their trees and selling those for low prices.
They are taking shelter in other people's land or on the government roads and living under the open sky, he said.
"Those who had their own homestead, cultivable land and orchards have become landless and destitute. They have to live half-fed. Some of the victims of the river erosion have been sheltered in our land for the time being," said Shahin Mandal of the village.
Several locals alleged that the river erosion has become serious at Char Gokunda due to illegal sand extraction from the Teesta with dredgers during the dry season.
Abdul Quader, sub-divisional engineer of Lalmonirhat Water Development Board, said, "We have visited Char Gokunda village and informed the higher authorities for taking step to check the erosion immediately."