DIG Mizan awaits action: Home minister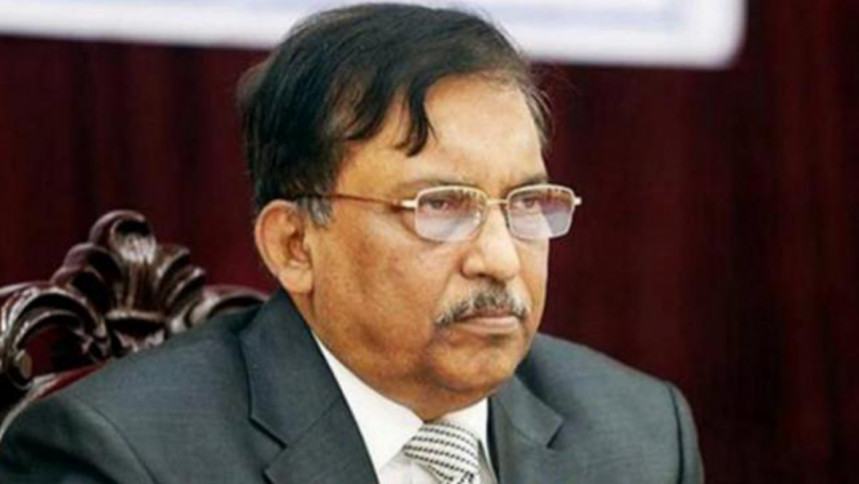 Home Minister Asaduzzaman Khan today said action will be taken against Deputy Inspector General (DIG) Mizanur Rahman for allegedly giving bribe to an Anti-Corruption Commission (ACC) official.
"It's clear he (Mizan) has committed a crime by bribing an ACC official. He'll be punished for it," Khan told reporters at the auditorium of the Department of Prisons in Bakshibazar.
ACC suspended its Director Khandaker Enamul Basir on Monday for breaching service rules.
A private TV channel reported on Sunday that Basir had taken Tk 25 lakh as bribe from Mizan to give him a clean chit in a corruption case. He had also asked the DIG to pay him another amount of Tk 15 lakh within the next week.
Before talking to the reporters, the home minister also inaugurated a fair exhibition organised by the Security Services Division.
Asked about the arrest of former Sonagazi Police Station officer-in-charge Moazzem Hossain, the minister said all escape routes have been cut off. "He can't escape. He'll be arrested soon," Khan said.
A tribunal ordered the OC's arrest on May 27 after investigators found allegations brought against him to be true.
Supreme Court lawyer Syeddul Haque Sumon filed the case against Moazzem under the Digital Security Act on May 15.
The former OC was accused of unlawfully interrogating Feni madrasa girl Nusrat Jahan Rafi and recording the incident on phone. The video was later circulated on the social media.
Asked about the killing of Amit Muhuri in Chattogram jail, minister Khan said people involved in the incident will not be spared.
Amit, a prisoner, was killed in an attack allegedly by his cellmate Ripon Nath at Chattogram Central Jail over a trifling matter on May 29.