Desert locust won't invade Bangladesh
Says expert from Italy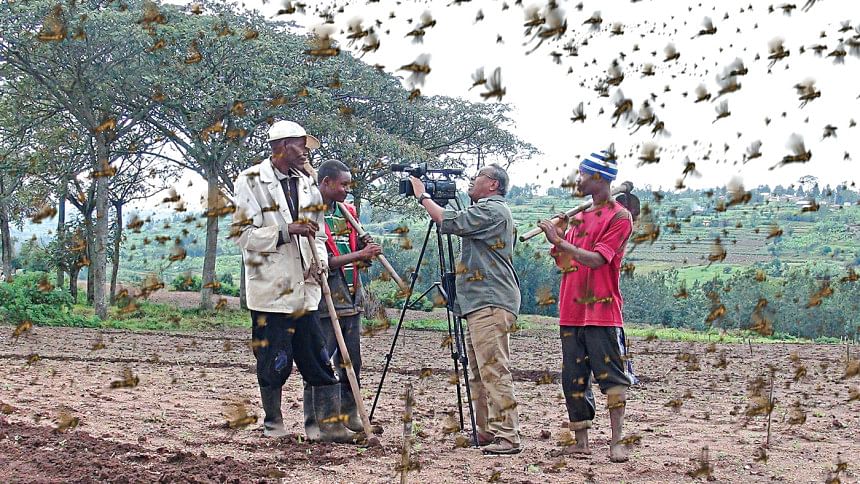 On April 18, a swarm of insects were seen in Cox's Bazar's Teknaf upazila which raised concerns over locust attack amid the outbreak of coronavirus. The news really shocked me as food security is already a concern during the ongoing crisis across Bangladesh and the entire world. The government is taking different initiatives to manage the ongoing crisis. Meanwhile, the arrival of locusts in our country was certainly a panicky news. The government immediately sent a team of experts, comprising of plant protection experts, entomologists and agricultural scientists, to Teknaf to identify the species of the insects. After investigation, experts said the insects were 'spotted grasshoppers.'
On May 1, I contacted Senior Locust Forecasting Officer Keith Cressman, who works at United Nation's Food and Agriculture Organization (FAO) and currently stationed at the headquarters in Rome, Italy. During the lockdown in Italy, he was at home. We had discussed the issue over a Skype call and he confirmed that it was not the deadly desert locust (Schistocerca Gregaria). But, before that I sent him some photos of the insect which were seen in Teknaf.
Keith said, there is no chance of its arrival in Bangladesh and seeing the images he said those were not desert locusts. He said these locusts may travel along the border areas of Pakistan and India in June this year but not beyond that. Keith is not only an expert on forecasting but also on migration of the locusts. Because these insects travel very fast from one country to another.
It's a huge relief that the insects which were seen in Teknaf are not destructive at all and farmers have nothing to fear. It only eat leaves of wild plants and do not attack any other common vegetative species. These insects were actually identified as Aularches Miliaris, belonging to the family of Pyrgomorphidae, a kind of grasshopper. 
Since I was overwhelmingly panicked, I asked Keith again, why he feels that this deadly insect won't come to Bangladesh and he gave me three main reasons -- Bangladesh is too far from where the locust swarms are now; they don't travel against the wind and most importantly the habitat and topography. Bangladesh is too wet and green and this environment is not favourable for the desert locusts at all to start living.
However, the current situation and forecast are alarming as locust infestations are expected to extend to other areas in the horn of Africa and southwest Asia. Another generation of breeding will increase the numbers of locust as well. In southwest Asia, hopper groups and bands are present in southern Iran and in Pakistan substantive control operations are continuing. Control operations also continue in Africa. The global forecast says it all- locusts will increase further and extend to different areas.
Dear readers, I would also like to share you about another insect, popularly known as 'Fall Armyworm.' Bangladesh has been suffering because of another insect, mainly at the maize field, known as fall armyworm (FAW). This insect also caused panic and trouble for the farmers. Recently FAO has supplied thousands of pheromone traps to farmers in Bangladesh to support the country in the battle against FAW. FAO representative in Dhaka Robert D Simpson told me that this will help farmers a lot. Gradually FAO plans to assist farmers in the battle against FAW. This invasive pest can cause serious damage to food production. Pheromones are natural compounds that are emitted by female FAW moths to attract male moths for mating. Synthetic compounds that mimic natural FAW pheromones, often referred to as 'lures', are placed in the traps to attract and trap male moths. Moths that are caught are then counted. From these numbers, farmers can know if FAW is present in their fields and if there is need for any increased scouting. Robert D Simpson told me that FAW has spread very fast in Bangladesh since it was first detected less than two years ago. Although there is no way to eradicate fall armyworm, it can be managed. These pheromone traps are an important way to monitor and control its spread, he says. Keith Cressman gives a different idea on handling FAW. He says after the maize plants are sowed and they grow to the stage of two leaves, farmers can monitor the field and use their hands to destroy numerous eggs, FAW lay on leaves. Although this would be really tough job for a farmer, but its destruction at an early stage would definitely help farmers in the future. Using the pesticide won't kill them as they go deep into the maize and it's difficult for pesticides to reach that deep spot. The hand-method also saves a lot of money that is truly labour-intensive.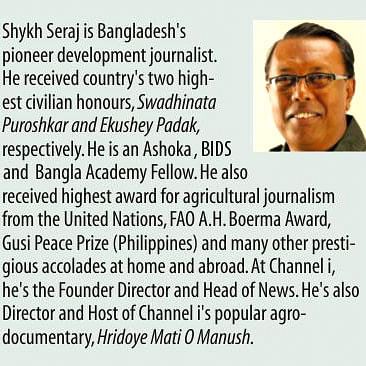 The problem of the desert locust mainly lies in the horn of Africa, especially in Kenya, Ethiopia and Somalia. Keith Cressman says FAO already sought a fund of 153 million dollars and they have already received 120 million dollars for the control operation to reduce the desert locusts and for relief and rehabilitation as well. They have also found the aerial operation is most effective and sprayed pesticides from helicopters in the affected zones of the affected countries. Besides, FAO has been closely working with the agricultural and other authorities concerned of the affected countries. 
Dear readers, we are already challenged by world's most fearsome pandemic Covid-19. Bangladesh government has taken many measures to tackle it and also took plans on how to keep on going for the food production. Honourable Prime Minister Sheikh Hasina is closely observing the impacts of this deadly virus. On the other hand, the desert locust remains a major threat for food security, in particular for many rural populations who mostly live their life on farming. There is a high cost involved in controlling the invasion and FAO has been working wonderfully well in the affected countries. Although there is no apparent worry that locusts will enter Bangladesh, but we must stay alert and keep communication with FAO as they play a vital role in monitoring and controlling the deadly insect with supreme expertise.