Brick chips used in highway!
Damage occurs days after finishing work on Barishal-Khulna, Barishal-Pathorghata highways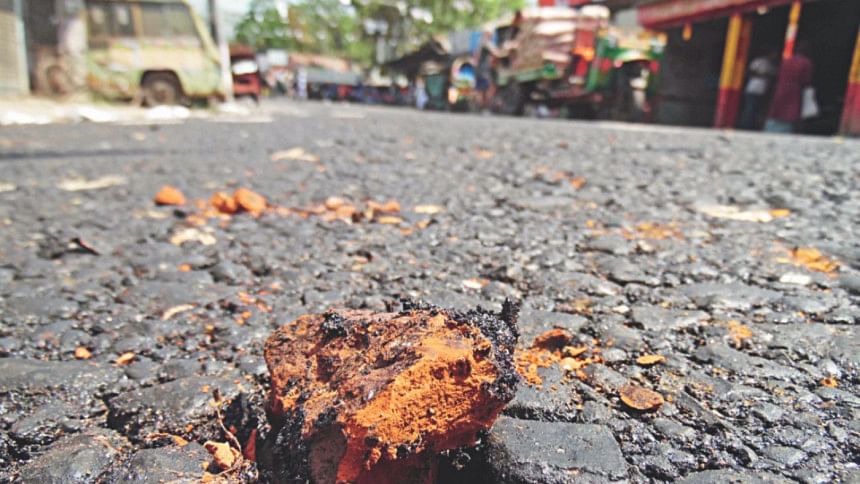 Although the use of stone chips is mandatory for carpeting of important roads, the designated contractor of Rajapur part of the under-construction Barishal-Pathorghata highway has been using brick chips with low quality chips, locals claimed.
"I have noticed brick chips being exposed on the surface of the road at different places and those are often got crushed under the wheels of moving vehicles. I think the contractor has mixed brick chips with low quality stones and that's why the road is getting damaged within days after the final carpeting," said Oheduzzaman, a businessman of Baipasmore, on Wednesday.
He also feared that the thickness of the carpeting was much below the standard 70 millimetre.
"I have never seen brick chips being used for carpeting in highways," said Md Kamrul Islam, another trader of the area.
Abdus Sattar, another businessman of the area, said, "Not only the surface but also the inner portion is being constructed with substandard materials."
Nursart Builders is constructing the 18 Km road from Baroibari to Battala in Rajapur upazila at a cost of around Tk 50 crore. The construction work, which started in December 2017, is now at its final stage and is scheduled to be completed by the end of this year.
"A small portion of the road construction materials was substandard as low quality stone chips were used for carpeting there," said sub-divisional engineer of Jhalakathi Nabil Hossain.
Locals claimed that about 1.5 kilometre of the road had faulty carpeting.
"It would be reconstructed. I don't find any reason for raising a hue and cry about it," added Nabil, who is overseeing the construction work.
Nabil also refused to entertain the locals' claim that brick chips have been used for carpeting.
When asked, contractor Nayem Hossain admitted that some amount brick chips might have got mixed with stones.
"It was not intentional. It might have been mixed as the stones chips and brickbats were kept at the same landing station," added Nayem, one of the two owners of Nusrat Builders.
Contacted, Golam Mostafa, the executive engineer of Barishal, also working for Jhalakathi as additional charge) of Roads and Highways Department, said, "Only good quality stones should be used for carpeting work of the highway. There is no scope to use brick chips and the thickness of the carpeting must be 70-millimetre."
"If brick chips are used for carpeting, I will take stern action immediately," said the executive engineer.
This 18km road is part of two national highways -- Barishal-Khulna and Barishal-Pathorghata.