Farewell to a true soldier
Taramon Bibi, Bir Protik (1957-2018)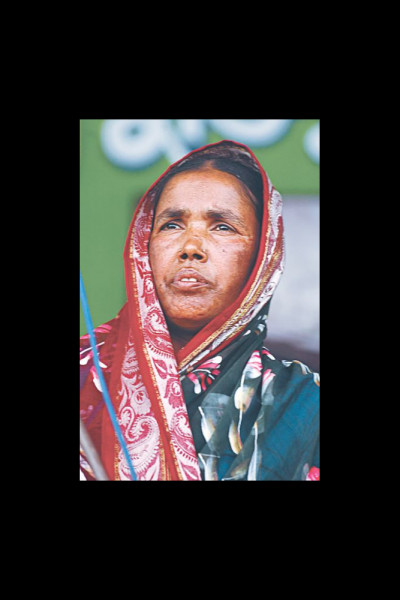 In the guise of a mentally challenged woman, she would observe the positions of the Pakistani army in different areas of then Kurigram's Rowmari Police Station during the 1971 Liberation War. She would pass the information based on her observations to the freedom fighters for whom she worked as a cook in a camp.
Taramon Bibi, however, felt the need to do something more for her country. She soon took up arms and took part in several battles against the Pakistani forces for the sake of liberation.
War veteran and recipient of the award for gallantry -- 'Bir Protik' – Taramon, at the age of 61, passed away at her home in Rajibpur Upazila early yesterday, the first of December, the same month the country achieved the freedom she too had fought for in 1971.
Taramon Bibi had been suffering from respiratory problems and diabetes for long and had taken treatments on several occasions in the last few years, her son Abu Taher told our Kurigram correspondent.
"Her health condition deteriorated on Friday night and she breathed her last around 1:30am," he added.
She left behind her husband, two children and a host of relatives and well-wishers.
One of the two gallantry award winning women freedom fighters, Taramon was laid to rest in her family graveyard at Kacharipara in Rajibpur with state honour. 
People from all walks of life expressed deep sorrow at the death of the celebrated freedom fighter.
In separate condolence messages, President M Abdul Hamid, Prime Minister Sheikh Hasina and Jatiya Sangsad Speaker Shirin Sharmin Chaudhury expressed grief over Taramon Bibi's death, reports BSS.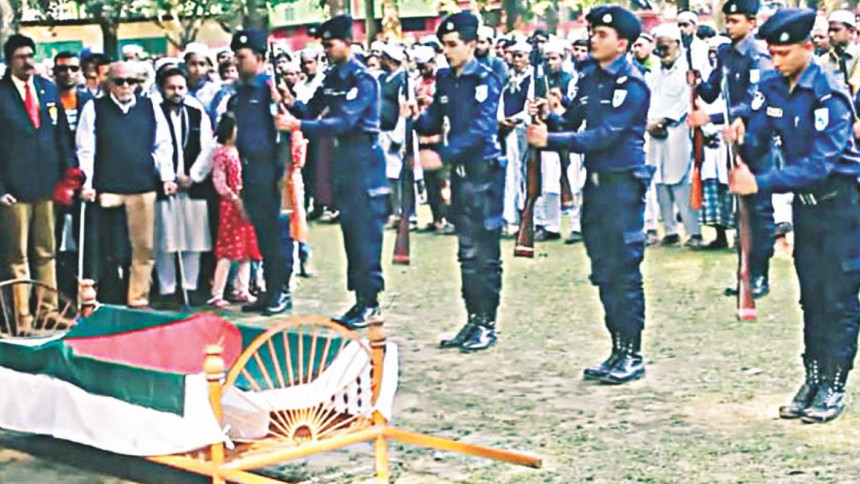 LIFE OF TARAMON BIBI
Daughter of Abdus Sobhan and Kulsum Bewa, Taramon was born in Shankar Madhabpur village of Kodalkati Union of Kurigram in 1957, according to "Ekattorer Bijoyinee", edited by Mustafiz Shafi and Tawhidur Rahman in February 2011.
In March 2015, The Daily Star translated and printed her interview that was originally published in the book.
From a needy family with seven siblings, Taramon used to work as domestic help for a living.
In the month of Chaitra, 1971, an acquaintance -- one Aziz Master -- introduced her to freedom fighter Habildar Muhib.
Following Muhib's request and insistence to adopt Taramon as his god-daughter, Taramon's mother, despite unwillingness, agreed to send her to the Doshghoriya freedom fighter's camp as a cook.
"Initially, in between my cooking chores, I would be sent to observe the positioning of the enemy. I would pretend to be a mad woman and collect information…The freedom fighters would execute their operations based on the information," Taramon said.
Later, Muhib taught her how to use firearms in order to directly participate in the war.
"I didn't even realise when the 14-year-old teenager Taramon became a soldier while working with the soldiers of the East Bengal Regiment…," she said.
One afternoon in the month of Srabon, 1971, Taramon first took part in direct battle against the Pakistani army after the enemy attacked their camp with a gunboat.
"A bullet fired by me hit a Pakistani soldier. I then loaded the magazine even more enthusiastically, and fired at them continuously… After fighting like this until dusk, the Pakistani army retreated," Taramon said, narrating her first experience in the war.
"I discovered myself that day; I saw myself transform from a maid to a soldier."
She later took part in several battles in sector 11 under the leadership of Sector commander Abu Taher, Bir Uttam. Bangabandhu Sheikh Mujibur Rahman's government honoured her with the title of 'Bir Protik' 1973 for her courageous role in 1971.
"I WANTED AN ENEMY-FREE, HAPPY BANGLADESH"
But, after independence, she had gone traceless.
"With many dreams, the country became independent. A different life began. I returned to Rajibpur. I met my mother and siblings. We were once again consumed by poverty. I took up a job in someone's house," Taramon said in the interview.
In 1995, a teacher of Mymensingh Ananda Mohan College had found her and while they talked, Taramon learned that she was a freedom fighter with the title of Bir Protik conferred upon her and that Bhorer Kagoj had published a report on her.
Finally in 1995, she received the prestigious Bir Protik title-- 24 years after the war.
In the final part of her interview, Taramon said, "It's true that I am no longer suffering from poverty but I have yet to see the country that I had envisioned.
"Even now freedom fighters live in poverty. Many die without receiving any treatment. I didn't want to see such a Bangladesh. I wanted an enemy-free, happy Bangladesh."