Biman: 10 crash victims return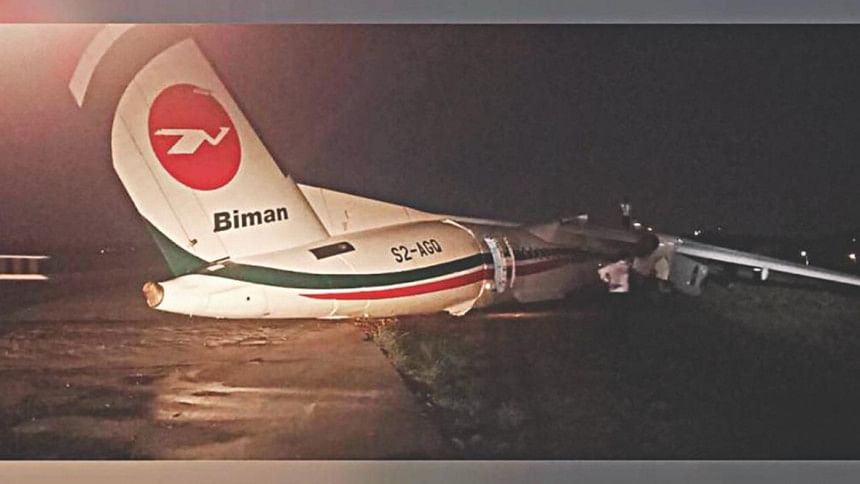 -- 4 injured to be admitted to hospital
-- 1 pilot to be taken to CMH
-- Boeing 737-800 flight brought back the group
Ten victims of the Biman crash landing at Yangon last Wednesday came back home tonight via a special flight of the national flag carrier.
The people were flown back to Dhaka by Boeing 737-800 of Biman at 10:31pm, our staff correspondent report from the spot.
Biman Bangladesh Airlines sent a special flight to Myanmar today to bring back two pilots, two cabin crews, four passengers and two ground engineers.
The flight took off from Hazrat Shahjalal International Airport, Dhaka, at 4:00pm, said Shakil Meraz, general manager (Public Relations) of Biman.
The flight will return tonight at 10:45pm after completing all necessary formalities, he added. Also, anyone else willing to return will be brought back in the flight.
THE CRASH LANDING OF BIMAN
All 33 passengers and crew members on a Biman flight to Yangon were injured when the Dash-8 plane went off the runway while landing at Yangon airport in bad weather.
Of the injured, 19, including an infant and six women, were taken to North Okkalapa Hospital in Yangon. Four of them were released later at night.
None of them were fatally injured.
According to what could be known, the plane was badly damaged. Photos showed that the 74-seater Bombardier Dash-8 Q400 aircraft was largely in one piece.
Biman has already formed a six-member committee to investigate the crash landing.