A battle brewing over Hefajat helm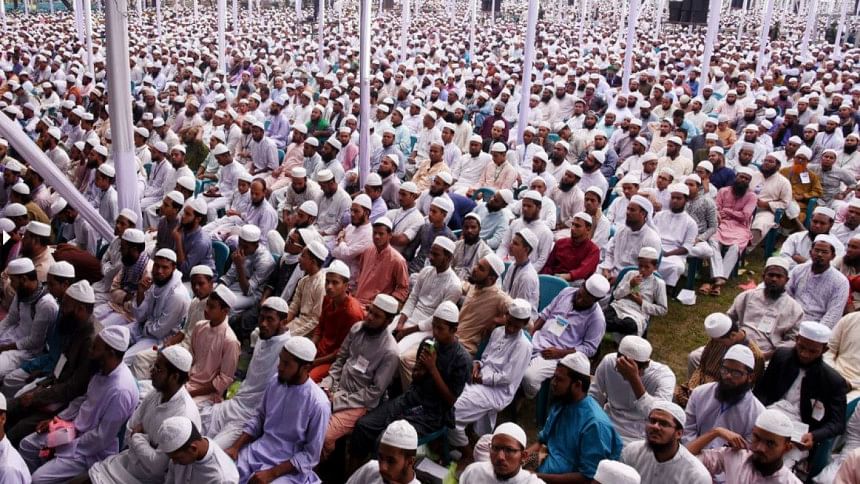 With the demise of Hefajat-e-Islam chief Shah Ahmad Shafi, several anti-government elements, including the Jamaat-e-Islami, have moved to establish control over the Islamist outfit and its stronghold, Hathazari madrasa, claim several Hefajat leaders.
These elements -- both political and non-political -- are using a section of Hefajat leaders, including its Secretary General Junaid Babunagari who reportedly took a stance against Shafi and his son Anas Madani, to establish a grip on Hefajat and the Qawmi madrasa, they say.
Several lakh students study at Qawmi madrasas across the country and different political forces, on many occasions, reportedly used them to materialise their political goals.
Talking to The Daily Star, Hefajat Joint Secretary General Maulana Zafrullah Khan said several anti-government political forces and a section of Islamic intellectuals have jumped at the opportunity to re-establish ties with Hefajat for using it against the government.
On the other hand, the government is trying to retain its control on Hefajat and Hathazari madrasa following the revolt against Shafi and his son, he mentioned.
Abul Kasem Kasemi, another Hefajat leader in the capital, said that with new leaders at the helm of Hefajat and Hathazari madrasa, it may take some time to fathom whether there would be a new polarisation.
Jamaat is making efforts to repair relations with Hefajat on which it and the BNP reportedly banked on during the 2013 movement to oust the AL government, said a number of Hefajat leaders.
Several Jamaat leaders, including its Secretary General Mia Golam Porwar, were seen at Shafi's namaz-e-janaza. Jamaat men were seen carrying Shafi's coffin during burial.
Pro-Hefajat Islamic intellectuals have already started campaigning on social media in favour of Hefajat and its 2013 anti-government movement.
Sources in the ruling Awami League and its electoral ally Jatiya Party said they are keeping a close watch on every development at Hathazari madrasa and also their political opponents' efforts to gain Hefajat's support.
Some AL leaders had maintained relations with Shafi after Hefajat changed its stance following its failed movement in 2013, they pointed out.
Shafi, who often drew controversy for opposing women's empowerment and education, passed away on Friday evening, a day after he resigned as the director general of Hathazari madrasa.
He was forced to quit the post he had held since 1986 following an unprecedented student unrest at the madrasa. The unrest was fuelled by Babunagari and several others who were not on good terms with Shafi since he leaned towards the AL after the failed 2013 movement, said Hefajat sources.
Shafi's son Anas Madani, who reportedly has good relations with the AL government, was also removed from the post of assistant director of the madrasa on Wednesday night.
Shafi, who was chairman of the Qawmi Madrasa Education Board, founded Hefajat during the tenure of the AL government in 2009, protesting a draft national women development policy that gives equal inheritance rights to women.
A year later, Hefajat demanded cancellation of a proposed national education policy, saying it has a secular curriculum for schools and colleges.
In 2013, the Islamist outfit emerged as a force, countering the Shahbagh movement, initiated by bloggers and online activists who demanded death penalty for war criminal Abdul Quader Mollah.
As Hefajat activists turned increasingly violent and kept the capital's Motijheel occupied for nearly 12 hours after their rally there on May 5, 2013, law enforcers swung into action and drove them away.
Things changed in the following years, and Shafi and the AL government got closer. Earlier, Hefajat and its chief had leaned towards the BNP. A faction of the Hefajat, led by Babunagari, was totally against the Hefajat's "soft approach" towards the government, according to several Hefajat leaders.
SHAFI'S SUCCESSOR
Following Shafi's death, there have been a lot of speculations about who would be his successor.
Talking to journalists, Babunagari said, "As Hefajat's secretary general, I will convene a meeting of the organisation's council to elect the new supreme leader. The council will decide on this matter."
"Ahmad Shafi's death is an irreparable loss. But we will try to recover from it. As Shafi's soldiers, we will work following his footsteps," he added.
Asked about Shafi's son Anas Madani's allegation about his links to the student unrest, Babunagari said, "It was an orderly demonstration. I have no involvement in it. I learnt about the demonstration after it started on Wednesday."
INTERIM BODY
The Hathazari madrasa has announced an interim body to run the largest Qawmi madrasa in the country.
At a meeting today, its Shura committee entrusted a group of three with the responsibility of running the madrasa for the next six months. The committee will monitor their activities and decide on the next course of action.
The three are madrasa teachers Maulana Sheikh Ahmed, Mufti Abdus Salam and Maulana Yahya.