Bangladeshi garments suppliers held hostage by international clothing brands, retailers
Forbes reports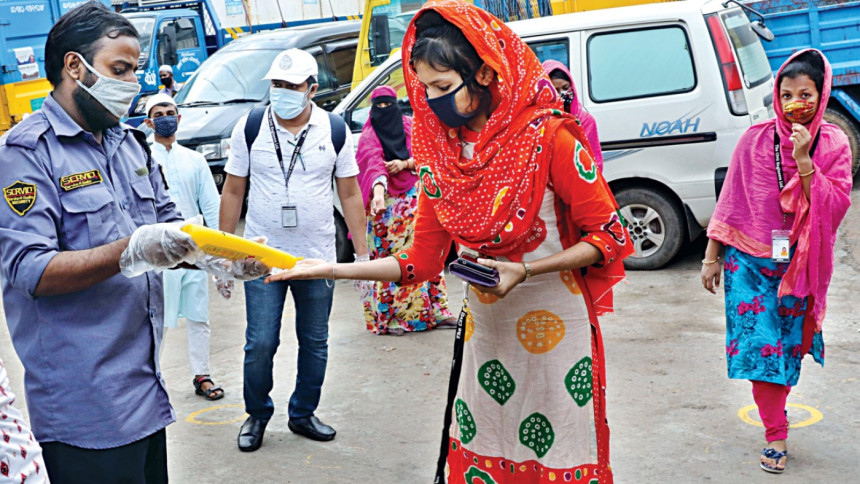 As the coronavirus sweeps across the globe, one if its aftermaths is being felt in Bangladesh's readymade garments sector, the largest foreign currency earner in the country.
Local suppliers allege being held hostage by clothing brands, which are forcing manufacturers to sell their wares at a lesser than agreed upon price.
It's blackmail, they say.
Mostafiz Uddin, a denim supplier in Bangladesh, told Forbes that he was forced to accept a 30 percent discount on a large order of jeans already completed and shipped for Burton Meanswear, incurring a loss.
"That means I am making the jeans for free and my workers made the jeans for free. It's blackmail," Uddin told Forbes.
The renegotiation comes at a time when he is already owed $10 million in total from a number of his buyers, including Peacocks and Global Brands Group, which produces wholesale products for Jones New York, and Arcadia Group, which owns a number of retailers, including Topshop, Topman, and Burton Menswear.
"If I don't get my money back, I will not have a factory," Mostafiz Uddin told Forbes.
Forbes tried to contact the companies but they did not return requests for comment.
This is just one of many stories of clothing companies demanding steep discounts and withholding payments for completed goods from their suppliers in Bangladeshi factories.
It comes after many brands and retailers cancelled orders worth billions of dollars in March amid the Covid-19 pandemic.
At a time when countries are easing lockdowns and the apparel industry is scrambling to make up for lost sales, brands are continuing to pass on their financial burdens onto factories in garment-making countries as a feasible way to save their flailing businesses.
The Forbes report cites new estimates by The Daily Star, which show factories across Bangladesh are owed a staggering $5 billion for mostly shipped and completed orders, equivalent to 15 percent of the country's net apparel export.
Although some clothing companies say they would pay their suppliers, when and how much the brands agree to pay would make the difference between survival and closing up shop, according to reports.
Over two dozen local suppliers revealed that clothing companies are demanding up to 50 percent discounts on already shipped goods and six-month delays in payment for completed orders. They are also refusing to pay for orders until after the products are sold in stores, and based only on a percentage of sales, which could mean factories not getting any money until the end of the year, The Daily Star reported earlier.
Syed Ashfaqul Haque, executive editor of The Daily Star, warned that mass layoffs have begun and increasing social unrest is just around the corner, as the factories are operating without cash.
"They won't be able to pay workers, if these payments are not released right away," he told Forbes via WhatsApp, adding that he foresees more demonstrations and increasing violence if factories are unable to pay wages and bonuses to garment workers ahead of upcoming the Eid holiday, on the weekend of May 23.
Mentioning that most suppliers in Bangladesh are fearful of speaking out against their buyers, especially big brands, Haque said, "I talked with over two-dozen factories. All of those were asked to stay 'shut-up' [by brands] if they want to continue business."
Meanwhile, a 4.1 million-person workforce engaged in Bangladesh's RMG sector is at risk of going under in the coming days, with unpaid bills piling up for the factories and months of slow to no work ahead of them.
Mostafiz Uddin told Forbes he fears that he has been blacklisted from future business with his clients since he had named the brands and described in detail what's happening to his factory and to others.
And the environment has become such that the suppliers are being coerced or have no choice but to accept some money over no money as the brands renegotiate the terms.
Unlike the west, there will also be no bankruptcy proceedings for the factories which are forced to shut down.
A number of large companies, besides those supplied by Mostafiz Uddin, including Primark, Bestseller, Walmart (Asda), Under Armour, Kohl's, Ross Dress for Less, Urban Outfitters, and Gap Inc. (Old Navy, Athleta, Banana Republic), among others, have so far cancelled orders or renegotiated payment terms to demand discounts and payment delays, revealed a brand tracker regularly updated by the Worker Rights Consortium.
Gap Inc., a major buyer in Bangladesh, cancelled orders through the fall in April and is now asking for 10 percent discounts on shipped goods, a local supplier in Bangladesh told Forbes seeking anonymity.
Contacted, a representative sent a statement to Forbes saying the company is "identifying those products we can sell in the short-term, those we can store now to sell later, and those orders we need to cancel."  
Other companies, like Walmart, say they're working with suppliers "on a case-by-case basis."
"We're running out of time, and these brands are forcing factories out of business by asking for discounts and renegotiating terms on original contracts," said Ayesha Barenblat, founder and CEO of Remake, a consumer activist group, when speaking to Forbes.
"It's clever PR," Ayesha remarked.
Remake and other such groups are pressuring companies through its #PayUp social media campaign to keep their original purchase order terms, including paying in full and on time, the Forbes report added.
According to labour rights experts, it may be a way for buyers trying to cover up putting pressure on factories by renegotiating with individual suppliers.
Mark Anner, director of the Penn State Center for Global Workers' Rights, told Forbes that a better approach for the buyers is to make one clear, public commitment to pay in full for all liabilities for in production and completed orders.
Only 13 large brands and retailers, including global giants H&M, Zara, Nike, Target, VF Corporation, PVH, UNIQLO, and Adidas, have so far committed to pay in full and according to the terms of the original purchase orders.
These commitments by the large brands helped unlock an estimated $600 million owed to the factories in Bangladesh and around $7.5 billion to those across the globe, Anner told Forbes.
The list of brands that have either cancelled orders or asked for discounts and delayed payments is much longer, and Anner said that list may never be known in full, adding that the buyers paying up now will make the difference for suppliers of going out of business or surviving in the coming days.