Current parliament to have one last session in Oct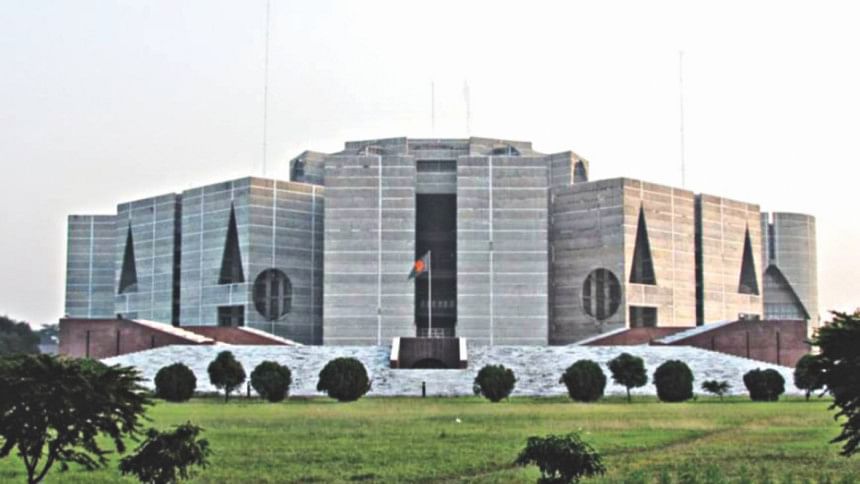 There will be another session of the 10th parliament at a convenient time in October after the current 22nd session, which began yesterday, concludes on September 20 with 10 working days.
The decision was taken at the meeting of the Business Advisory Committee at the Jatiya Sangsad Bhaban yesterday with Speaker Shirin Sharmin Chaudhury in the chair.
Sources said this 23rd session will be the last one of this parliament. The committee decided that the Speaker might extend or reduce the working days of the current session if she wants.
At the meeting, it was said that the parliament received notices of 11 government bills in this session. Besides, there are 12 other government bills in the House. Of the 12, three are at final stages for passing while the others are under scrutiny.
The parliament also earlier received notices of seven private member bills. Of these, one is at the final stage of passing.
Committee members Prime Minister Sheikh Hasina, Opposition Leader Raushan Ershad, and Jatiya Party President HM Ershad, among others, attended the meeting.
At the beginning of yesterday's session, Speaker Shirin Sharmin Choudhury nominated a five-member panel of chairmen to preside over sittings in absence of the Speaker and the Deputy Speaker .
Members of the panel are: Emran Ahmed, AB Tajul Islam, Mahbubul Alam Hanif, Fakhrul Imam and Noor Jahan Begum. They will preside over the sittings as per numerical order.
Later, the House unanimously adopted a condolence motion on the deaths of Awami League lawmaker SM Mostafa Rashidi Suja and Opposition Chief Whip and Jatiya Party MP Tajul Islam Chowdhury, and others distinguished personalities who died since prorogation of the last session of parliament on July 12.
Participating in the discussion on the motion, Hasina paid rich tributes to Mostafa Rashidi Suja and Tajul Islam, saying the nation has lost two competent MPs.
She said the BNP-Jamaat government after coming to power in 2001 unleashed inhuman torture on the numerous Awami League leaders and workers.
She claimed that due to this torture, Suja's physical condition deteriorated seriously.
On Tajul Islam, she said the JP leader had played a strong role in the January 5, 2014 election.
PM and other MPs who took part in the discussion prayed for eternal peace of the departed souls and conveyed profound sympathy to the bereaved families.