ASEAN the way to go: Experts urge Bangladesh to join free trade bloc
Experts, including economists and business leaders, have suggested that Bangladesh sign free trade agreements with ASEAN countries to boost exports to the bloc.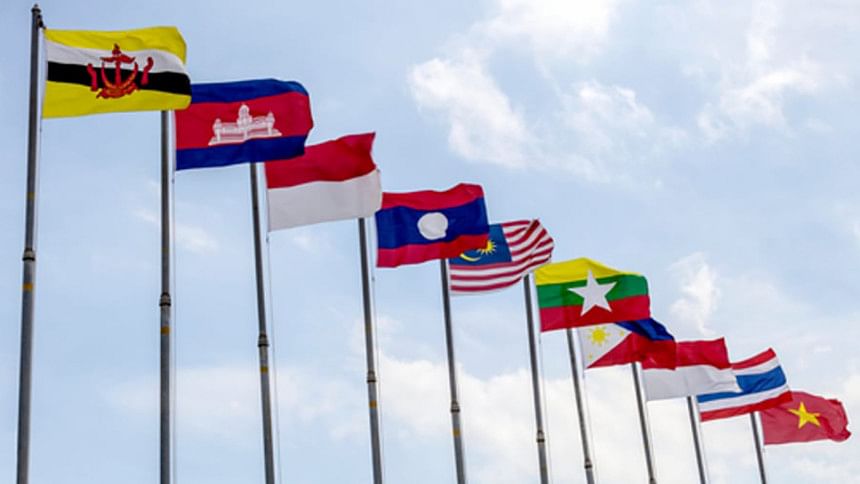 Experts, including economists and business leaders, have suggested that Bangladesh sign free trade agreements with ASEAN countries to boost exports to the bloc.
They also asked for an ease in regulations to draw foreign investments.
The observations came at a webinar on "Expanding Bangladesh's Business Ties with the ASEAN Countries", which was organised by the Ministry of Foreign Affairs today evening. Economists, Bangladesh ambassadors to ASEAN countries and business leaders attended it.
At the webinar, experts and industry insiders recommended rigorous efforts to diversify the export basket and focus on marketing those overseas as the country will face stiff competition after graduating to a developing country by 2027, when the European market will withdraw its tariff concession.
In a presentation, Economics Professor Dr Selim Raihan said in 2019, against an import bill of roughly $9 billion, Bangladesh had export earnings as low as $846 million from ASEAN.
He said Bangladesh can gain significantly by integrating into the ASEAN market.
Prof Raihan said signing of the Regional Comprehensive Economic Partnership (RCEP) -- made up of 10 Southeast Asian countries, as well as South Korea, China, Japan, Australia and New Zealand -- means that intra-regional trade and investment will be boosted significantly in the region.
As Bangladesh is not part of the free trade bloc, there are risks of reduction in exports to ASEAN countries, while rich countries of the bloc will invest in signatories of the FTA, he said.
"Therefore, Bangladesh needs to be proactive in signing FTAs with ASEAN, improve our infrastructure, ease investment regulations and remove bureaucratic red tape," Selim Raihan said.
BGMEA President Dr Rubana Huq also urged the signing of an FTA with a Rules of Origin clause favourable to ASEAN. She said that by 2030 ASEAN as a bloc would be the fourth largest economy in the world.
Pointing to the heavy-dependency on the apparel sector for export earnings, she said BGMEA has identified eight sectors for diversification of products and recommends forming an export diversification council.
According to official data, RMG is still the major export item to the ASEAN market followed by pharmaceutical products.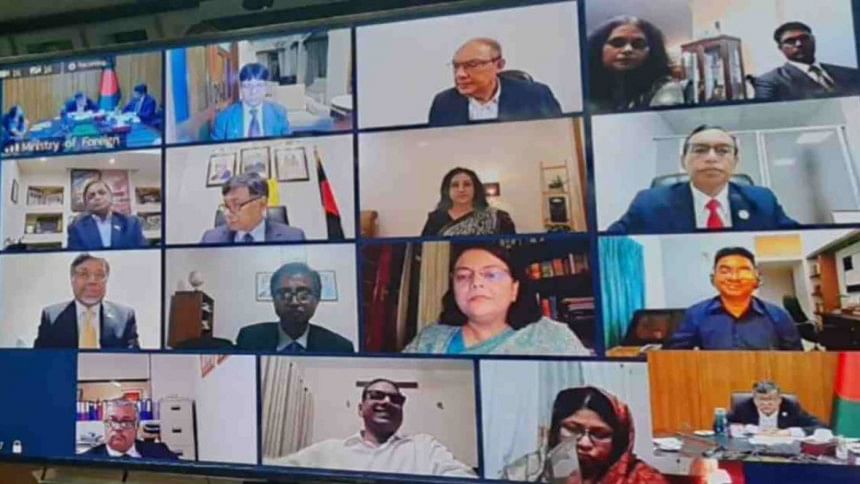 Metropolitan Chamber of Commerce and Industry President Nihad Kabir advocated for a pro-active and comprehensive trade policy, taking lessons from competing countries that are doing better in terms of drawing foreign investments and boosting exports.
She said that Bangladesh should appoint trade representatives overseas to promote trade and woo foreign investments.
"We need targeted and coordinated action, not scattered ones" Nihad Kabir said.
Bangladesh Ambassador to Vietnam, Samina Naz, said high-skilled labour and government's policy support are the major factors why Vietnam is going ahead of Bangladesh in terms of export as well as wooing foreign investments.
However, Vietnam could be a good market for Bangladesh's pharmaceutical products, she said.
Foreign Secretary Masud Bin Momen, who chaired the webinar, said in order for Bangladesh to attain the goal of a $60 billion export figure by the turn of the year, the performance on the South East Asian front has to be much better.
He asked all the high commissioners and ambassadors to find ways and means of boosting export to ASEAN and send reports to the ministry.
Foreign ministry's Additional Secretary (East) Mashfee Binte Shams suggested that the missions in the ASEAN countries forge strategic partnership with prominent trade bodies and chambers in the host country to organise single country/single product fairs.