Two more held over Noakhali gang rape
So far seven suspects arrested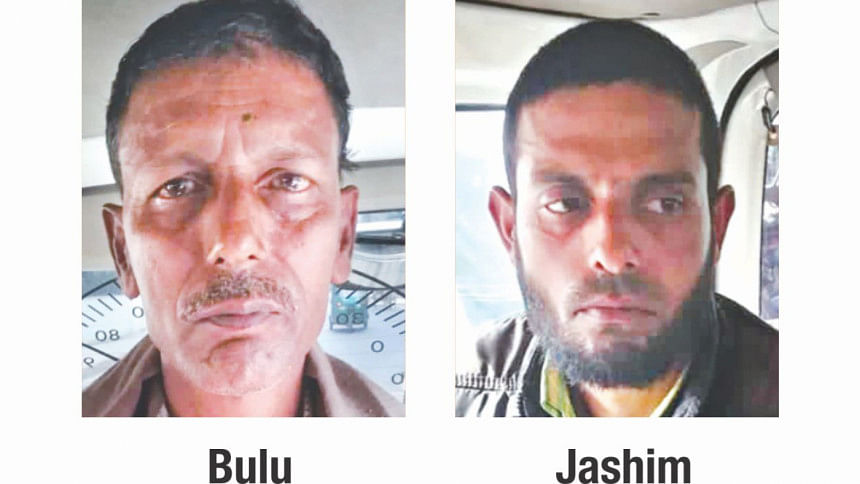 Police yesterday arrested two more people for their alleged involvement in the gang rape of a woman in Noakhali's Subarnachar upazila. 
They are Hasan Ali Bulu and Jashim Uddin. Their names were not mentioned in the first information report, but police held them based on information gleaned from other arrested accused.
Elias Sharif, superintendent of Noakhali police, said a team from Char Jabbar Police Station arrested Bulu in Chattogram city's West Madarbari area around noon. Another team held Jashim from Nazirhat in the morning. 
With the two, seven people, including Awami League leader Ruhul Amin who allegedly ordered his accomplices to rape the mother of four for voting for "sheaf of paddy", have been arrested in connection with the rape that sparked protest and condemnation.
Four of them were mentioned in the FIR. Nine people were sued over the incident.    
The name of Ruhul, also a former union parishad member, was not included in the FIR.
Talking to reporters, the SP said Bulu was the personal assistant to Ruhul. During investigation, it was revealed that Bulu had hired people for Tk 10,000 to rape the woman.
The police officer also said Bulu had an altercation with the victim at a polling station in Sunday's national election and he also threatened her following the quarrel.
"Whoever is the offender will not be spared," the SP said, adding that they would arrest others involved in the incident soon.
"They will submit a charge sheet of the case and ensure trial of the case at the Speedy Trial Tribunal."  
The woman was gang-raped allegedly by 10 to 12 accomplices of Ruhul, who is the publicity affairs secretary of Subarnachar AL, at her home early Monday.
Meanwhile, expressing deep concern over the rape, Gonoforum President Dr Kamal Hossain yesterday said, "This incident put our democratic and fundamental rights, and the freedom of expression under threat."
"The incident made us disgraceful as a nation. Such an incident is difficult to imagine in any democratic country."
He also demanded the perpetrators be brought to book, said a press release of Gonoforum.
A team of Left Democratic Alliance yesterday visited Noakhali General Hospital where the 35-year-old victim was being treated.
It demanded immediate arrest of the culprits and their punishment through quick trial.
Protesting the rape, Chhatra League (JSD-Ambia), student body of a faction of the Jatiya Samajtantrik Dal led by Sharif Nurul Ambia, formed a human chain in front of Raju Memorial Sculpture on Dhaka University campus yesterday.
In another development, a delegation of 15 senior BNP leaders, led by its Secretary General Mirza Fakhrul Islam Alamgir, will visit Noakhali General Hospital today to enquire about the victim, said a release.