Too unsafe to commute
4,439 killed on roads last year; efforts inadequate to check frequent accidents, say campaigners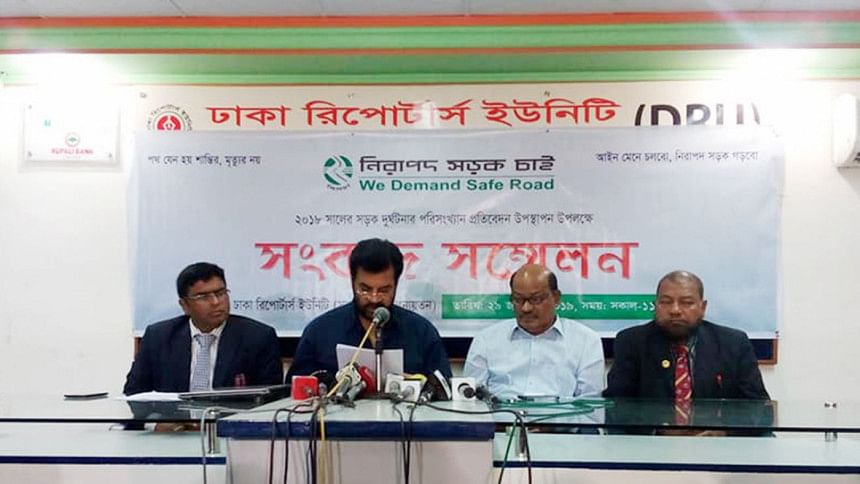 Illiterate drivers, faulty vehicles, weak traffic management system, carelessness of commuters, lack of political will and poor enforcement of laws continue to take a heavy toll on people, a road safety organisation said yesterday.
Besides, the culprits for road accidents rarely face trial, and the impunity they enjoy is a major reason behind the continuation of road accidents, it added.
At least 4,439 people were killed and 7,425 others injured in 3,103 incidents of road crash last year, according to the Nirapad Sarak Chai.
Trucks and covered vans were mainly responsible for those accidents, the organisation said, as the country witnessed several tragic deaths in Dhaka, Cumilla and Rajbari over the last four days, all in crashes involving trucks.
The number of road accidents decreased last year compared to 2017, but it was still not at the "expected level", Ilias Kanchan, chairman of the organisation, said as he unveiled a report on road accidents in 2018 at Dhaka Reporters Unity in the capital.
However, the figure presented by the Nirapad Sarak Chai is significantly lower than that of Bangladesh Jatri Kalyan Samity. The Samity on Friday said at least 7,221 people were killed and 15,466 others injured in 5,514 road crashes last year.
The official number of causalities is much lower than that was mentioned in these reports. According to the police report, 2,265 were killed and 1,659 others injured in 2,237 crashes in the first 10 months of last year.
FINDINGS
Ilias Kanchan said at least 3,699 people were killed and 7,425 injured in 3,103 road accidents. Besides, following international instances, they counted 20 percent of the injuries as death and put the total number at 4,439.
He said they have prepared the report by monitoring six national dailies, online news portals and TV channels and analysing data collected by branches of the organisation. He, however, said many accidents go unreported.
Ilias said at least 5,645 people were killed while 7,908 were injured in 3349 accidents in 2017, down from the previous year.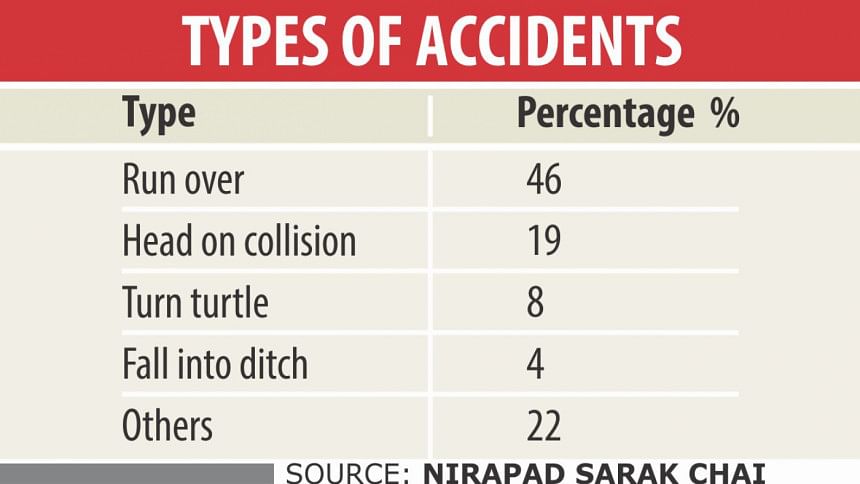 Different initiatives taken by his organisation to raise awareness, training given to drivers, teachers and students, and student agitation for safe road are the reasons behind the decrease, he said.
"Had the government alongside Nirapad Sarak Chai taken up same programmes, the number of road crashes could have been reduced further."
Tens of thousands of students took to the streets for safe road following the killing of two college students in a road accident in the capital on July 29 last year, prompting the authorities to take some swift actions.
The actor-turned-road-safety-campaigner mentioned that small vehicles like van, rickshaw, nosimons and auto-rickshaws are mainly responsible for most of the accidents that took place on highways.
The local administration and highway police are not playing due role to stop operation of such vehicles, he said, adding, "It appears that local political personalities are behind the operation of such illegal vehicles."
Slow-moving three-wheelers are banned on 22 national highways.
The organisation came up with 10 recommendations including carrying out massive awareness programmes in the media, incorporating road accident issues in text books, strict enforcement of law and proper training for drivers. 
If the government implements its electoral manifesto regarding this issue sincerely, it is possible to cut road accident by 50 percent by 2020, one of the sustainable development goals, it said. 
Ilias urged the prime minister to launch a war against road accident to save people from the "epidemic" immediately.
TRUCKS, COVERED VANS THE KILLERS
Ilias said trucks and covered vans were involved in 35 percent accidents last year.
Four people died as a brick-laden truck fell into a water-filled ditch in Ashulia yesterday while nine people including two minor siblings of Dakkhin Keraniganj were killed in an accident involving trucks on Monday. Besides, 13 workers were killed when a coal-laden truck flipped over on a makeshift shed at a brick kiln in Cumilla Friday.
Ilias pointed out that 793 trucks and 119 covered vans were involved in road accidents last year.
Buses were involved in 33 percent, motorcycles in 22 percent, microbuses in three and others in seven percent accidents.
January, June and August witnessed the highest number of accidents.  Dhaka, followed by Chattogram and Gazipur, tops the list while Chapainawabganj saw the lowest number of crashes after Rangamati and Khagrachhari.
Ilias mentioned that 566 drivers were killed last year. Of them, 160 were bikers, 68 bus drivers and 59 truckers.
DIFFERENCES IN CAUSALITY NUMBER
Ilias said it is not possible to determine the real number of road accidents.
The National Road Safety Council had directed police, hospitals and deputy commissioners to give accident data to the authorities concerned. But none of them provided the information and that's why there is no official statistics, he said. 
As preparing an accident report is laborious and costly job, they have requested the government to set up a cell in the ministry to collect road accident data and prepare a report or help their organisation to prepare it, the campaigner added.
"But we did not get the expected response even after giving reminders."
Asked about the huge difference in the figure of road accidents provided by Jatri Kalyan Samity and his organisation, Ilias said he is unaware about how Jatri Kalyan Samity prepared its report.
He added that the Nirapad Sarak Chai has been preparing reports through its own methods since 2012. 
Speaking at the programme, Prof Mahbub Alam Talukder of Accident Research Institute of Buet said there should be exact data on road accidents to understand the problem properly and also to make plans to prevent it.
Prof Mahbub, who was involved in preparing the report, recommended setting up a dedicated cell or division for developing an accident database and to do research for reducing accidents.
NO JUSTICE FOR ROAD ACCIDENT VICTIMS
Replying to a question, Ilias said, "Trial regarding road accidents is not taking place as our government is scared of associations and the workers and leaders of the transport sector.
"That's why none of the successive governments took action."
He observed that people of the country also lack patience.  "Whenever they [transport owners and workers] stop operation of vehicles, leading to price hike of essentials, people become anxious and the government thinks it is going to lose power."
Talking to this newspaper later, he also said, "It is rare that victims of road accidents get justice. Accidents continue as the culprits behind road accidents rarely punished."
Terming road accidents "epidemic", Ayubur Rahman Khan, former chairman of Bangladesh Road Transport Authority, said it cannot be stopped without the government being sincere.