300-year-old relics in ruins
The complex with 10 houses and temples need urgent repair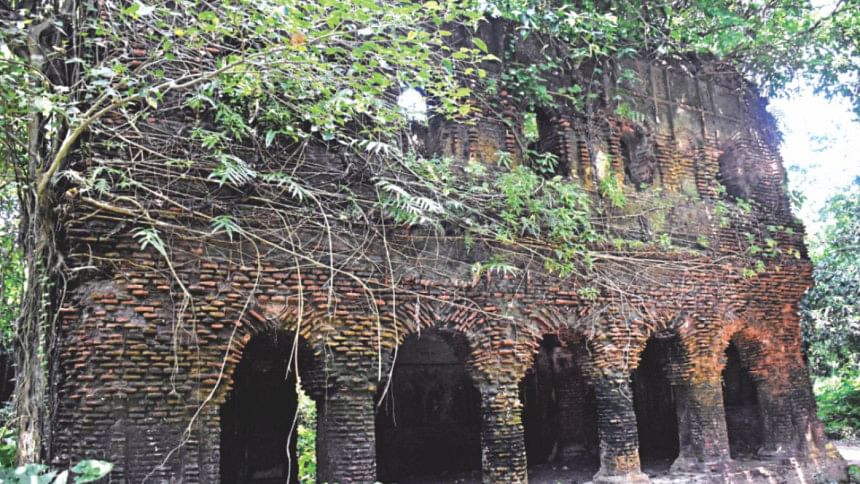 Once a vast compound with 10 residences and temples, the Duttapara Zamindar Bari at Banaripara upazila of Barishal is now in a sombre state with bushes covering rickety structures. 
The compound used to attract large crowds during Durga Puja and Manasha Puja until the Liberation War, said Dhruba Saha, a descendant of the zamindars who built the compound some 300 years ago.
Dhruba lives at "Boro Bari" inside the compound. His home built on two acres of land by the Sandhya river is about 25km from the district town.
Other residents of Duttapara village said years of neglect by local authorities had left the site with great archaeological features in ruins.
The descendents were poor and lacked the resources to restore the buildings. The government's intervention was necessary, they said.
Now only two residential buildings and five temples are left on the premises, all on the verge of collapse, the villagers told this correspondent.
Two zamindars, Bija Ram Saha and Sita Ram Saha, built the complex after arriving there from Jashore, said Dhruba. "They are, in a way, founders of this village because people started living here after the compound was built. It used to turn into a land of merriment during festivals."
But people started leaving following the partition of India in 1947 and then again during the Liberation War in 1971. Eventually the compound turned into a jungle, he added.
SM Iqbal, a writer and former chairman of Banaripara upazila parishad, said if preserved, the Duttapara Zamindar Bari by the Sandhya river could attract tourists to the district and help flourish businesses.
If the ancient buildings were not restored immediately the memories of the zamindars would be lost forever, said Nazmul Alam, a local college teacher, calling for immediate steps by the authorities concerned.
Baishari Union Parishad Chairman Mainul Hasan said the government should restore the buildings as they have historical value.
"We can make the call on the higher authorities to preserve the site once we receive a formal application from locals," said Shahin Alam, custodian of Barishal Divisional Museum.
The archaeological department under the Ministry of Cultural Affairs is responsible for conducting surveys on ancient buildings and make recommendations accordingly. No such survey had been done on the Duttapara Zamindar Bari yet, according to locals.