Rail secy points 2 likely causes of train disaster
Two separate probe bodies formed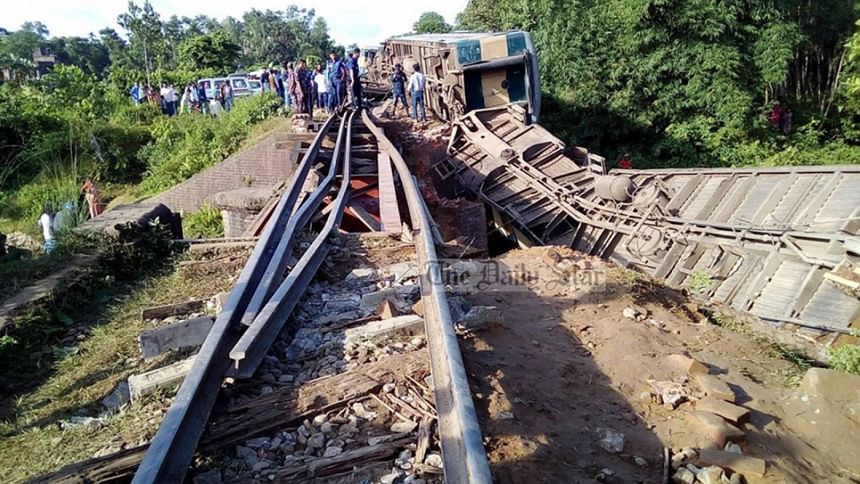 - 2 probe bodies formed

 

- Identities of deceased obtained

 

- Sylhet link might resume at night

 

- 2 Dhaka-Sylhet trains cancelled
Rail Secretary Mofazzal Hossain has pointed out two likely causes for the disaster in Kulaura that derailed Upaban Express and killed four people last night.
"Either the lines were faulty or the alignment of the coach wheels were disoriented," he told reporters at the accident spot in Moulvibazar's Kulaura this morning.
But, he said, the specific reason will be known after the probe bodies submit their reports, our Moulvibazar correspondent reports from the spot.
Upaban Express, heading for Dhaka from Sylhet last night, fell into a canal. The incident took place on a bridge, which has collapsed, and the lines broken apart.
2 PROBE BODIES FORMED
Railway has formed two separate probe bodies into the disaster, Shariful Alam, public relation officer of railways ministry told Daily Star this morning.
The first committee is a four-member committee headed by Mizanur Rahman, chief mechanical engineer, east zone, of Bangladesh Railway.
The second committee is a four-member divisional probe committee headed by Mainul Islam, divisional transport officer of Dhaka division.
Both have been asked to submit report within three working days.
IDENTITIES REVEALED
Two of the deceased could be identified among the four until this morning.
They are Monowara Parvin, 48, and Fahmida Yeasmin, 20. Two other bodies, one of a woman and the other man, were expected to be identified soon.
Of the injured, 62 people took primary treatment at Kulaura Upazila Health Complex while 20 others were shifted to different hospitals. 24 injured people were taken to Sylhet MAG Osmani Medical College Hospital, reports our Sylhet correspondent.
DHAKA-SYLHET RAIL MIGHT RESUME TODAY
A salvage train has already reached the spot and conducting rescue operation.
Rail Secretary Mofazzal Hossain said that it might take until today evening before the rail link is restored. Thus, it is likely that the trains might be restored by today.
Meanwhile, Upaban Express reached Dhaka's Kamalapur Railway Station with seven carriages at 9:45am, said Aminul Haque, the station's Manager.
In Dhaka, two trains – Kalni Express and Jayantika Express – have been cancelled. Kamalapur station is returning the tickets, said the manager.
This morning, Sylhet-bound Parabat Express left Kamalapur. It will go to Kulaura, Moulvibazar, if the lines are not restored by then.
WHAT THE VICTIMS SAID
Humayun Kabir, computer instructor of Social Welfare Department in Sylhet, said, "I was in the last seat of the last compartment of the train. It was overloaded and more than 30 people were standing in my compartment alone.
"The train departed on time at 10:00pm, but halted for an hour at Moglabazar station, just a couple of kilometers from Sylhet station, to cross inbound Kalni Express."
 "It started gaining speed after departing from Maijgaon Station in Fenchuganj and derailed while crossing a small bridge at Baramchal," he told our Sylhet correspondent.
Sharif Hossain, a businessman from Chapainawabganj, said, "I was on the first derailed compartment and it was overcrowded as the road communication with Dhaka was cut off for couple of days."
 "I think, the excess speed of the train with overloaded compartments leads to the derailment," he said.