Rana Plaza survivors break hunger strike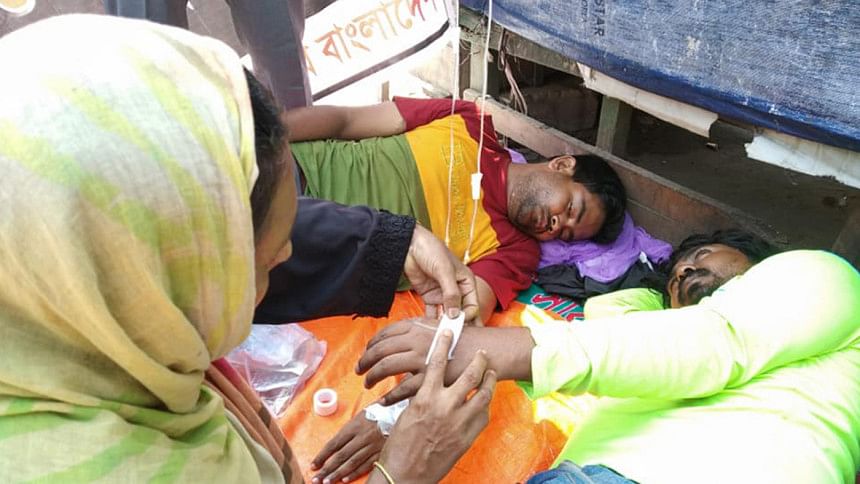 Survivors of Rana Plaza disaster, who were observing a hunger strike for the third consecutive day today with an 11-point demand, broke their strike following assurance of workers' leaders.
Workers' leaders went to the strikers and assured them of taking to the authorities about their demands, Khairul Mamun Mintu, organising secretary of Garments Worker Trade Union Centre, told our Savar Correspondent.
The leaders also told them that they along with other workers will stage larger movements if the government does not fulfill their demands in three months, he added.
Mahmudul Hasan Hridoy, who worked on the eighth floor of Rana Plaza started the strike alone three days back, reports our Savar correspondent.
Later, at least 10 other survivors joined Hridoy expressing solidarity with him, the correspondent reports.
Four of them were already admitted to hospital as they fell sick today and were given primary treatment.
They are observing the hunger strike in front of the now empty plot, where Rana Plaza stood before the nine-storey building collapsed on April 24, 2013.
While talking to the correspondent earlier today, Hridoy, said "I will continue this strike as long as the demands are not met."
The 11-point demands are:
-Tk 48 lakh compensation to each of the affected in Rana Plaza incident
-Rehabilitation
-Cover medical expenses for lifetime
-Announce National Mourning Day for Rana Plaza victims
-Bear education costs of the children of those who were injured or were deceased in the incident
-Highest punishment of perpetrators
-Seize the wealth of all the perpetrators
-Provide treatment to rescuers
-Permanent Mausoleum to be built in remembrance of victims
-Family members of the deceased, injured or those missing should get access to free treatment
-Provide jobs to those affected in the Rana Plaza incident
Today is the sixth anniversary of Rana Plaza disaster, the industrial disaster that killed at least 1,100 people back in 2013.