Two killed in 'gunfights'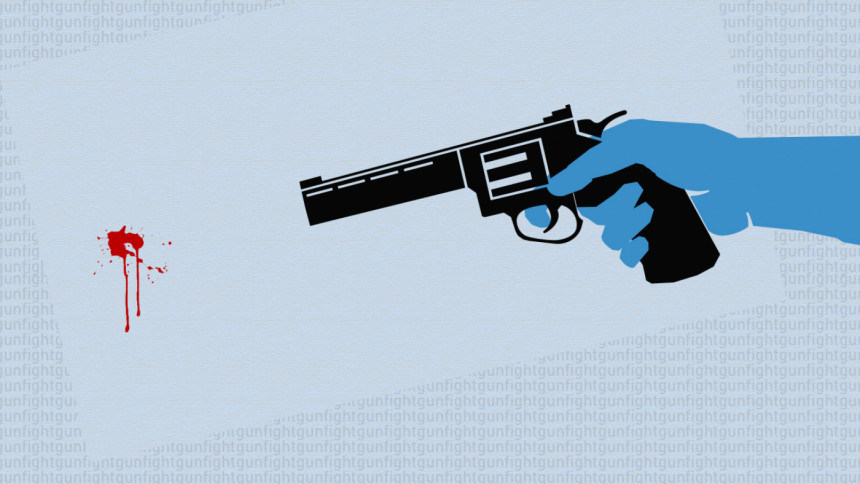 Two alleged criminals -- a drug dealer and a robber -- were killed in "gunfights" with police in Kushtia and Barishal yesterday.
Besides, a murder case accused was shot in Jamalpur. 
In Kushtia, an alleged drug dealer, Emdad Khandokar, 35, of Ranjitpur in Kushtia Sadar upazila, was killed in a "shootout" in Adabaria village of Kumarkhali upazila.
AKM Mizanur Rahman, officer-in-charge of Kumarkhali Police Station, said a team of law enforcers raided Chechua Beel area on information that some drug traders were holding a secret meeting there around 3:30am.
Sensing their presence, the drug traders opened fire, triggering a "gunfight" when police retaliated, the OC claimed.
When the criminals fled, police found the body of Emdad, who stood accused in two narcotics cases filed with Islamic University Police Station, on the spot.
Police claimed to have recovered a pistol, four bullets and 100 yaba pills from the spot.
In Barishal, an alleged robber, Mamun Sarker, 27, of Khunna Gobinapur village under Hijla upazila, was killed in a similar incident.
Abdul Khalek, OC (investigation) of Kazirhat Police Station in Mehendiganj upazila, said Mamun was a robber and accused in at least 26 cases, including murder, rape and robbery, with different police stations.
Kazirhat police arrested Rasel, another robber of the same gang, on February 5 and got information about Mamun, the OC said.
Police arrested Mamun on Monday night in Muladi Bailey Bridge area and went to a brick kiln in Kazirhut lake area to recover firearms around 2:00am, he added.
Mamun's associates opened fire on the police team, triggering a "gunfight", the OC said.
He said Mamun was injured during the "gunfight" and taken to the local upazila health complex where doctors declared him dead.
Police claimed that they recovered two firearms, five bullets, two sharp weapons and a mobile phone from the spot.
Saiful Islam, superintendent of Barishal police, said Mamun was infamous for committing rape during robbery.
In another incident, police shot a murder case accused in his right hand and right leg when he allegedly attacked police to escape arrest early yesterday.
Sohel Kamar, 28, of Chaparkona village in Jamalpur's Sarishabari upazila, was undergoing treatment at Mymensingh Medical College Hospital.
Majedur Rahman, OC of Sarishabari Police Station, said Sohel was accused in a case filed in connection with stabbing to death an eight-year-old boy and injuring his seven-year-old sister over a family feud on Monday afternoon.
The victims are children of Sohel's cousin Monsur Ali.
Their father filed a case on Monday night.
The OC said a police team raided Doail zero point area around 2:30am to arrest Sohel, who attacked the law enforcers with a sharp weapon to escape.
In self-defence, police shot him twice, leaving him injured, the OC added.
Our correspondents in Kushtia, Barishal and Jamalpur contributed to this report.