2 'drug dealers' killed in separate 'gunfights'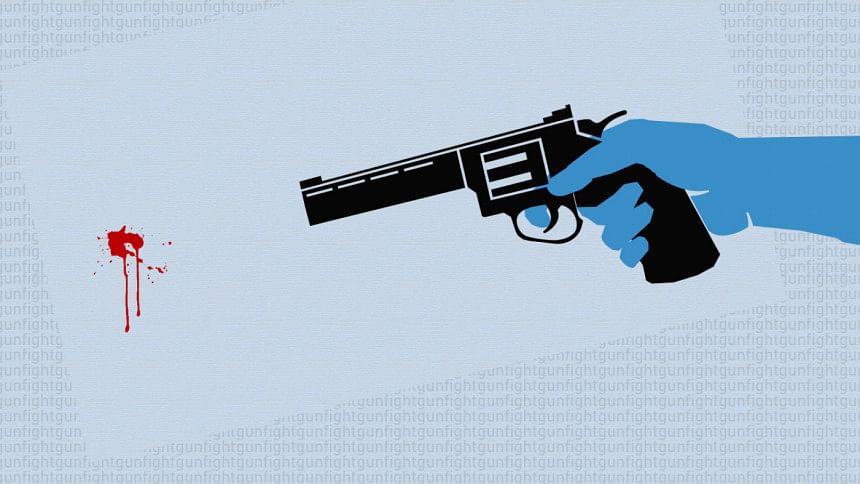 Two alleged drug traders were killed in reported gunfights in Madaripur and Sirajganj districts early today.
In Madaripur, a suspected drug peddler was killed in a "gunfight" with Rapid Action Battalion (Rab) in Kalkini upazila.
The deceased was identified as Jahirul Islam alias Jokka, 40, son of Sobahan Khan of the upazila, Bangla daily Prothom Alo reports.
Upon information that two gangs of drug dealers were engaged in a gunfight, a team of Rab-8 went to Char Airkandi, the daily reports quoting Rab-8 sources.
Sensing the presence of the law enforcers, the "drug dealers" started firing at them prompting them to retaliate.
After the "gunfight" subsided, Rab found the bullet-hit body of Jahirul and sent it to Madaripur Sadar Hospital morgue.
Rab also seized drugs and bullets from the spot.
In Sirajganj, the bullet-hit body of Mohon Sheikh, 55, an alleged drug dealer, was found near Raipur Railway Station in Sadar upazila.
Officer-in-charge of Sadar Police Station Mohammed Daud said Mohon is a listed drug peddler and accused in 10 drug cases.
He was in jail but he recently got released, the OC added.
Police suspect that the drug dealers' gangs fought over the share of money and Mohon got killed in the "gunfight".
Locals found the body near the Raipur rail station area in the morning and informed police.
Later, the body was sent it Sirajganj General Hospital morgue for autopsy.
Police is investigating the incident, the OC added.