15 hurt as RMG workers clash police in Narayanganj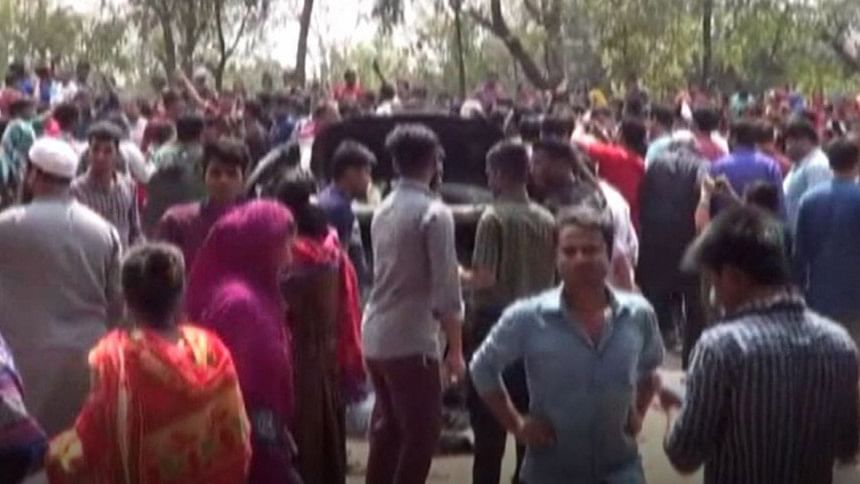 At least nine garment workers and six policemen were injured as the workers clashed with the law enforcers following a rumour over death of three fellow workers in a factory at Sonargoan upazila in Narayanganj today.
The injured were treated from local private clinics of Narayanganj, our Narayanganj correspondent reports quoting locals and police.
Police said a female worker, Rina Akhter, 35, of Chaity Knit Composite Ltd became senseless after felling on floor of a washroom in the factory this noon. Seeing the incident another two female workers became senseless. 
Then, the factory authority took the workers to a nearby hospital though an ambulance. Immediately after the incident, a rumour was spread that the three workers died.  
Following the rumour, several hundred workers of the factory took to the street and staged demonstration blocking Dhaka-Chattogram highway at Sreepurdi area of Sonargoan upazila.
Fearing violence, the factory authority suspended works. Getting the leave, many other workers joined the joined the demonstration creating around 8-kilometre tailback on the highway. Agitated workers vandalized 5 to 6 vehicles during the demonstration.
Hearing the news, police rushed to the spot and opened blank fire and lobbed tear gas shells to disperse the demonstrators. In response, workers threw brickbats targeting police.
Contacted, Khorshed Alam, additional superintendent of police in Narayanganj, confirmed the incident and said the situation was brought under control promptly and vehicular movement was normal.
Md Mizanur Rahman, deputy general manager of Chaity Knit Composite Ltd, said the factory authority had arranged all necessary treatment for the three female workers, who became senseless.