Review plea hearing deferred till Nov 17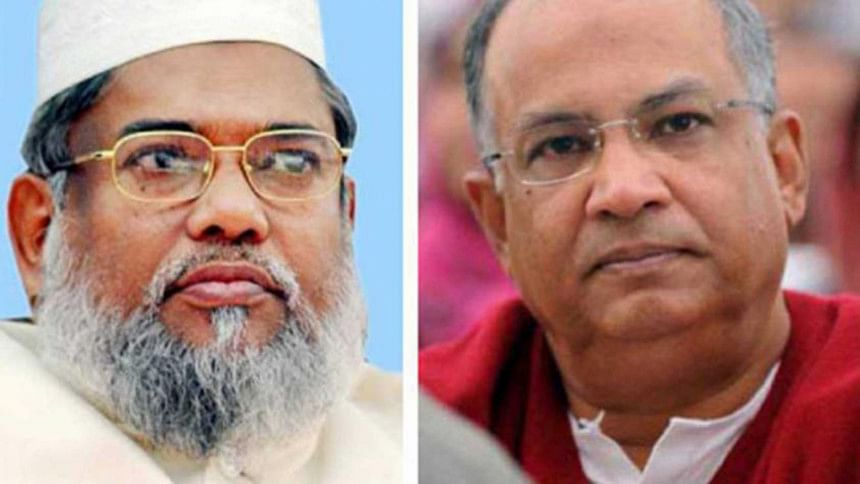 The Supreme Court today deferred till November 17 the hearing on the petitions filed by condemned war criminals Ali Ahsan Mohammad Mojaheed and Salauddin Quader Chowdhury seeking review of its judgements that upheld death penalties for their crimes against humanity in 1971.
The four-member bench of the Appellate Division headed by Chief Justice Surendra Kumar Sinha passed the order following a prayer moved by Khandaker Mahbub Hossain, a lawyer for Mojaheed and Salauddin, seeking time.
In the petition, the lawyer said they need time for taking preparation to place arguments on the review petitions.
The apex court today also rejected another petition that war criminal Salauddin submitted praying to record statements from eight people including five Pakistani citizens.  
ALSO READ: Mojaheed, SQ Chy seek SC review
On October 20, the Supreme Court fixed today (November 2) for hearing the petitions following two petitions filed by the attorney general's office for hearing expeditiously.
Jamaat-e-Islami leader Mojaheed and BNP leader Salauddin on October 14 sought review of the Supreme Court verdicts that upheld their capital punishment in June and July after hearing their appeals challenging the war crimes tribunals' verdicts.
The International Crimes Tribunal issued execution warrants for them on October 1, a day after the SC released the full verdicts.
In July 2013, the International Crimes Tribunal-2 handed down death sentence to 67-year-old Jamaat leader Mojaheed. He was also jailed for life and sentenced to five years in prison in five separate charges for his war crimes.
International Crimes Tribunal-1 on October 1, 2013, sentenced 66-year-old Salauddin capital punishment for the brutal killing of Natun Chandra Sinha, Awami League leader Mozaffar Ahmed and his son; and two acts of genocide in Sultanpur Banikpara and Unasattarpara villages in Raozan where 74 villagers were massacred.
It also upheld his 20 years' jail sentence on two charges: acts of genocide at Maddhya Gohira Hindupara and at Jagotmallopara in Raozan. At least 37 people were killed in the two villages.