Oil spill threatens Meghna; unheeded for 5 days
A tanker capsized in Meghna last Friday, spilling unrefined petroleum in the river but no steps were taken so far to prevent the oil from spreading any further.
The oil tanker of a privately-owned Bengal Electronics Limited capsized in the river during a storm five days back, reports our Munshiganj correspondent.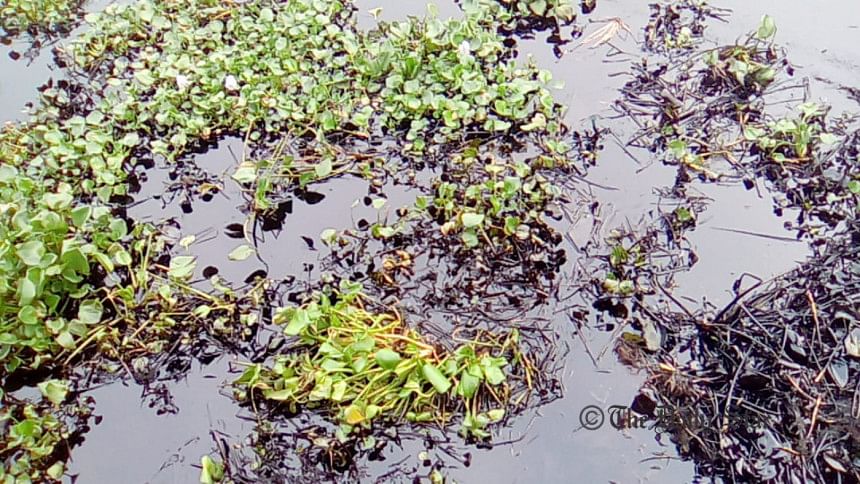 The oil refinery of the company is yet to take any steps in this regard, although it is located beside Raghuchar village on the banks of Meghna, where the oil was spotted as well.
Meanwhile, Managing Director of Bengal Electronics Ltd Md Salamat Ullah acknowledged the incident and claimed "there was very little oil in the tanker".
However, locals say the tanker was fully laden when the spill occurred.
"The hyacinths and river banks are coated with oil. They have turned black. We are unable to use the water for daily purposes," Jamal Uddin, a villager, told The Daily Star.
The villagers noticed the oil first on Saturday morning after it had already spread a few kilometers, he added.
Local fisherman Akter Hossain said he found dead fish at several points of the river after the oil spill. "We are not even getting as much fish as before."
Voicing concerns for the environment, Union Parishad Member Muktar Hossain told The Daily Star that the oil spill could have an adverse impact on the local environment if it is not cleaned up soon.
Contacted, Gazaria Upazila Nirbahi Officer (UNO) Tasmin Zebin Binte Sheikh said she came to know about the incident on Monday. She assured of taking steps in this regard after consultation with the Department of Environment.