Kamaruzzaman seeks more time to decide on mercy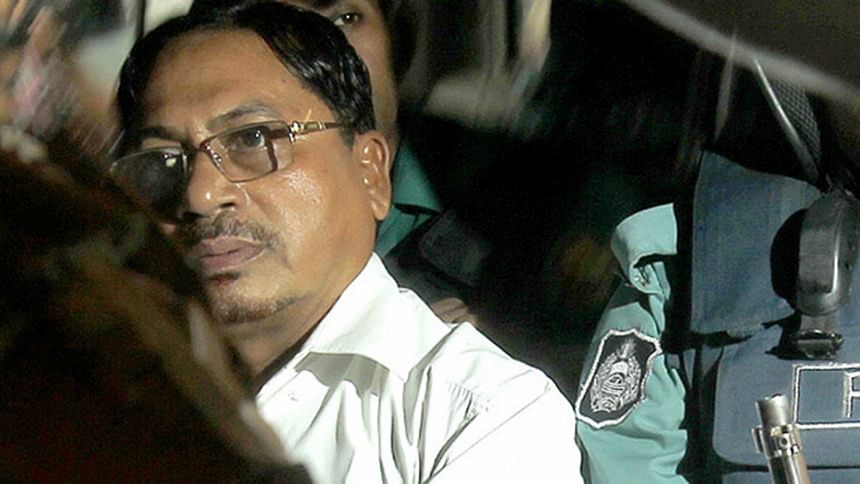 Death row convict Jamaat leader Muhammad Kamaruzzaman has sought more time from the jail authorities to decide whether he will seek presidential clemency, according to his lawyers who met him at Dhaka Central Jail today.
After a good thought, the Jamaat assistant secretary general will inform his decision to the authorities concerned later, Shishir Manir, one of his lawyers who met him at the jail, said quoting Kamaruzzaman.  
Manir was talking to reporters after he along with four other lawyers held a half-an-hour meeting with him inside the jail.
During the half-an-hour meeting with his counsels, Kamaruzzaman wanted to know about the provisions of relevant laws in this regard, Manir said.
"We cannot give him any instruction about seeking mercy.….we tried our best to give him an idea about the legal process," he added.
Now, he will think and inform the authorities whether he will seek mercy, Manir said.
Kamaruzzaman is mentally and physically well, Shishir mentioned while talking to the reporters.
As fixed by the prison authorities, Manir and four other counsels -- Ehsan A Siddique, Asad Uddin, Matiur Rahman Akando and Majibur Rahman -- entered the jail at 10:50am.
The jail authorities yesterday gave the Jamaat leader permission to talk to his lawyers over seeking mercy petition, the last option for the war crimes convict to save his life.
The death row convict desired to speak to his counsels after the Dhaka Central Jail authorities communicated to him in the evening the Supreme Court verdict that dismissed his review petition against the death penalty.
Around 3:00pm yesterday, the SC released the full text of the verdict that rejected the review petition of Kamaruzzaman, assistant secretary general of Jamaat-e-Islami.
He filed the petition on March 5 against the apex court's judgment that upheld his capital punishment.
On Monday, a four-member SC bench led by Chief Justice Surendra Kumar Sinha dismissed the review petition.
Kamaruzzaman, key organiser of infamous Al-Badr force in greater Mymensingh in 1971, was sentenced to death by the International Crimes Tribunal-2 in May 2013 for committing crimes against humanity, including mass killings in Sohagpur of Sherpur, during the Liberation War.
The ICT registrar's office received a copy of the 36-page SC verdict around 4:30pm. Tribunal officials took it to the central jail authorities around 5:45pm.
Farman Ali, senior jail superintendent of the central jail, read out the verdict to Kamaruzzaman, and wanted to know whether he would seek mercy from the president, said jail sources.
The Jamaat leader then told the prison official that he would decide on the matter after consulting his counsels, they said.