Judge leaves courtroom following argument over PM's speech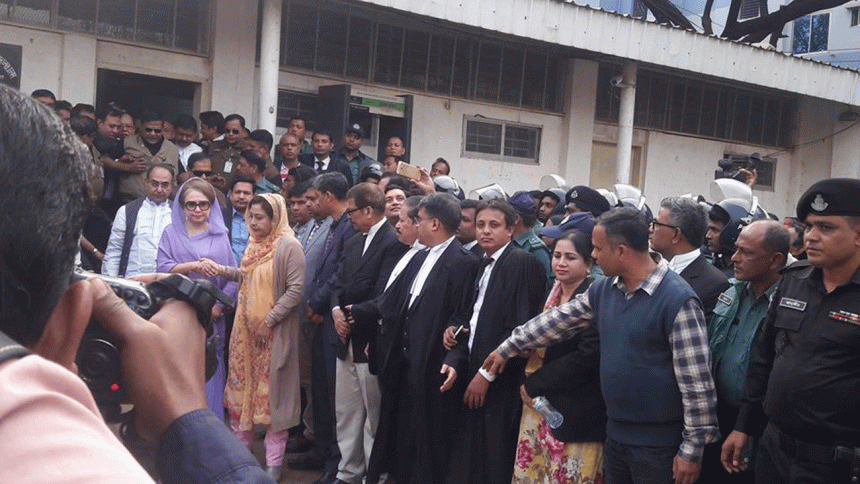 Trial proceedings of the Zia Charitable Trust graft case halted for around 10 minutes today as the judge left the courtroom following a heated argument between the defense and prosecution lawyers.
Aminul Islam, a lawyer for accused Ziaul Islam Munna, started his argument in the case after today's proceeding started around 11:00 am.
At one stage, Aminul mentioned the yesterday's speech of Prime Minister Sheikh Hasina. Mentioning that Hasina, in her speech in Sylhet, sought vote for Awami League, the lawyer questioned whether she gave the speech as a Prime Minister or as an AL leader.
Opposing the issue, Public Prosecutor Mosharraf Hossain Kajal told the court that the defense council irrelevantly brought the issue.
Then, both the prosecution and defense lawyers continued exchanging their heated words though the Judge Md Akhteruzzaman asked the defense to place relevant argument before the court. At one stage, the judge left the courtroom around 11:55 am.
Later, the judge returned to the courtroom and resumed the case proceeding around seven-eight minutes after his departure.
Later, the court proceeding continued till 3:20 pm before the judge adjourned the proceeding till tomorrow.
BNP Chairperson Khaleda Zia, one of the accused of the case, was present before special court-5 at that time.