Jhalakathi's ponds face grabbing threat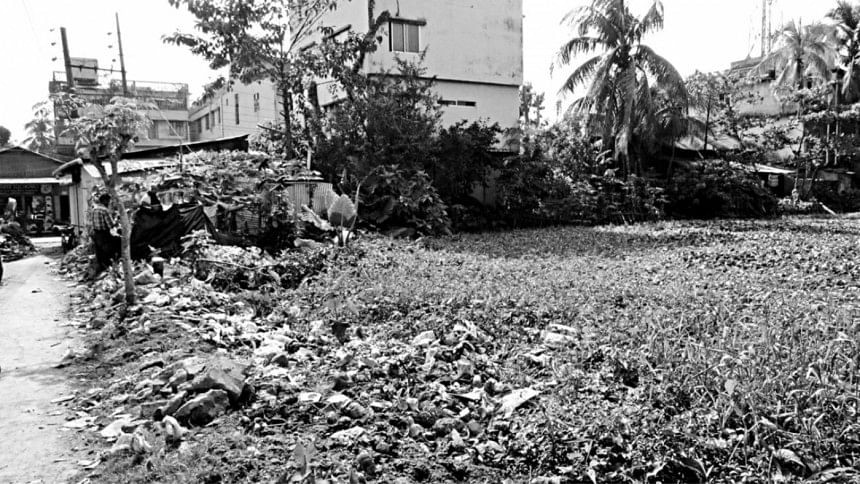 Public ponds have been part and parcel of Jhalakathi town for centuries. But this heritage is now being lost due to illegal land grabbing. Currently, two of the most iconic ponds in the town, one beside the post office and a second in Kapuriapotti, are at risk. Will they survive to be enjoyed by future generations?
"Those ponds are historical. They were excavated in 1910," remarks MA Shajahan, the president of Jhalakathi's Nagarik Forum, a citizen's organisation. "The two ponds cover around three acres of land and were designed as a reliable water supply for town dwellers. Over the years they have been used for bathing and recreational purposes."
Speaking at a recent press conference on the issue, he noted that the ponds are also vital as a resource for fire fighters. "Both ponds are centrally located water supplies. In the event of any fire emergency they are invaluable," he said.
Yet, currently both ponds are covered with hyacinth and look more like ditches, with their size having been incrementally reduced by infilling, as surrounding properties grab the land.
It's a situation that looks set to get worse, according to Shahjahan. "A group of land grabbers is now trying to permanently take over the pond land," he alleges, "They seek to take a rather secretive 99-year lease as a first step."
Shahjahan is not the only town-dweller to rue the current state of the ponds. "Just two decades ago, hundreds of people used these ponds both as a water supply and for bathing," says lawyer Akkas Shikder who is also the president of Jhalakathi's chapter of the Human Rights and Peace for Bangladesh organisation. "Many in my generation learnt to swim here."
"Now, thanks to land grabbing and the dumping of waste," he continues, "the ponds are in no fit state for such purpose. If these ponds are entirely destroyed our youngsters will have nowhere left in the town where they can learn to swim."
"The ponds should be recovered as soon as possible and restored to a condition where they can be of public use once again," he adds. The mayor of Jhalakathi municipality, Md Liakat Ali Talukder, meanwhile, says the local council is indeed working to beautify the town, including the two ponds.
"We have already commenced recovery of the ponds," says Jhalakathi Deputy Commissioner, Abdul Hamid. "They will be usable again within a short period."