Bangladesh fails to address rights issue at UPR: HRW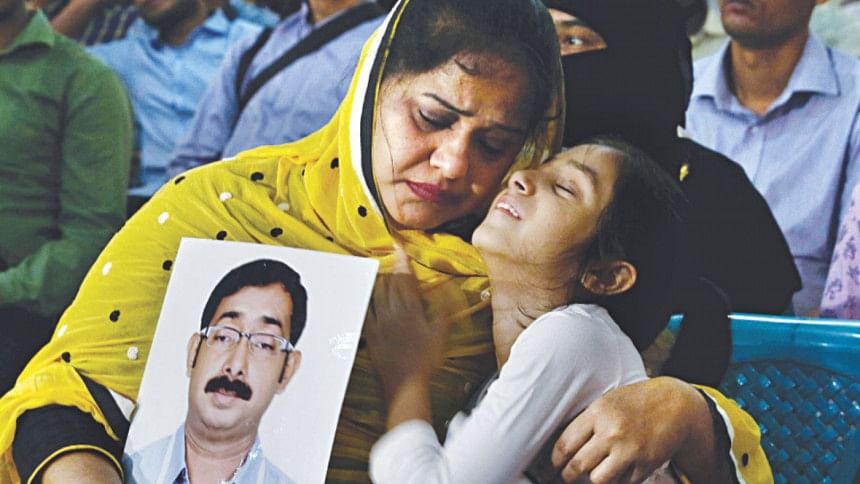 The Bangladesh delegation to the United Nation's Universal Periodic Review (UPR) failed to respond to pressing human rights concerns in the country, Human Rights Watch said today.
Law minister Anisul Huq speaking for the government, highlighted only what the government considered to be positive steps and glossed over concerns about critical issues such as enforced disappearances, secret and arbitrary detention, extrajudicial killings, and a crackdown on freedom of speech and association. Bangladesh should show its commitment to human rights by giving full consideration to recommendations from other countries and accepting those that would significantly improve its compliance with international human rights standards.
"Bangladesh needs to stop ignoring and start addressing serious human rights violations, such as when its security forces engage in enforced disappearances, killings, torture, and arbitrary arrests, many of them politically motivated," said Brad Adams, Asia director. "The Bangladesh government should use the Universal Periodic Review at the UN Human Rights Council as a time for reflection, not self-congratulation."
A number of member countries rightly praised the government's willingness to open the Bangladesh border and provide aid to hundreds of thousands of Rohingya fleeing atrocities by the Myanmar military. The Bangladesh delegation spoke at length about the progress on handling the influx of the Rohingya refugees but responded with silence and denial to questions and recommendations by several countries, including concerns about extrajudicial killings, enforced disappearances, and attacks on human rights defenders. Whether Bangladesh formally accepts or rejects the recommendations made by countries will not be known for some time.
Human Rights Watch and other groups have reported for many years about human rights concerns in Bangladesh, and many of these concerns were simply not addressed adequately by Bangladesh in the hearing. In one example, the government pledged during the previous periodic review in 2013 to thoroughly and impartially investigate and prosecute all allegations of human rights violations, in particular by the security forces. But it has ignored and denied reports of violations since then, including about violence by the security forces during the 2014 elections and against people who protested the conduct of the elections. The government delegation claimed that it is taking action against those responsible for abuse, but there is little evidence or transparency on this.
Human Rights Watch has also documented several cases in which members of the political opposition have been forcibly disappeared or secretly detained without charge. Scores of Bangladesh National Party (BNP) supporters were unlawfully detained and several remain disappeared.
The whereabouts or status of sons of two opposition Jamaat-e-Islami leaders has not been revealed since they were picked up by security forces in August 2016.
A former diplomat, Maroof Zaman, remains disappeared since December 2017. A Bangladeshi-British citizen, Hasnat Karim, remains in custody without charge following the July 1, 2016 attack by militants on the Holey Artisan Bakery in Dhaka.
Another key concern to which the government delegation responded inadequately is attacks against critical media and nongovernmental organizations. Many people have been and continue to be jailed or charged under Section 57 of the Information and Communication Technology Act, which includes vague and overbroad provisions to target free speech, and under the 2016 law regulating the use of foreign funding by nongovernmental groups. Section 57 has been used to target key civil society leaders and institutions. The government says it will revise Section 57 with its draft Digital Security Bill, but some of its provisions fall short of international standards. The government has also been using sedition and other criminal laws to target free speech.
Labor rights were also not adequately addressed. Although there has been some progress on safety concerns for workers, much remains to be done. Union leaders and those seeking to join unions face threats and opposition from factory owners and managers.
The government has also failed to keep a commitment to end child marriage. In February 2017, the government approved a law with a new exception that allows girls under 18 to marry under special circumstances, with no minimum age stipulated. A promised national action plan to end child marriage is now over three years late.
"Bangladesh says it remains committed to doing right by the Rohingya refugees, but it should embrace that same principle towards its own citizens," Adams said. "With national elections next year, it is essential for the government to expand democratic space and provide room for debate and dissent."