Home-goers suffer on Dhaka-Tangail highway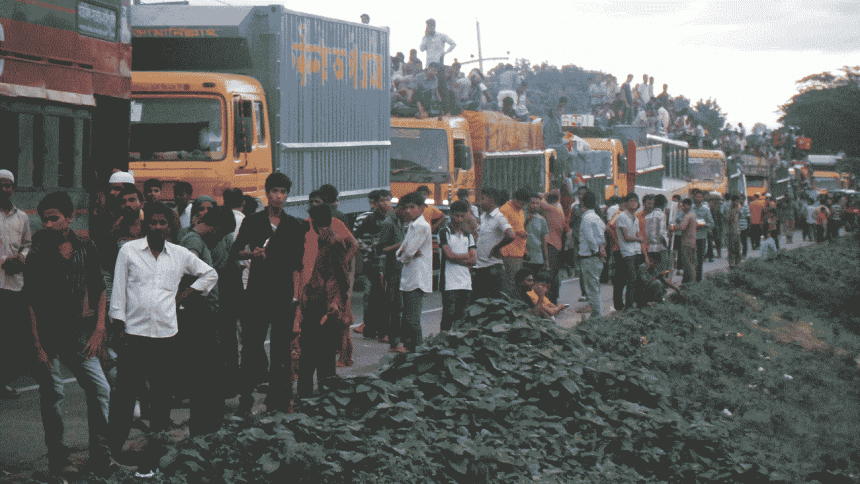 Thousands of home-goers went through an indescribable suffering last night and today as their vehicles got stranded in huge tailbacks on the Dhaka-Tangail and Gazipur-Tangail highways.
Several hundred buses, private cars and trucks got stuck in tailbacks on 12-km Nabinagar-Chandra road and 80-km Gazipur-Chandra-Bangabandhu Bridge road, one of the busy highways for the country's northern and southern regions.
The roads and bridges ministry officials said the congestion created due to negligence of the police personnel who were supposed to patrol the highway round-the-lock to ensure smooth vehicular movement but many of them were not seen after rain began on Wednesday night.
With mad rush began yesterday afternoon, people in their thousands came out of their homes and work places to catch transports to go home. They got on board of whatever they found on the streets. Congestion began to develop in the evening on Gazipur-Chnadra and Nabinagar-Chandra roads and it turned into a nightmare for passengers. As many apprehended, police could not prevent vehicles from making indiscriminate stoppage s right on the road to take passengers, causing tailback.
And then the rain came around 10:30pm Wednesday to add more agony to that. Police personnel who were on-duty on the roads to ensure smooth vehicular movement vanished from many points.
A number of vehicles broke down at different points at night but those were not removed immediately, another major reason of the traffic congestion.
In addition, reckless driving as well as race for over-taking resulted in the tailbacks on Nabinagar-Chandra, Gazipur-Chandra and Chandra-Bangabandhu Bridge roads by mid night, transport operators, passengers and Roads and Highways Department (RHD) officials have said.
Passengers were stuck in the vehicles. It took even 3-4 hours to cross Chandra intersection. Passengers, especially the women and children had to pass an agonizing time. Many fell sick.
Transport operators said those buses left for northern and southern districts after evening got stuck in the congestion. The vehicles were supposed to reach their destinations usually in 5-7 hours but the journey took more than double of that.
Learning about the huge tailback, Roads and Bridges Minister Obaidul Quader contacted with senior police officials in the morning but that failed to clear the congestion. Quader himself started for Chandra to see the situation and resolve the problem. But it took him to reach Chandra after 8 hours later.
"It took nearly two hours to cross the 12-km Nabinagar-Chandra road due to huge congestion," an official of the ministry told The Daily Star but asked not to be named.
He said the minister along with the police personnel managed to ease the congestions in the afternoon.
Congestion on Tangail road between Chandra to Bangabandhu bridge was cleared in the morning but the congestion on Nabinagar-Chandra and Gazipur-Chandra was still continuing..
Additional Chief Engineer of Roads and Highways Department (RHD) Shahabuddin Khan, who is now stationed in Tangail to monitor traffic movement, said traffic movement on the Chandra-Bangabangdhu bridge road was nearly smooth. He said a large number of cops were deployed on all the roads to manage traffic.
A local journalist in Gazipur who visited Chandra intersection on his motorbike said he saw the Joydevpur-Chandra road completely blocked with stranded vehicles around 11:00am. "I returned from Chandra around 1:00pm and still congestion was there on most of the roads," he told The Daily Star.
Mymensingh-bound passengers had no problem to cross Joydevpur intersection but caught in congestion on the Dhaka-Mymensingh highway. Surely not as severe as of Joydevpur-Chandra-Tangail road. Only few kilometers tailback developed in Mymensingh end and that too for wrong side driving, Shahabuddin Khan told The Daily Star in the afternoon.
He said some bus drivers took wrong ways to avoid small congestion on the road which eventually caused the congestion on the highway. "Now the road is nearly free," he said.
Passengers bound for Jessore and Khulna divisions had also passed painful hours at Paturia ferry ghat last night. About 500 vehicles remained stranded for several hours to cross the river. However, the situation is nearly normal now.
At Mawa, 150 vehicles were waiting to get ferry to cross the Padma River. These vehicles were going to Khulna, Bagerhat, Barisal and some other districts of the region.
BIWTA officials at Mawa, however, termed the picture as normal during the Eid rush.
Senior Information Office of Roads and Bridges Ministry Md Abu Naser said the traffic movement on the Dhaka-Chittagong and Dhaka-Sylhet highways was more or less smooth. "There was no trouble on these two highways," he told The Daily Star.