Hogla pata turns fortune of Noakhali women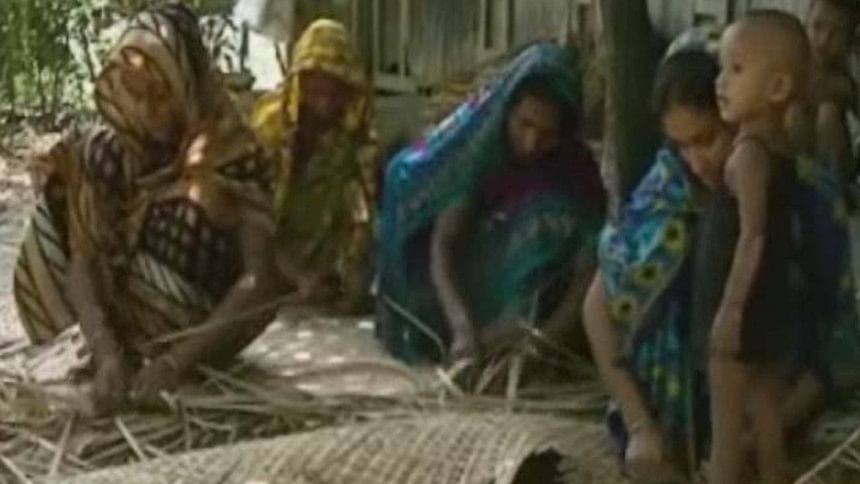 Nearly fifty thousand ultra-poor women in four unions of Noakhali Sadar upazila have changed their lot by making different types of mats and rope using hogla pata (elephant grass).
Many women of Kaladoraf, Dadpur, Andar and Charmatua unions earn some extra money by making different items with hogla pata and support their poor husbands. It is also making them self-reliant.
The homemade industry has made the women of those unions more confident as earlier they were being neglected for not having any employment opportunity or source of income.
Mainly farmers of Bandherhat, Khalifarhat, Uday Sadhurhat, Ramharitaluk, Rob Bazar, Shantirhat, Andarchar and Noannui villages cultivate hogla pata.
Farmer Joynal Abedin of Ramharitaluk village said due to its low cultivation cost farmers are becoming more interested in cultivating hogla pata as it does not require pesticide, fertiliser or any agricultural equipment.
Mazid Miah of Uday Sadhurhat village said hogla pata can be cultivated in abandoned land where other crops cannot be grown and the saplings are never damaged even in waist deep water.
Moreover, if one cultivates hogla pata once he does not need to sow the seeds again as it sprouts from the roots the next year.
Cultivation of hogla pata and making mats with it has put an end to begging for many  women in the area.
Housewife Jarina Begum of Khalifarhat said she buys a bunch of hogla pata for Tk 150 to Tk 200 and can make six mats with that, which she sells for Tk 80 to Tk 100 each.
Like her, Arifa Khatun of Kaladaraf village, who makes ropes with hogla pata, said she sells 50 yards of rope for Tk 30. 
Trader Abul Bashar said he buys various types of hogla pata made items and sell those in different areas of the country including Chittagong, Feni, Sylhet and Habiganj.
Bashar said many small cottage industry owners in Dhaka and other parts of the country are making show pieces and furniture, using hogla pata ropes, and exporting those.
Besides being used by the low income group people, Hogla Pata made mats are used at different village mosques across the country and during religious gatherings.
During a recent visit to the areas this correspondent found the main bread earners of those villages work as labourers in the brick kilns in other districts and remain away from families for six to eight months of the year.
Nazib Ullah, a member of Kaladoraf UP, said people in the area were much poorer than they are now, but earning of women is helping them to eradicate their poverty.
Deputy Manager Babul Chandra Nath of Bangladesh Small and Cottage Industries Corporation (BSCIC), Noakhali, said he is mulling over the prospect of developing the industry as hogla pata falls under the purview of BSCIC.