Hijras voice anger at gender test failures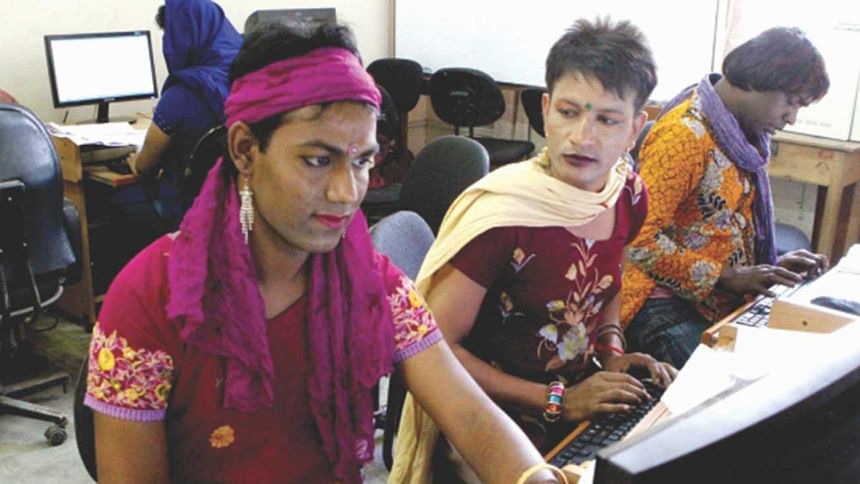 Bangladesh's hijra community voiced outrage Thursday after nearly all those appointed to government jobs set aside for transgenders were disqualified after an official medical test deemed them fully male.
The government's social welfare department had planned to hire 14 transgenders -- known as hijras in the sub-continent -- in low-level positions in the country's first quota scheme, designed to benefit the much stigmatised and discriminated community.
But the programme is now in tatters after 12 of those who were selected for the jobs were in fact classified as "full-grown males", the department's director Parveen Mehtab told AFP.
"As a result, we have to halt the appointment of the 12. These jobs are meant for the hijras. And unless we are sure that they are hijras, we can't give them the jobs," Mehtab said.
The transgender community, which has spent years lobbying for job quotas, reacted sharply, saying all 12 were hijras and the medical tests were "an insult" to the whole community.
"We've testified that all 12 are hijras. They may have male genitalia, but they behave like woman," Joya Sikder, head of a hijra group called Somporker Noya Setu, told AFP.
"They are females trapped in males' body. In the West they are called trans-woman or transvestites. Some of them have male husbands and partners," Sikder said.
Sikder said the government should have set out a clear definition of a hijra before conducting the medical tests.
"The medical tests alone can't conclude who is a hijra. They should have also hired psychologists and elders of the transgender community to identify a hijra," Sikder said.
Bangladesh's government officially recognised transgenders as a separate gender in November 2014 in a move that enabled them to identify themselves as 'hijra' on all government documents, including passports.
In recent months the government has unveiled a series of benefits and affirmative action schemes for transgender people including jobs as traffic police officers, and the offer of soft loans for members of the community.