HC verdict in BDR carnage case soon, hopes prosecution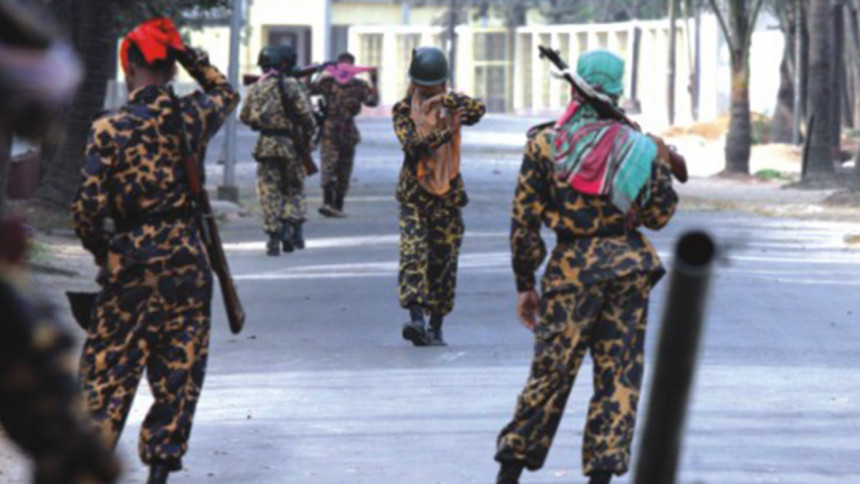 The prosecution at the High Court today expressed the hope that the verdict on death reference and jail appeals in the BDR carnage case will be pronounced soon.
"We hope to get the verdict soon. The High Court on April 13 kept the judgment on CAV, Curia Advisari Vult (a Latin legal term meaning court awaits verdict) after conclusion of hearing in 370 days," Deputy Attorney General KM Jahid Sarwar Kazal told BSS.
A three-member High Court special bench led by Justice Md Shawkat Hossain had passed the short order on that day.
Third Additional Metropolitan Sessions Judge's Court on November 5, 2013, sentenced 152 persons to death and 160 others to life-term imprisonment as they were proved beyond doubt directly involved in the 2009 BDR carnage that killed a total of 74 people including 57 top and mid ranking army officers.
The trial court had passed the judgement after examining 654 out of 1354 prosecution witnesses in the biggest criminal case in the history of Bangladesh.
Dhaka city BNP leader Nasiruddin Ahmed Pintu and local Awami League leader Torab Ali were awarded life-term imprisonment as their involvement in the conspiracy in organizing the BDR mutiny and committing murder was proved.
The court acquitted 271 persons as the prosecution could not establish the charges brought against them. Besides, 267 persons were given sentences for different tenure.
The brutal killing of the country's top army officials in the much hated BDR carnage had created widespread sensation at home and abroad.
The mutineers also looted arms and ammunitions during the 33 hours' bloodbath at the Peelkhana headquarters in the city.