Hasina for effective climate deal to realise SDGs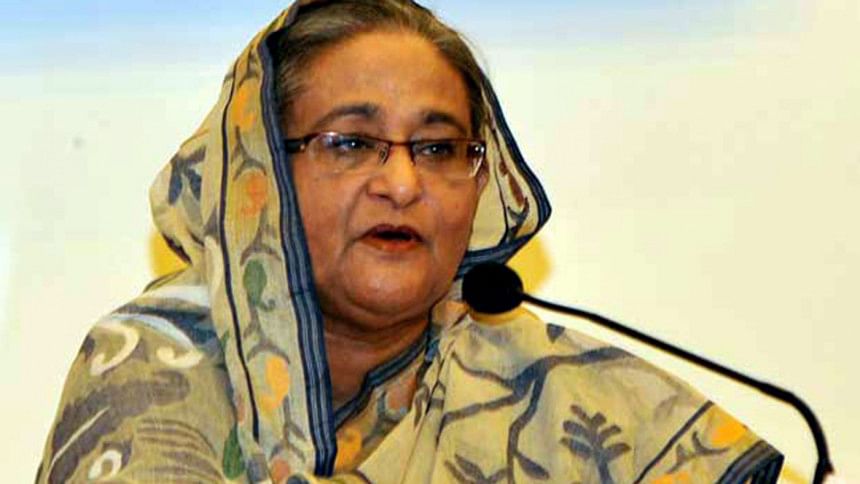 Prime Minister Sheikh Hasina has emphasised on an effective climate deal in the coming conference in Paris later this year to help implement the Sustainable Development Goals (SDGs) for a better future of the humanity.
"Climate change has put Bangladesh's all precious development gains at risk. Therefore, we must ensure that the development agenda and the new climate deal would protect and harness the present and the future of humanity," Sheikh Hasina said in a statement at the UN Summit for adoption of the Post-2015 Development Agenda at UN headquarters yesterday.
Heads of state and government of Brazil, Venezuela, South Africa, Sri Lanka, Malaysia, European Union, Russia, Qatar, the Maldives, Singapore and Saudi Arabia also made statements in the session chaired by Gambia.
Sheikh Hasina said adoption of SDG Agenda-2030 is a great joy. "Bangladesh as part of its national preparation has aligned its Seventh Five-Year Plan with the new global agenda."
Extending her thanks to all concerned who contributed to the adoption of the people-oriented SDGs for 2030, the PM said robust global cooperation is significant to deliver on the universal development agenda.
Mentioning her presence with the world leaders during the time of adopting the Millennium Development Goals (MDGs), she said over the past 15 years Bangladesh has mobilised people and resources to realise the commitments.
Bangladesh's success in achieving the MDG targets including those related to poverty eradication, reduction of child mortality, communicable diseases, she said, adding that the realisation of the MDGs has helped Bangladesh to step in the path of making Bangladesh a middle-income country.
Hasina said the key to the success of Bangladesh's achieving MDGs was her government's political commitment and conducive policy environment. Bangladesh has mobilised its national resources and enhanced its capabilities and empowered the people to achieve the cherished goal.
The PM said some of Bangladesh's solutions and experiences are now part of the global solutions. "Now, we all must pledge for full and effective realisation of Agenda-2030 and the Addis Ababa Action Agenda," she added.
Hasina said the governments have to recognise the diverse national realities, capacities and levels of development to make sure implementation of the SDGs. Respecting national policies and priorities would be equally important. Besides we will have to address all forms of inequalities across the SDG agenda, she added.
To realise the SDGs, she said, the international community must deliver on the means of implementation for each goal. Bangladesh and other developing countries need support on finance, technology, capacity building and debt to implement the SDGs. "As well as we must ensure that global trading and financial regime and institutions are fair and just," she said.
Hasina also hoped that everybody would show the same ambition, focus and commitment to materialise a deal in Paris as they showed it in the case of adopting the SDGs.