All Saudi-bound Biman flights now hajj carriers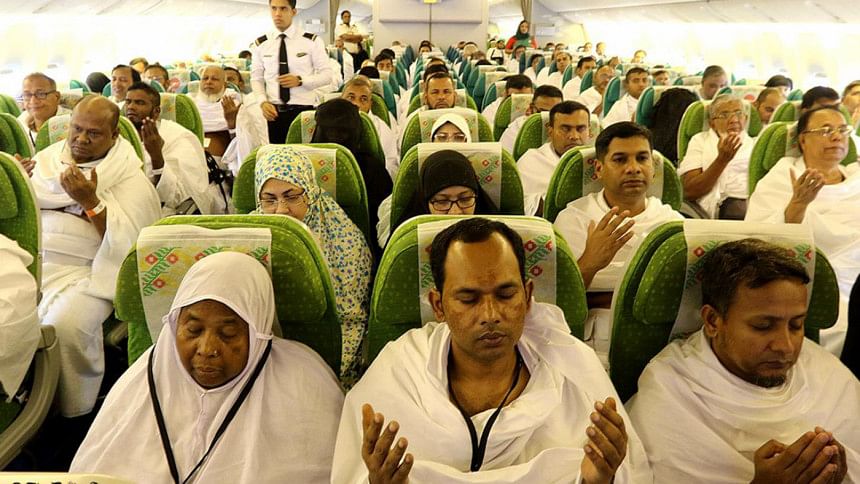 In wake of backlogging in transporting hajjis to Saudi Arabia, Bangladesh government today decided to turn all Saudi Arabia-bound flights of Biman Bangladesh Airlines to hajji carriers.
The decision was taken today at an inter-ministerial meeting, Civil Aviation and Tourism Minister Rashed Khan Menon told reporters. "There is no other way," he said as an explanation.
READ MORE: Uncertainty over hajj of 40,000
Hajj flights will continue until August 26. During this time, a total of 1,27,000 hajjis will be transported to Mecca to perform the hajj pilgrimage.
Until now, a total of 12 hajj flights were scrapped due to shortage of passengers, building a week's backlog. "5,380 hajjis could have been transported in these flights," Minister Menon said.
Until 9:00am this morning, a total of 29, 539 pilgrims were transported, among which 14,100 boarded the state-run carrier and the rest in Sudi Airlines.
READ MORE: 4 flights cancelled in 2 days
Also, the inter-ministerial meeting decided to apply to Saudi authorities to increase the number of hajj flights Biman operates for hajjis, Menon said. Currently Biman is allowed 176 flights.
Additionally, the ministry will urge hajjis to complete their visa procedures immediately and ensure a flight immediately for a confirmed journey to Saudi Arabia for pilgrimage.