Uncertainty over hajj of 3,300 ends
Claim officials after confirmation of 8 extra Biman flights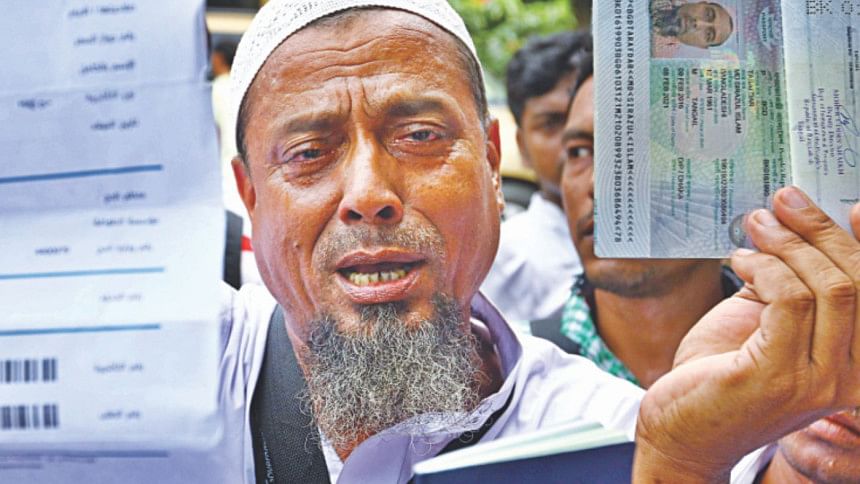 Although over 100 pilgrims yesterday staged demonstrations at the city's Hajj Camp for uncertainty over performing hajj, officials at the camp and Biman said all pilgrims will now be able to fly to Saudi Arabia as the national flight carrier got approval to operate eight additional hajj flights.
"Alhamdulillah, we have finally gotten the permission to operate eight additional hajj flights. Now there is no uncertainty left over sending all the pilgrims to Saudi Arabia to perform hajj this year," Biman Bangladesh Airlines CEO and Managing Director AM Mosaddique Ahmed told The Daily Star.  
He also added that over 3,300 pilgrims will be able to go to Saudi Arabia through the eight additional hajj flights.  The Biman boss also confirmed that the Saudi authorities also extended the deadline for sending      hajj passengers to August 28 from August 26.
Earlier on August 22, The Daily Star, quoting the religious affairs secretary Abdul Jalil, published that Biman got permission from the Saudi authorities to operate 12 additional hajj flights. Jalil also informed The Daily Star about extending Biman's deadline for sending pilgrims to Saudi Arabia by two days.
Saiful Islam, director, Hajj Camp office yesterday told The Daily Star that not a single pilgrim will be left out from being sent to Saudi Arabia within the extended deadline.
Shakil Meraj, general manager, public relation, Biman said, as of 8:00am yesterday, Biman and Saudi Airlines have ferried 1, 15, 730 pilgrims to Saudi Arabia.
In the next 24 hours starting from 8:00am yesterday, Biman will operate eight hajj flights which are likely to carry over 3,300 pilgrims.
Biman officials said the national flag carrier and Saudi Airlines will have to carry around 8,500 pilgrims to Saudi Arabia within the next two days.
Earlier in the day, around a hundred pilgrims staged a protest to demonstrate their anger at the Hajj Camp office over the uncertainty of their hajj trip this year as their hajj              agencies are yet to ensure air tickets for them.
"We have been staying at the Hajj Camp for four days. But our hajj agency didn't ensure air tickets for us. The hajj agency has returned our passports and requested us to manage tickets on our own," Aminul Islam, a pilgrim, told The Daily Star at the Hajj Camp premises.
Aminul said like him some 80 pilgrims from Bogra gave money to Madina Air International Aviation for performing hajj this year.
"We came at the hajj camp on August 23 as our hajj agency said our flight was on the following day. The hajj agency later promised two dates for our flights—August 25 and today [yesterday]. The agency today sent back our passports saying they couldn't manage the tickets," Nehal Hossain, another intended haji, said.
"Without finding any alternative, we were forced to bring out the procession at the Hajj Camp office to express our concern," Abdul Hakim, a retired primary school teacher, added.
During the 15 minutes' brief procession, aspirant hajis demanded punishment of respective hajj agencies responsible for their sufferings. They chanted slogans against a number of hajj agencies, including Madina Air International, Al Balak, Sanjid and Eco Travel. 
Highlighting their sufferings, Hakim said he, along with his wife, has been staying on the ground floor of the Hajj Camp office for the last four days.
"It would be very painful for us if we finally fail to perform hajj this year," said Hakim's wife, her voice choked with emotion.
While visiting the Hajj Camp offices yesterday, several hundred aspiring pilgrims were seen staying there, the uncertainty evident on their faces.
Amid the pilgrims' allegations against a section of hajj agencies, Bazlul Haque Harun, chairman of the parliamentary standing committee on religious affairs yesterday said they have filed a general diary with the Airport Police Station against seven hajj agencies for not sending pilgrims to Saudi Arabia.
"We have given two days time to those agencies to send pilgrims to Saudi Arabia. Otherwise the diary will turn into a case and legal action will be taken against them," Harun also said.
Asked, Ijaz Shafi, officer-in-charge (investigation) of Biman Bandar Police Station, acknowledged the filing of the GD.
The Saudi government set a quota of 1, 27,198 pilgrims from Bangladesh this year. The number of total pilgrims from Bangladesh finally stood at 1, 26,247 as the passports of 951 intending hajis were not submitted, sources at the Hajj Camp office said.