Hajj dream of 300 dashed by frauds
Some of them paid brokers as high as Tk 3.5 lakh each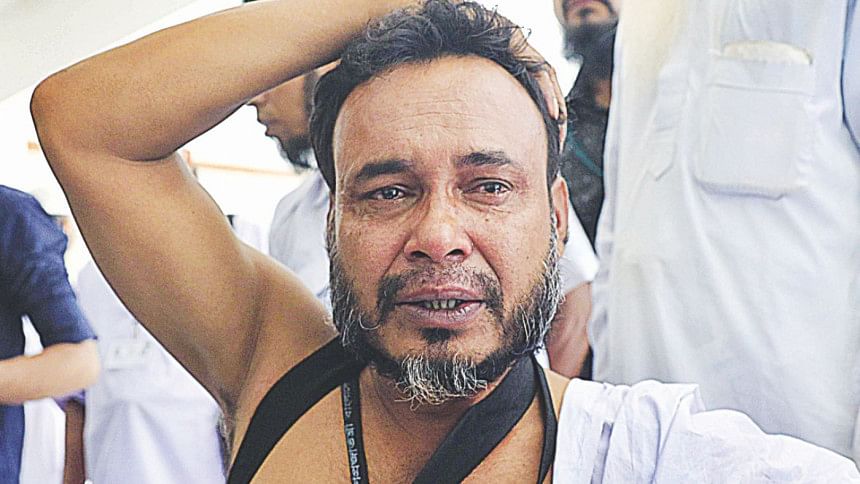 They dreamt of performing hajj this year, but that dream was shattered as they got cheated by some hajj agencies and brokers.
Despite completing all the procedures, around 300 pilgrims could not fly to Saudi Arabia as their agencies didn't confirm air tickets, said Hajj Office sources.
According to some victims, each of them had paid their respective hajj agencies up to Tk 3.5 lakh.
The deadline for sending aspirant hajis to Saudi Arabia expired yesterday.
"We have prepared a list of around 300 people who were waiting at the Hajj Camp to catch flights to Saudi Arabia. But they could not fly as they were cheated by some hajj agencies and their brokers," Md Ezaz Shafi, inspector (investigation) of Biman Bandar Police Station, told The Daily Star last night.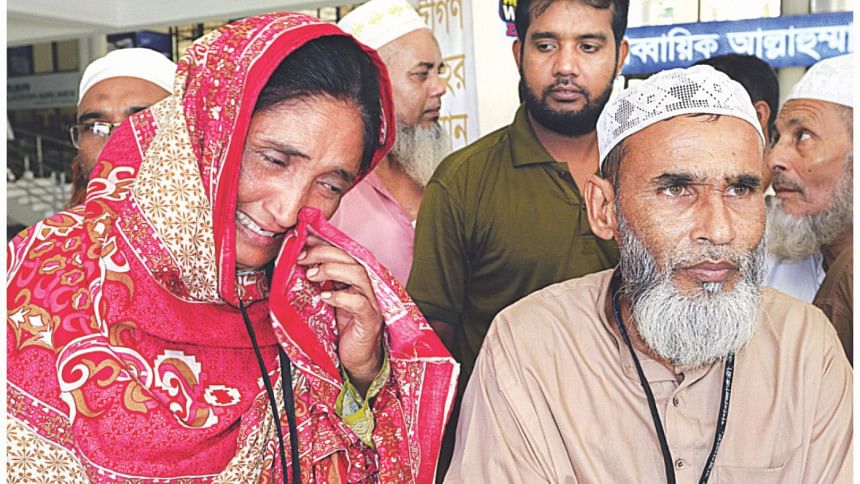 Police in the afternoon arrested three "brokers" from the Hajj Camp in the city's Ashkona on charges of cheating pilgrims, the inspector said.
The arrestees are Faridur Rahman, 63, of Nandigram in Bo
gra, Ataur Rahman, 35, and his wife Chaina Khatun Sumona, 28, from Putia of Rajshahi.
"They took several lakh taka from pilgrims at the Hajj Camp for collecting tickets. But they are brokers," Ezaz said.
A total of 1,27,103 Bangladeshi pilgrims have reached Saudi Arabia since the beginning of pre-hajj flight operation on July 24, Civil Aviation Minister Rashed Khan Menon told reporters at a briefing at the secretariat.
About the fate of around 300 pilgrims, he said they would be able to catch either of the last two flights of Saudi Airlines, scheduled to leave Dhaka at 5:00pm and 8:00pm (yesterday), if they could collect air tickets.
However, aspirant haji Nuray Alam Siddik last night said he along with 17 others was on way to Pirgachha of Rangpur as the group couldn't manage air tickets.
"My mother and I gave around Tk 6 lakh to Pirgachha resident Hafizur Rahman. Hafizur had assured us of arranging a hassle free trip saying that he had vast knowledge about the hajj procedures as he had been in Saudi Arabia for many years," he told this correspondent over the phone.
"My mother passed away on August 15. Sensing she would not live long, she had asked me to perform hajj on her behalf. I could not fulfill my mother's dream as we were cheated by our hajj agency," said Siddik, his voice choked with emotion.
Eighteen people, including his mother, gave Tk 54 lakh to Hafizur, he added.
"We went to the Hajj Camp three days ago after Hafizur had informed us that our flight was confirmed. But he didn't manage air tickets for us."
The stories of the rest of the victims are almost similar.
Take for example the case of Josna Bibi from Bogra's Nandi Gram. She and her husband gave money to Ataur Rahman of Nandi Gram.
"He [Ataur] told us to come to the Hajj Camp on August 23. Five days have passed, but he couldn't confirm our air tickets. We gave him Tk 50,000 extra today [yesterday] for buying tickets, but all the efforts went in vain," said Josna.
Almas Ali from Puthia, Rajshahi said his group of 12 pilgrims gave an additional Tk 1 lakh to his hajj agency for confirming air tickets.
"But we found the agency official's mobile phone switched off since noon [yesterday]."
He said Bazlul Haque Harun, chairman of the parliamentary standing committee on the religious affairs ministry, yesterday afternoon assured them that those who could not perform hajj this year due to fraudulence of some hajj agencies would be given preference next year.
The group left Dhaka for Puthia in the evening.
PM FOR FRESH PLAN
Prime Minister Sheikh Hasina yesterday asked the authorities concerned to draw up a fresh plan on hajj management to avoid recurrence of pilgrim's sufferings due to fraudulence of a section of hajj agencies, Menon quoted the PM as saying to him after the weekly cabinet meeting at the secretariat.
He said fraudulence and negligence of some hajj agencies created uncertainty about sending all the pilgrims to Saudi Arabia as they didn't take measures to send the pilgrims despite having visas.
The minister claimed they had to seek assistance from Rapid Action Battalion and police to force some agencies to give money for air tickets.
Menon said actions, including cancellation of licence and slapping of financial penalty, would be taken against those hajj agencies responsible for pilgrims' sufferings.
"Due to tireless efforts of the officials concerned, the Biman finally managed to send 64,873 pilgrims to Saudi Arabia through operating 211 hajj flights," the minister said, adding the Saudi Airlines carried 62,230 pilgrims. 
He said the Biman was preparing a list of hajj agencies who were allegedly involved in cheating and showed negligence in sending pilgrims to Saudi Arabia.