Wanted reforms, not abolishment
Say quota reformists as demo continue for reinstatement of quotas in civil service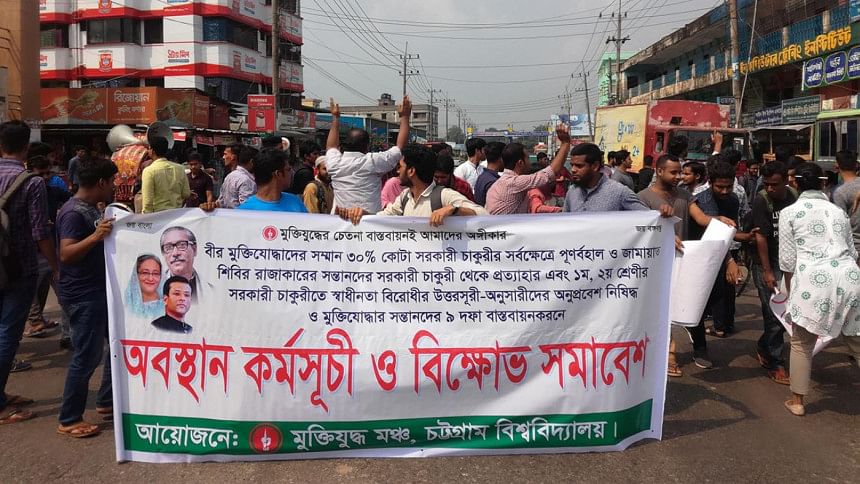 With the protests demanding reinstatement of 30 percent freedom fighters' quota in civil service rolling onto fourth day, reformists yesterday said the government has to take all the responsibilities of scrapping the system.
"We always demanded logical reformation of the quota system. We never wanted its abolishment. So, the government has to take full responsibility of the problems created centring its abolishment," said Hasan Al Mamun, convener of the quota reform movement.
He was addressing a press conference organised by Bangladesh Sadharan Chhatra Odhikar Sangrakkhan Parishad, the platform that spearheaded the quota reformation movement, in front of Dhaka University Central Library.
He also demanded that the government should not arrange any special recruitment and publish numbers of preliminary, written and viva voce of the recruitment tests.
Faruk Hasan, a joint convener of the platform, said, "We have accepted every government decision positively. However, we think all classes of people are not happy with the scrapping of quota for class-I and class-II jobs.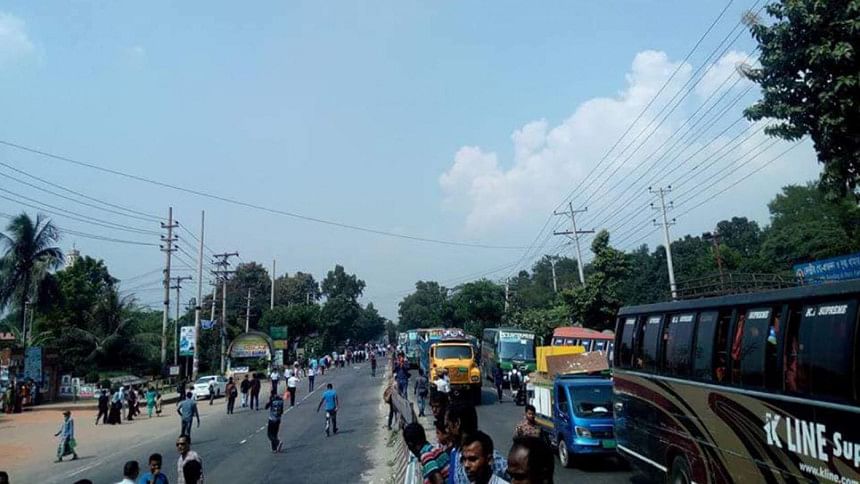 "We urged the government to bring reformation to the quota system in line with our five-point demand," he added.
They also reiterated their two other demands -- immediate withdrawal of all cases against the leaders and activists of the movement and punishment of those who attacked them.
The platform also demanded providing free education facilities for insolvent freedom fighters' family members, indigenous community members and physically challenged people.
"Indigenous communities and women are still backward. We think there should be a logical provision of quota system for the indigenous people, women and some underprivileged freedom fighters," said Nurul Huq Nur, another joint convener of the platform.
He also demanded bringing reformation to the quota system in all class of government services.
In the circular, it was mentioned that the quota system can be reinstated if necessary, Nur said, adding that it was "nothing but a farce".
The protesters demanding reinstatement of the 30 percent quota for freedom fighters' children and grandchildren continued their demonstrations in and outside the capital for the fourth straight day yesterday.
At Shahbagh, the protesters sat in the middle of the intersection and put barricades to the roads around 3:00pm like the previous days.
"We would continue with our blockade programme from 3:00pm to 10:00pm every day at Shahbagh and across the country until our demands are met," said Al Mamun, general secretary of Dhaka University unit Muktijoddha Sangsad Santan Command.
They took the decision to start their blockade programme at 3:00pm to lessen the sufferings of patients who come to Bangabandhu Sheikh Mujib Medical University (BSMMU) and Birdem hospitals for treatment, said AKM Jamal Uddin, spokesperson of the platform.
The protesters placed their six-point demands including reinstatement of the freedom fighters' 30 percent quota and constitutional recognition of them.
They also alleged that the decision of the government review committee is frustrating and similar to a defeat to the anti-liberation forces.
Traffic movement stopped in the adjacent roads and transport heading to Farmgate and Motijheel was seen taking the road near Hotel Intercontinental.
Students also blocked Dhaka-Aricha Highway yesterday demanding reinstatement of the freedom fighters' quota.
Around 20 members of Bangladesh Muktijoddha Sangsad Santan Command of Jahangirnagar University (JU) unit blocked the highway for four hours.
They later withdrew the blockade at 4:00pm following a request of JU pro-VC (administration) Prof Amir Hussain.
As part of their countrywide protests, members of Chattogram unit Muktijuddha Mancha blocked Chattogram-Khagrachhari Highway yesterday for half an hour.
The protesters were compelled to withdraw their blockade after 30 minutes due to intervention from police, said Md Tohid, inspector (media) of Hathazari police.
PHYSICALLY CHALLENGED PEOPLE STAGE DEMO
Physically challenged people also demonstrated in three places across the country including Shahbagh yesterday.
Under the banner "Bangladesh Pratibandhi Shikkharthi Oikya Parishad", they demonstrated at Shahbagh intersection protesting against abolishment of the quota system.
"We face too many hurdles to get higher education and jobs. Now it would be more difficult for us as the quota for us has been abolished. Injustice has been done to us," said Md Ali Hossain, one of the protesters.
They demanded reservation of five percent quota in class-I and class-II government jobs and 10 percent quota for class-III and class-IV jobs.
In Chattogram, around 50 physically challenged students of CU blocked Sholoshohor around 12:30pm, demanding reinstatement of the quota for them.
They blocked the road for one and a half hours until police intervention, said one of the protesters. Later, they cleared the road as police requested them to leave the road to lessen public sufferings.
Rajshahi University unit of Bangladesh Pratibandhi Shikkharthi Oikya Parishad also staged a sit-in before the university main gate around noon.
They also blocked the Dhaka-Rajshahi Highway, halting vehicular movement until around 2:00pm.
The physically challenged candidates had earlier enjoyed one percent quota.
On October 4, the government issued a circular abolishing the quota system for class-I and class-II jobs in the civil service.
According to the circular, recruitment in grade-9 (class-I) and grade-10 to 13 (class-II) at all government departments, autonomous or semi-autonomous institutions, and various corporations will be based solely on merit.