'Free school land from grabbers'
A large number of students joined by locals formed a human chain on Uttara EPZ road in Nilphamari Sadar upazila yesterday, protesting grabbing of land of a government primary school.
Nurul Islam Shah, 47, president of Sonarai union unit of BNP, in collaboration with his brother Abdul Mannan Shah, 52, president of the union unit of Awami League (AL) has grabbed a portion of the land of Joychandi Government Primary School in the union, said the speakers at the programme.
A team of police was deployed in the area during the rally as the grabbers threatened the teachers and students of dire consequences if they participated in the programme.
School management committee President Shankar Kumar filed a written complaint with Sadar Police Station, seeking security and also legal action against the perpetrators.
"Nurul Islam grabbed 30 decimals of the school's ground by encircling it with corrugated iron sheets on May 29 when the school was closed during Ramadan vacation," Headmaster Kazi Ziaul Islam said.
"I brought the matter to the notice of Sadar upazila nirbahi officer, who directed the upazila assistant commissioner of land (AC land) to look into the matter. After investigation, the AC directed the grabber on June 7 to vacate the land within the next seven days, which Nurul ignored," the headmaster added.
"The primary school was set up in 1930 and late Provananda Adhikari donated 60 decimals of land for the institution. Academic activity has been running unhindered for the last 88 years. Now the influential person has committed a heinous act by occupying its land," said Sonarai-Sangolshi Degree College Principal Abdul Mazid, also a former student of the school.
"Most ruling party activists are against the grabbing, although a few are collaborating with the grabber BNP leader at the directive of the party's unit president Mannan," said ex-secretary of Sonarai AL Tofazzal Hossain.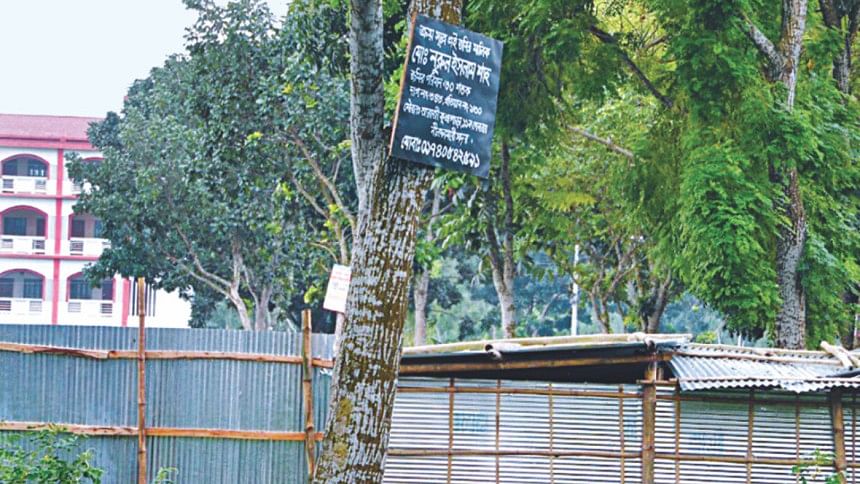 However, AL leader Mannan supported grabbing of the land by his younger brother Nurul, saying that the latter had bought the land from its real owners, a few people belonging to the Hindu community, but the school authorities illegally kept the land in their possession for decades.
"I have not grabbed school land but bought it from the genuine owners. I will go to court to prove it," said alleged grabber Nurul.
"I received a complaint from the school authorities and deployed police to avert any untoward incident," said OC of Sadar Police Station Babul Akhtar.