Free automated irrigation
Jamalpur inventor Rabiul uses underground gas to power water pumps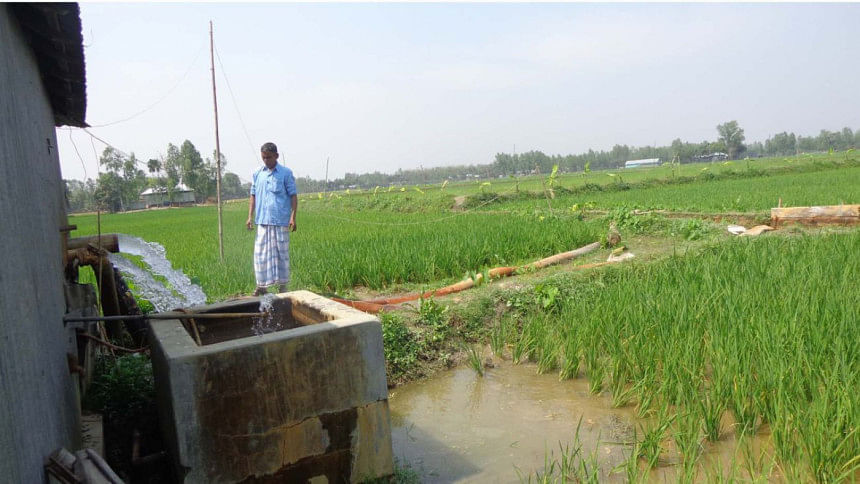 Since at least the 1980s, the farmers of Jamalpur's Sukhnagari village in Madarganj upazila faced an unusual problem. Across 150 acres of farmland none had been able to raise groundwater for irrigation. Despite repeated attempts, the usual diesel pumps failed. It was a riddle seemingly without a solution until in 2008, mechanic Rabiul Islam, who only studied up to Class VIII, set himself the challenge to find one.
"I installed a diesel-run shallow pump machine in a corner of the affected area just as others had done," says Rabiul, now 55. "I too, could not raise groundwater. When I tried again the following year, I again failed."
"It was in 2010 that I discovered the reason: the pipe was not raising water because it was full of air. I thought about how to make a device that would free the pipe from air and the following year I succeeded. In 2011, I was able to irrigate three of the acres for Boro paddy for the first time." It wasn't the end of Rabiul's discovery.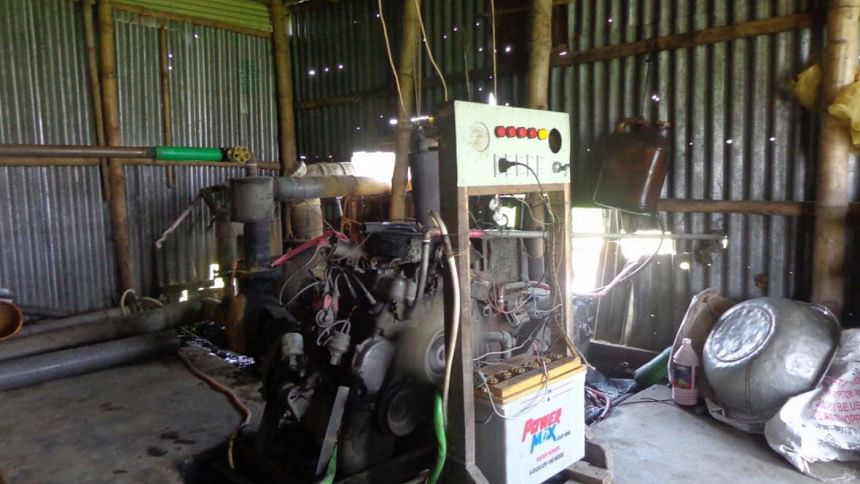 He wondered why the pipes in that area should be full of air, and what sort of air it might be. In the process of investigating the air in the pipes he struck a match. The air started to burn.
"Then I understood it was actually natural gas. I wondered if it wouldn't be possible to run the engine of the pump machine with that very gas, in order to bring the groundwater to the surface without any additional supply of diesel. Such a pump system would be self-sustaining and free."
Rabiul had already shown he wasn't one to only sit and think. Surely enough he worked towards putting theory into action. "For Tk 40,000 I managed to buy a second hand 1800cc microbus engine," he explains. "I attached two pumps to it and started irrigating Boro paddy fields.
"I added another 20-foot pipe with a filter," he continues, "and joined it to the 180-foot bore pipe to enable the gas to be collected separately and subsequently fed to the carburetor of the motor engine, to serve as its fuel." His innovative self-fuelling pump system worked.
"With the one engine I have capacity to irrigate around fifty acres, with the engine running around-the-clock. Currently I have brought twenty acres under my irrigation scheme."
To irrigate the remaining 130 acres, Rabiul says two more motor engines will be required, with associated pipes, all of which he cannot afford to install. "If the concerned authorities stepped forward to help me with logistic support, I can irrigate the whole area for Boro cultivation," he says.
Sukhnagari's farmers are understandably impressed by Rabiul's invention. Last year he took 400 maunds of paddy in exchange for the irrigation water he is providing.
"Rabiul is a pioneer," says the agriculture officer of Madarganj Tanvir Ahmed. "He should be nationally recognised. If Rabiul's irrigation system is applied in other parts of the country's gas-belt, where the natural gas cannot be used for other purposes, the overall cost of Boro production will be reduced."
After being informed about the innovation, Md Suzaul Hassan, divisional head, Geological Division of Bangladesh Petroleum Exploration & Production Company Limited (BAPEX), said they will look into the matter whether it's true sending a person to the area.